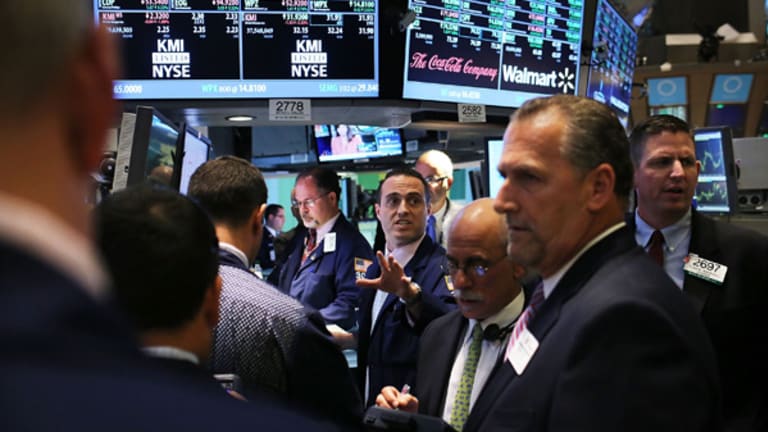 Bulls Won't Back Down
The major averages have another good day, led by energy.
Updated from 4:07 p.m. EDT
Stocks rose again Monday, building on last week's gains with the help of bullish research on the software and oil industries.
The
Dow Jones Industrial Average
rose 51.65 points, or 0.5%, to 10,523.56. The
was higher by 4.58 points, or 0.4%, to 1193.86, and the
Nasdaq Composite
added 10.23 points, or 0.5%, to 2056.65. It was the Nasdaq's seventh straight higher close, while the Dow and S&P 500 have been up five out of six days. All three major indices closed at their best levels since late March.
Volume was unusually thin ahead of Tuesday's release of minutes from the
Federal Open Market Committee
meeting from earlier this month. Investors are also awaiting another estimate of first-quarter gross domestic product growth in the first quarter. Volume on the
New York Stock Exchange
was 1.67 billion shares, with advancers beating decliners by a 2-to-1 margin. Volume on the Nasdaq was 1.62 billion shares, with advancers outpacing decliners 8 to 7.
"Today's activity was important, rounding off last week and getting us off to a good start this week," said Paul Mendelsohn, chief investment strategist with Windham Financial Services. "There was some technical resistance stopping us right where we should've stopped, but we saw some good moves in tech again as well as some of the old leadership. We'll look to see tomorrow for some surprises in the FOMC minutes, which will be very important."
In other markets, the 10-year Treasury was up 15/32 in price to yield 4.06%, while the dollar rose against the euro and fell against the yen.
"People are feeling more comfortable with more smaller investors getting back into the market, a sign that things are getting better," said Robert Pavlik, portfolio manager with Oaktree Asset Management. "There's hope that the signs of the economic slowdown are a passing phase."
Stocks got a lift when two volatile sectors were the subject of positive brokerage calls. Goldman Sachs analyst Rick Sherlund issued a broadly bullish update of the software sector, saying the maturing of so-called Web services applications should reinvigorate major players such as
Microsoft
(MSFT)
,
Oracle
(ORCL)
and
SAP
(SAP)
.
Meanwhile, Sanford Bernstein turned positive on supermajor oil producers
Exxon Mobil
(XOM)
,
Chevron
(CVX)
and
ConocoPhillips
(COP)
, raising all three to market outperform.
Along with Exxon Mobil, the Dow's biggest gainers included
United Technologies
(UTX)
,
McDonald's
(MCD)
and
3M
(MMM)
.
"The three major averages move largely in step but take turns leading or lagging, depending on which industry sectors are in style," said Ken Tower, chief market strategist with CyberTrader. "If the Nasdaq is to test its December high, it would follow that the Dow and S&P might advance 3% to 5% above their March highs."
In March, the Dow reached a 2005 high of 10,940.55, and the S&P 500 went as high as 1225.31 on March 7.
Oil futures moved to a new front month Monday and rose higher during Monday's session. After losing more than 3% on the June contract last week, crude finished up 51 cents to $49.16 a barrel for July in Nymex trading.
Stocks are coming off their best week since early November, as benign data on inflation and oil's decline helped send the Dow up 3.2% and the Nasdaq up 3.5%.
Stronger areas Monday included energy, materials, retail and industrials. Utilities and airlines were among the weaker sectors.
Among Monday's movers were
Apple
(AAPL)
and
Intel
(INTC)
after a
Wall Street Journal
report said Apple might consider using the former's microprocessors in its Macintosh computers. Apple was up $2.21, or 5.9%, to $39.76, while Intel rose 15 cents, or 0.6%, to close at $26.50.
Also moving up Monday was
Google
(GOOG)
, which was again setting records. The stock was higher by $13.84, or 5.7%, to close at $255.45, an all-time closing high for the Internet search company.
The Wall Street Journal
said Monday that
Western Wireless
(WWCA)
has hired Deutsche Bank to field potential offers for its international mobile-phone business. Overseas operations accounted for about 45% of the company's $1.92 billion in overall revenue last year, according to the report. Western Wireless dipped 9 cents, or 0.2%, to $39.31.
Boston Scientific
(BSX)
on Monday said it will pay
Aspect Medical Systems
(ASPM)
$25 million to develop new brain monitoring technology for the diagnosis and treatment of depression, Alzheimer's disease and other neurological conditions.
Also Monday, Boston Scientific and
Angiotech Pharmaceuticals
(ANPI)
said that the FDA has extended the shelf life of the Taxus Express2 drug-coated stent to 12 months from nine months based on drug degradation data. The stent, made by Boston Scientific, is coated with the cancer drug paclitaxel, supplied by Angiotech. Boston Scientific said Taxus now has the longest shelf life for a drug-coated stent approved by the FDA. Boston Scientific added 38 cents, or 1.2%, to $30.70.
Geron
(GERN)
said Monday that the U.S. Food and Drug Administration has cleared the company to initiate clinical testing of its lead anticancer compound in patients with chronic lymphocytic leukemia. Shares of Geron rose 17 cents, or 2.3%, to $7.52.
Shares of
Teva Pharmaceuticals
(TEVA)
slipped after a U.S. district court in Illinois temporarily blocked the sale of its generic version of
Abbott Laboratories'
(ABT)
extended-release antibiotic Biaxin. The temporary restraining order, issued Friday, is pending the outcome of a preliminary injunction hearing May 26. Teva was down 1 cent, or 0.03%, to finish at $33.06.
Boston Communications
undefined
plummeted 63.6% after a jury found that the company infringed on two patents held by
Freedom Wireless
, awarding Freedom about $128 million. The jury also found that Boston Communications willfully infringed the patents, meaning the company may be charged for up to three times the amount of damages awarded plus attorneys' fees. Boston Communications said it plans to appeal the jury's decision. Shares were down $3.06 to close at $1.75.
In one of few earnings reports Monday,
Campbell Soup
(CPB)
said fiscal third-quarter income rose to $146 million, or 35 cents a share, from $142 million, or 34 cents a share, a year ago. The Thomson First Call consensus was for earnings of 33 cents a share. Net sales increased 4% to $1.74 billion but were below the expected $1.76 billion target. Looking ahead, Campbell reiterated its annual earnings forecast of $1.66 to $1.69 a share. Analysts expect annual profit of $1.68 a share. Shares added 48 cents, or 1.6%, to $30.82.
Travelzoo
(TZOO)
rose 9.5% after the company named Christopher Loughlin to run its Travelzoo U.K. business. He has been with the company four years, focusing on U.S. business development. Shares gained $2.94 to close at $33.74.
On Saturday,
Wal-Mart
(WMT)
reiterated its forcast of a 2% to 4% increase in U.S. same-store sales through the month of May. Wal-Mart was up 67 cents, or 1.4%, to close at $47.85.
In rating moves, Prudential Equity upgraded
Pixar
undefined
to overweight from neutral weight, believing the studio will create more than one film per year. Prudential also raised the stock-price target to $75 from $40. Pixar gained $2.31, or 4.6%, to $52.99.
Ciena
(CIEN)
rose 5.8% after Merrill Lynch raised the stock to neutral from sell, citing better opportunities among telecom customers. The stock added 13 cents to $2.38.
Overseas markets were mostly higher, with London's FTSE 100 up 0.4% to 4989 and Germany's Xetra DAX adding 1.1% to 4406. In Asia, Japan's Nikkei rose 1.1% overnight, while Hong Kong's Hang Seng lost 0.1% to 13,699.
Several key pieces of the economic puzzle get an airing this week, including minutes of this month's
Federal Open Market Committee
meeting and preliminary first-quarter GDP numbers on Thursday. Economists currently expect the latter to show an upward revision from the previously reported growth rate of 3.1%.
"People will be more suspect of the reports coming out this week for any indication of the economy slowing," said Pavlik. "Last week's numbers were weaker than expected, but people will be more concerned if numbers come in weaker than expected this week."
To view Aaron Task's video take on today's market, click here
.