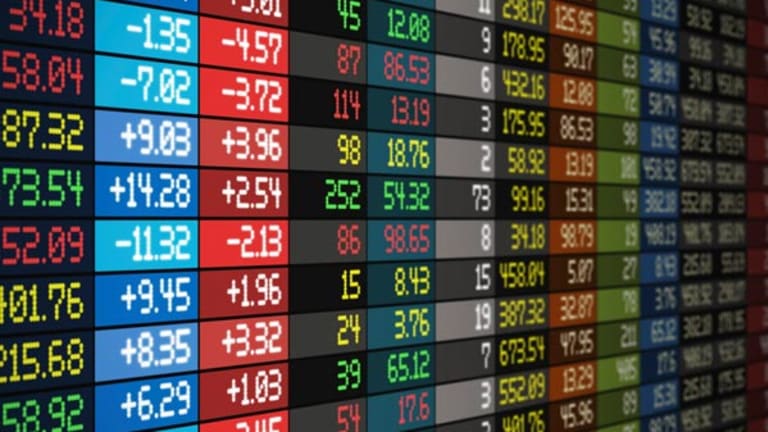 Bulls Take a Breather
Stocks pull back a bit following the two-day Fed-inspired rally.
Updated from 4:15 p.m. EDT
Stocks closed slightly lower Thursday as traders took a breather after an impressive two-session rally stemming from the
Federal Reserve's
first rate cut in four years.
The
Dow Jones Industrial Average
lost 48.86 points, or 0.35%, to close at 13,766.70, and the
S&P 500
was 10.28 points, or 0.67%, lower at 1518.75. The
Nasdaq Composite
shed 12.19 points, or 0.46%, to 2654.29.
Before the modest pullback, blue-chip averages had climbed back close to all-time highs after the Federal Open Market Committee, the central bank's policymaking arm, cut interest rates by a greater-than-expected 50 basis points on Tuesday.
Last time out, the Dow closed ahead by 76.17 points, or 0.55%, at 13,815.56. The S&P 500 was up 9.25 points, or 0.61%, at 1529.03. The Nasdaq rose 14.82 points, or 0.56%, to 2666.48.
Over the prior two sessions, the Dow surged 412 points and got within 200 points of its July 19 record close. The S&P 500 was only about 25 points from its all-time best, which it reached two months ago.
Traders cooled down amid Fed Chairman Ben Bernanke's appearance before the Committee on Financial Services in Washington. Bernanke and Treasury Secretary Henry Paulson delivered testimony on the subprime crisis and potential solutions.
Prepared remarks from the central bank chief were released before his comments were made to legislators, and he said the global financial system is in "a relatively strong position," even with the troubles in the mortgage and credit arenas.
Bernanke said the Fed's action earlier this week "was intended to help forestall some of the adverse effects on the broader economy that might arise from the disruptions in financial markets and to promote moderate growth over time." He said recent woes in the financial markets have increased uncertainty about the economic outlook.
"The Committee will continue to assess the effects of these and other developments on economic prospects and will act as needed to foster price stability and sustainable economic growth," Bernanke said.
Record crude oil cast something of a shadow over the most recent session, as prices topped the $84-a-barrel level for the first time. The October front-month contract ended with a gain of $1.39 to $83.32 a barrel. Gold and silver futures were also surging higher.
The dollar fell against the Canadian dollar and neared parity with its northern counterpart for the first time since 1976. Meanwhile, the greenback hit its worst level ever against the euro.
U.S. Treasury bonds continued to slide. The 10-year note slid 1-1/32 in price, yielding 4.67%. The 30-year bond lost 1-23/32, raising the yield to 4.94%. The dollar continued to decline against the world's major currencies.
"The action was in a lot of other markets besides equities today," said Paul Mendelsohn, chief investment strategist with Windham Financial. "The dollar hit multiyear lows, gold took off, crude hit record levels, and Treasurys disintegrated. All of this will have tremendous ramifications for the financial situation. We still have a problem, and we're not out of the woods yet."
Breadth was negative while volume was sturdy. On the
New York Stock Exchange
3.01 billion shares changed hands, as decliners topped advancers by nearly a 2-to-1 margin. Volume on the Nasdaq reached 1.41 billion shares, with losers outpacing winners about 3 to 2.
There was also some caution ahead of Friday's expiration of four separate derivatives contracts, an event known as quadruple witching. Single-stock futures, stock options, index futures and index options all were trading for the last time. The simultaneous expiration happens quarterly and can lead to considerable volatility.
The economic docket was fairly busy. The Labor Department said initial jobless claims fell by 9,000 last week to 311,000, well below economists' forecasts of 321,000. Elsewhere, the Conference Board said that leading economic indicators slipped 0.6% in August, indicating slower growth ahead for the U.S. economy. The Philadelphia Fed manufacturing index rose to 10.9 in September from 0.0 last month, above the consensus 2.6.
Earnings out of two big finance names also were in the spotlight.
Bear Stearns
(BSC)
reported an 88% decline in third-quarter earnings and missed the Thomson First Call mean estimate, as the mortgage and credit businesses "were extremely challenging this quarter," the company said. Bear Stearns dipped 18 cents, or 0.2%, to $115.46.
On the other end of the spectrum,
Goldman Sachs
(GS)
handily beat forecasts with a 79% jump in third-quarter profits. Shares were off $1.97, or 1%, to close at $203.53.
Earlier this week,
Lehman Brothers
undefined
and
Morgan Stanley
(MS)
delivered mixed results.
Among others reporting earnings,
ConAgra Foods
(CAG)
topped estimates, as did
FedEx
(FDX)
. However, FedEx fell 2.9% after the shipping giant cut its 2008 earnings forecast due to higher energy costs and economic uncertainty.
Circuit City
(CC)
dropped 18% after the electronics retailer posted a fiscal second-quarter loss and predicted a weak third quarter. Shares were down $1.90 to $8.67.
Results from
Nike
(NKE)
and
Oracle
(ORCL)
were out after the close.
Overseas markets were mixed. Overnight in Asia, Japan's Nikkei 225 tacked on 0.2% and Hong Kong's Hang Seng rose 0.6%. In Europe, London's FTSE 100 lost 0.5%, and Germany's Xetra Dax was off 0.2%.