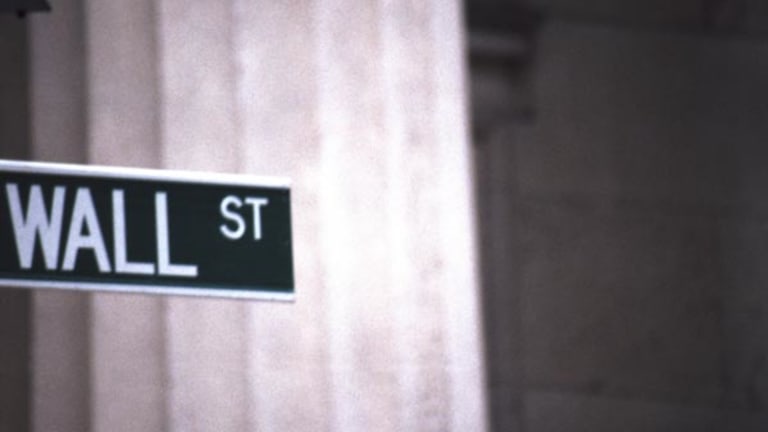 Bulls Run Out of Breath
Blue chips close well below session highs; the Nasdaq ends lower.
Updated from 4:17 p.m. EDT
The bulls were running at full speed for the better part of the session Monday, but the advance lost steam late and the broad averages ended mixed.
The
Dow Jones Industrial Average
gained 35.62 points, or 0.32%, to 11,144.94, and the
added 2.99 points, or 0.23%, at 1297.81. The
Nasdaq Composite
slipped 3.05 points, or 0.13%, to 2336.74.
At the end of the day, the Dow finished more than 100 points below its high, and the Nasdaq closed 21 points under its best level.
"The trend of individual sectors have a bullish bias, but the major indices don't display that strength," said Barry Hyman, equity market strategist with Ehrenkrantz King Nussbaum. "The opening today was suspicious after we ran up directly and remained flat."
The Dow finished in postive territory, thanks to a 2.4% gain in
Caterpillar
(CAT)
and a 1.9% increase in
Hewlett-Packard
(HPQ)
.
About 1.70 billion shares traded on the
New York Stock Exchange
, with advancers matching decliners. Trading volume on the Nasdaq was 1.98 billion shares, and losers outpaced winners 2 to 1.
Equities surged out of the gate as a wave of mergers swept Wall Street, the biggest of which was word that France's
Alcatel
( ALA) will indeed acquire
Lucent
( LU) in a $13.4 billion deal that will create a trans-Atlantic telecom-equipment giant.
Alcatel added 81 cents, or 5.3%, to $16.21. Lucent tacked on 3 cents, or 1%, to $3.08.
Elsewhere, struggling automaker
General Motors
(GM)
said it will sell a majority stake in its financing unit, General Motors Acceptance Corp., to a group of investors led by Cerberus Capital. GM will collect a total of $14 billion in cash in the three years following the sale. GM fell $1.13, or 5.3%, to close at $20.14.
Also Monday, GM said auto and truck sales fell 14% in March. Rival
Ford
(F)
said it saw auto sales fall 4.6% for the month, and
DaimlerChrysler
( DCX) vehicle sales rose 3% in March.
Another acquisition proposal involved
Aztar
( AZR), which received a takeover bid of $42 a share from
Ameristar Casinos
(ASCA)
. Ameristar is now the third company to submit an offer for Aztar. Shares of Aztar jumped $2.61, or 6.2%, to $44.60.
To view Gregg Greenberg's video take on today's market, click here
.
On the economic docket, the Institute for Supply Management said its manufacturing index dipped to a reading of 55.2 in March from 56.7 in February. Economists expected the index to rise to 57.7 for last month.
"This is something of a surprise, given the relative strength of most of the regional surveys," said Ian Shepherdson, chief economist with High Frequency Economics. "Overall, disappointing, but still quite robust. Industry is in good shape, but not booming."
The Commerce Department said construction spending rose 0.8% in February after an increase of 0.2% in January. The advance beat estimates of a 0.5% increase. Meanwhile, the February pending home sales index was down 0.8%, according to the National Association of Realtors.
Marc Pado, market strategist with Cantor Fitzgerald, said all eyes will be on the March employment report that will be out Friday, especially the wage component. "This is one of those cases where too strong of a number will be negative for the market," he said.
Oil continued its recent rally, with crude starting the week near two-month highs. May crude added 11 cents to close at $66.74 a barrel. Earlier in the session, crude prices had reached $67.90.
On Friday, the Dow lost 41.38 points to 11,109.32, while the S&P 500 was down 5.43 points to 1294.82. The Nasdaq slipped 1.03 points to 2339.79. Nonetheless, the first three months of 2006 were kind to investors: The Dow rose 3.65%, while the S&P 500 added 3.72% and the Nasdaq jumped 6.09%.
The Dow and the Nasdaq had their best first quarters since 2002. For the S&P, the gain was even more impressive, as the index had its strongest first quarter since 1999.
Rising bond yields sapped the market's momentum in the closing days of the first quarter. At current levels, the yield on the 10-year Treasury note is at its highest point since June 2004, as traders have fretted that strong economic data will prevent the
Federal Reserve
from halting its rate-tightening campaign. The 10-year Treasury bond was down 3/32 in price to yield 4.87%.
The dollar was stronger against the yen, which fell after an influential Japanese survey on business confidence came in a little below expectations. The greenback was lower against the euro following a report indicating that manufacturing last month in the European Union had its greatest advance in over five years.
Precious metals were stronger. The front-month gold contract rose $7.60 to $594.30 an ounce on the Nymex, reaching its highest level since January 1981. Silver was up 24 cents to $11.76 an ounce, a 22-year high.
By sector, the Amex Gold Bugs index rose 0.5%, the Amex Oil index added 0.4%, and the Philadelphia Semiconductor Sector index was higher by 1.1%. The S&P Retail index was one of the few finishing lower, down 0.7%.
Retail giant
Wal-Mart
(WMT)
finished lower after the company said it expects March same-store sales would be up 1.3%, near the low end of its previous forecast of a 1% to 3% range. The stock fell 47 cents, or 1%, to $46.77.
Among analysts' actions,
First Data
(FDC)
was upgraded to buy at UBS. On the other hand,
RadioShack
(RSH)
was downgraded at Prudential.
First Data gained 68 cents, or 1.5%, to $47.50. RadioShack slid 80 cents, or 4.2%, to $18.43.
Overseas markets were uniformly higher, with London's FTSE 100 adding 0.9% to 6017 and Germany's Xetra DAX up 0.8% at 6016. In Asia, Japan's Nikkei rose 1.6% to 17,333, while Hong Kong's Hang Seng gained 1.6% to 16,064.