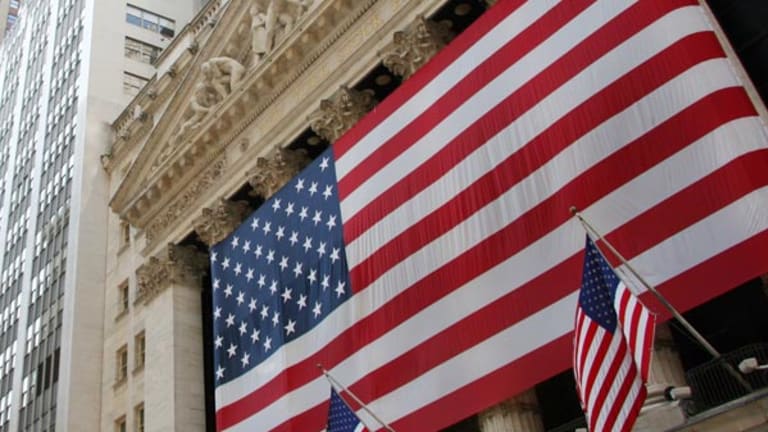 Bulls Refuse to Yield
Positive economic data and the Fed's beige book help to send the major indices soaring.
Updated from 4:11 p.m. EDT
Positive economic data and a decline in bond yields propelled stocks sharply higher in New York Wednesday, providing some relief to investors who've been pummeled by the fixed-income market in recent sessions.
After a brief midday hiccup, the
Dow Jones Industrial Average
roared back to close up 187.34 points, or 1.41%, to 13,482.35, its best single-day point gain of 2007. Still, the blue chip average remains down more than 1% for the month thus far.
Twenty-nine of the Dow's 30 components finished in the black, with a 2.9% rise in
Alcoa
(AA) - Get Report
leading the way. Only
Verizon
(VZ) - Get Report
sat out the rally.
Elsewhere, the
S&P 500
rose 22.67 points, or 1.52%, to 1515.67, and the
Nasdaq
was up 32.54 points, or 1.28%, at 2582.31.
Contributing to the change in mood was the fact that bonds have settled down, at least for the moment. At 4:10 p.m. EDT, the 10-year Treasury was up 21/32 in price, dropping the yield to 5.21%, just below the current fed funds rate of 5.25%. The 30-year was advancing 1-21/32, lowering the yield to 5.29%.
Though that still leaves yields higher than some traders want to see, any sign that they're leveling off is welcome news for the equity markets. With only rare interruptions, stocks have been repeatedly pounded since early last week as yields have soared.
The
Federal Reserve's
regional business survey, known as the beige book, helped to boost stock prices following its 2 p.m. EDT release.
The report said that U.S. economic activity continued to expand at a modest pace between late April and early June, without an increase in price pressures. Consumer spending was generally positive, and most districts reported an increase in manufacturing activity, according to the report.
"The beige book gave us a nice uptick as there was no evidence of pricing pressure," said Larry Wachtel, senior market analyst with Wachovia Securities. "We can't make progress lately unless the bond market allows us to. As long as the bond market behaves, we should be able to recover."
A stronger-than-expected reading on retail sales also gave stocks strength. Before the bell, the Commerce Department said retail sales rose 1.4% last month, the largest gain in over a year and double what economists had anticipated. Excluding autos, retail sales were up 1.3% in May, also well above forecasts.
"This is a much stronger report than seemed likely in the face of the clear slowdown in chain store sales," said Ian Shepherdson, chief economist with High Frequency Economics. "Given that chain store sales have weakened further in early June, this cannot be sustainable, but for now the data will certainly add to the view that consumers are not being badly affected by the jump in gas prices."
Separately, the Labor Department said its import price index rose 0.9% in May, higher than expectations. Petroleum prices rose 2.7% for the month, boosting the headline number. Over the past year, import prices have risen 1.1%.
The data gave bulls confidence to jump back in the market after surging yields sent stocks tumbling in the prior session. On Tuesday, the Dow lost 129.95 points, or 0.97%, at 13,295.01, and the S&P 500 was lower by 16.12 points, or 1.07%, to 1493. The Nasdaq fell 22.38 points, or 0.87%, to 2549.77.
Among the corporate names in the news, a judge in Italy has reportedly indicted
Citigroup
(C) - Get Report
,
UBS
(UBS) - Get Report
,
Deutsche Bank
(DB) - Get Report
and
Morgan Stanley
(MS) - Get Report
for not doing enough to prevent the collapse of dairy giant Parmalat in 2003.
Novartis
(NVS) - Get Report
received approval from European regulators for the flu vaccine Optaflu, and
Jones Apparel Group
(JNY)
is close to reaching a pact to sell Barneys to the government of Dubai, the
New York Post
reported.
Novartis was higher by 0.9% to $54.80, and Jones tacked on 1.1% to $29.20.
As for the day's research calls, RBC upgraded
Sapient
(SAPE)
, and Bear Stearns downgraded
Alcan
(AL) - Get Report
. UBS put
Prudential
(PRU) - Get Report
on its strategic stock list and removed
Costco
(COST) - Get Report
.
Sapient rose 6.5% to $8.03, and Alcan closed up 1.3% at $83.49. Prudential added 2.5% to $100.81, and Costco gained 1.5% to $55.97.
Other moves saw JPMorgan initiate coverage of
Nokia
(NOK) - Get Report
with an overweight rating, and Citigroup lifted
Blockbuster
(BBI) - Get Report
to buy from hold.
Nokia ended higher by 59 cents, or 2.2%, to $28.09. Blockbuster jumped 32 cents, or 8.1%, to $4.27.
As for commodities, energy prices crept higher in the wake of the Energy Department's weekly inventory report, which showed a meager gain in crude inventories. Gasoline stocks were unchanged from last week, and distillate stocks rose by only 300,000 barrels.
The front-month July crude contract finished up 91 cents to $66.26 a barrel, and gasoline added 2 cents at $2.15 a gallon.
Metals prices were little changed. Gold dipped by 40 cents to end the day at $652.70 an ounce, and silver was lower by 3 cents at $13.06 an ounce.
Markets overseas were mixed. London's FTSE added 0.6%, but Frankfurt's DAX was unchanged. Tokyo's Nikkei was weaker by 0.2%, and Hong Kong's Hang Seng eased 0.3%.