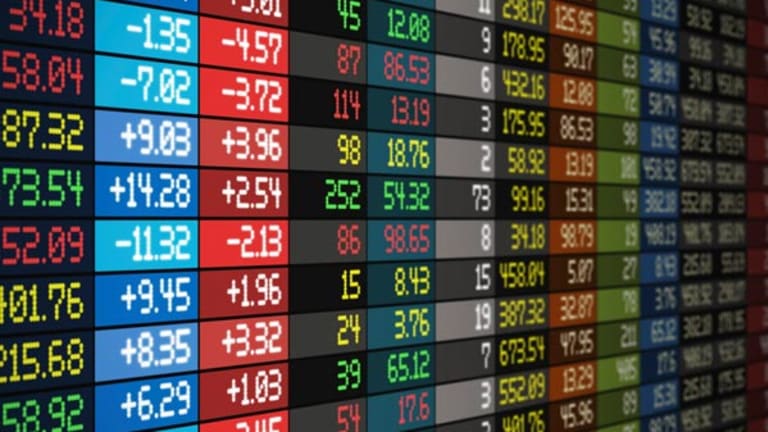 Bulls Pull Out a Modest Win
Stocks in New York finish well off their highs of the day but nevertheless in the green as traders await a federal bailout plan for U.S. automakers.
Stocks in New York finish well off their highs of the day but nevertheless in the green as traders await a federal bailout plan for U.S. automakers.
Updated from 4:11 p.m. EST
A morning rally on Wall Street faded Wednesday afternoon as Republican Senate members expressed skepticism regarding a proposed bailout plan for the U.S. auto industry. Nevertheless, the major indices ended the session with gains after an afternoon push by the bulls edged stocks back into positive territory.
The
Dow Jones Industrial Average
, which had rallied about 188 points earlier in the session, ended the day up 70.09 points, or 0.8%, at 8761.42. The
S&P 500
gained 10.57 points, or 1.2%, to 899.24, and the
Nasdaq
added 18.14 points, or 1.2%, at 1565.48.
Brian Gendreau, investment strategist at ING Investment Management, says the last few days have provided a well-warranted rebound from panic-selling levels, but, he says, it's felt more like a bear rally and less like the beginning of a bull market.
We've had a slight upward trend on some positive news with regard to President-elect Obama's infrastructure plan and progress for the automakers in Washington, says Matthew Smith, chief investment officer of Smith Affiliated Capital -- "but in a bear market, that can change in a minute."
"You just don't know what's going to be coming out in terms of Washington or Wall Street," he says, in terms of the current market sentiment.
House Democrats said they finalized an agreement for a roughly $15 billion bailout for the
Big Three automakers
--
Ford
(F) - Get Report
,
General Motors
(GM) - Get Report
and
Chrysler
.
But the plan, under which the government would draw from an existing loan program meant to help the automakers build fuel-efficient vehicles, is facing pushback from skeptical Republicans in the Senate.
"The problem is that when a company goes into chapter 11, they have an interim financing need and they come out better, but because of the lack of debt financing the automakers could go from chapter 11 to chapter 7," says Smith.
"The $15 billion doesn't sound like much money compared to what's been thrown at the other bailouts, but the ramifications of the autos industry failing could be very profound, and it could have real third-party consequences," says ING's Gendreau.
By the end of Wednesday's trading, Ford gained 2 cents to $3.25, and GM finished down 10 cents at $4.60.
In economic data, the Commerce Department reported a 1.1% decline in
wholesale inventories in October
, wider than the 0.2% cutback predicted by economists and the biggest inventory decline by wholesalers since November 2001.
According to the Mortgage Bankers Association, the Market Composite Index, a measure of mortgage loan application volume, was 796.8 in the week ended Dec. 5, a decrease of 7.1% on a seasonally adjusted basis from 857.7 one week earlier. The refinance share of mortgage activity is now 73.7% of total applications, up from 69.1% the previous week. Meanwhile, credit watch agency TransUnion reported that average bank
credit card debt
in the third quarter increased nearly 1.6% over the second quarter and 6% from the third quarter of 2007 nationwide.
In company news, insurance behemoth
(AIG) - Get Report
owes Wall Street firms as much as $10 billion for speculative trades that went south, according to a report in
The Wall Street Journal
. The trades, which the company argues are "credit protection instruments", were not previously detailed, and thus the losses aren't covered in the government's $150 billion bailout package. It remains to be seen how AIG plans to pay them off. AIG's shares gave up 9.3% to $1.75 Wednesday.
Meanwhile, mining company
(RTP) - Get Report
announced a plan to cut 14,000 jobs and reduce spending to $4 billion from $9 billion in 2009 in light of falling prices for commodities. Shares soared 29.3%, to $94.50.
(ERTS)
, on the other hand, fell 12.1%, to $17, after the video-game maker cut its forecast for fiscal 2009 for the second time in two months late Tuesday. The stock received downgrades at Bank of America and Smith Barney, amongst other
.
Shifting to commodities, crude oil rose $1.45 to settle at $44.32 a barrel. Gold gained $34.60 to settle at $808.80 an ounce.
The Department of Energy reported that U.S. crude oil inventories increased about 400,000 barrels in the week ended Dec. 5 over the week prior. "At 320.8 million barrels, U.S. crude oil inventories are in the upper half of the average range for this time of year," the department said.
OPEC is scheduled to meet next week to evaluate the effectiveness of its earlier decision to cut production targets by 1.5 million barrels per day, and to weigh the need for more cuts. Another OPEC production cut could help stabilize oil prices that have fallen with global economic hardships.
"They were promising a big surprise in these cuts and we rallied on it - and now it would have to be amazing," says Phil Flynn, energy analyst and general market analyst at Alaron.
Shares of
Exxon Mobil
(XOM) - Get Report
added 2.4% to $80.07,
BP
(BP) - Get Report
gained 0.8% to $46.17, and
ConocoPhillips
(CON)
tacked on 4.3% to $53.31.
In other economic news, three-month dollar-based London Interbank Offered Rate (LIBOR) broke through its low for the year Wednesday morning, falling 6.5 basis points to 2.09875%. LIBOR, the rate at which banks borrow funds from other banks, is the world's most widely used benchmark for short-term interest rates.
Meanwhile, the rates for three-month Treasury notes fell below zero -- albeit intermittently -- Wednesday morning. Treasury bill rates turn negative when investors are so risk-averse that they're essentially willing to pay the U.S. government to safeguard their money.
Longer-dated U.S. Treasury securities were recently falling in price. The 10-year was fell 13.5/32 to yield 2.7%, and the 30-year was giving up 1-02/32, yielding 3.1%. The dollar was of late weaker against the euro and pound, and stronger against the yen.
Overseas, European markets were mixed, while in Asia, Japan's Nikkei and Hong Kong's Hang Seng both ended higher.
Copyright 2008 TheStreet.com Inc. All rights reserved. This material may not be published, broadcast, rewritten, or redistributed. AP contributed to this report.