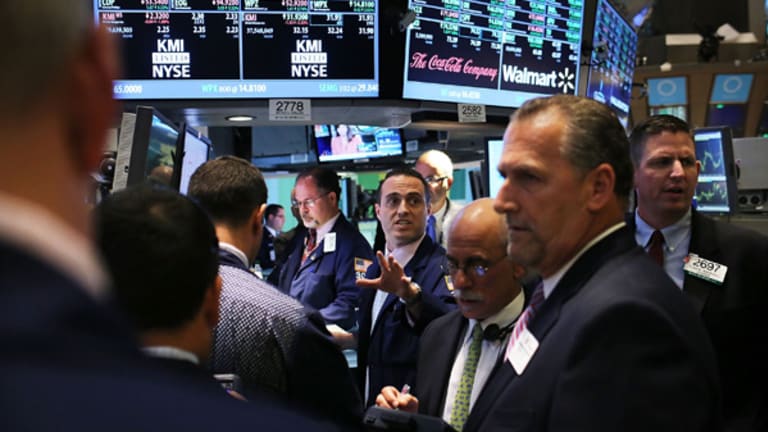 Bulls End Week Strong
The Dow adds nearly 200 points over Thursday and Friday.
Updated from 4:07 p.m. EST
Stocks pushed higher for a second session Friday as investors found a bright side in sluggish economic growth and focused on strong markets in Europe and Asia.
The
Dow Jones Industrial Average
rose 97.74 points, or 0.9%, to 10,907.21, while the
S&P 500
gained 9.89 points, or 0.78%, at 1283.72. The
Nasdaq Composite
gained 21.23 points, or 0.93%, to 2304.23. Over Thursday and Friday combined, the the Dow rose 198 points, while the S&P 500 gained 19 and the Nasdaq added 43.
Positive earnings news from the likes of
Microsoft
(MSFT) - Get Microsoft Corporation Report
and
Procter & Gamble
(PG) - Get Procter & Gamble Company Report
also boosted the averages.
"The foreign markets are on an absolute tear, so there's some thought that the liquidity might start coming back into the U.S. markets," said Paul Nolte, director of investments with Hinsdale Associates.
For the week, the Dow rose 2.3%, the S&P 500 rose 1.7% and the Nasdaq rose 2.5%.
"The real story this past week is that we've had continued broad strength in secondary stocks," said Phillip Roth, chief technical market analyst with Miller Tabak. "Some laggards are bouncing to not just cycle highs but all-time highs."
About 1.94 billion shares traded on the
New York Stock Exchange
, with advancers beating decliners by a 2-to-1 margin. Trading volume on the Nasdaq was 2.33 billion shares, with advancers outpacing decliners 3 to 2.
The 10-year Treasury bond was up 2/32 in price Friday to yield 4.50%, while the dollar was flat against the yen and euro.
Before the opening bell, the government's advance report on gross domestic product showed that the economy slowed to a 1.1% annual growth rate in the fourth quarter, from a 4.1% rate in the prior quarter. The GDP chain deflator, a key inflation reading, came in at 3%. Economists targeted a 2.8% rise in the economic growth gauge, with the chain deflator expected to come in at plus-2.6%.
"This number is very startling," said Barry Hyman, equity market strategist with Ehrenkrantz King Nussbaum. "It is preliminary, so it is subject to fairly substantive revision. These numbers may translate into earnings risk, but may also dissuade an aggressive
Federal Reserve
."
Based on fed funds futures, the odds of a quarter-point rate hike at the Fed's March meeting fell to 60% from 76% after the report. Futures continue to price in 100% odds of a quarter-point hike to 4.5% on Tuesday.
"Today there was a glimmer of a Goldilocks idea, with a good economy without the move up in long term interest rates," Roth said. "I don't know what the Fed could do or say next week to surprise anyone. People should be watching bond rates next week as opposed to the fed funds rate."
Oil rose as traders digested a warning from the U.S. government that Iran's nuclear ambitions will be referred to the U.N. Security Council. In Nymex floor trading, crude for March delivery finished up $1.50 to $67.76 a barrel, after adding 41 cents on Thursday.
The spike in oil boosted the Philadelphia Oil Service Sector index, which finished up 1.8%. The Amex Oil index added 1.9%, and the Amex Natural Gas index was higher by 1.5%.
To view Gregg Greenberg's video take of the market, click here
.
The Commerce Department said new-home sales rose 2.9% to 1.269 million annualized units in December, slightly ahead of economists' expectations.
On Thursday, the market had its best session in two weeks, with the Dow and Nasdaq both gaining nearly 1% and the S&P 500 adding 0.7%.
"Financials led the sector rally yesterday," said Ken Tower, chief market strategist with CyberTrader. "Tech has been getting a lot of bullish press recently, but its relative performance continues to suffer. It's premature to put this into the leading sector category."
By market subgroup, the Philadelphia/KBW Bank Sector index closed down 0.1%, and the Philadelphia Semiconductor Sector index surged 2.7%. The Amex Airline index was off 1.7%, and the Nasdaq Telecommunications index finished up 0.9%.
Among earnings, Procter & Gamble said second-quarter income rose 29% to $2.55 billion, or 72 cents a share, while sales -- juiced up by Gillette -- rose 27% to $18.34 billion. The Thomson First Call consensus was for earnings of 69 cents a share. P&G added 92 cents, or 1.6%, to $59.74.
Microsoft's second-quarter earnings and revenue matched Wall Street estimates and guidance looked strong. The company earned $3.65 billion, or 34 cents a share, in the quarter, while sales rose 9% to $11.84 billion. Adjusted for a gain, earnings matched the 33-cent consensus estimate.
For the third quarter, Microsoft sees earnings of 32 cents or 33 cents a share on sales of $10.9 billion to $11.2 billion. Analysts were forecasting earnings of 33 cents a share on sales of $10.99 billion. Microsoft rose $1.29, or 4.9%, to $27.79.
Other tech companies reporting late Thursday were
KLA-Tencor
(KLAC) - Get KLA Corporation Report
, which said earnings fell in its second quarter but beat estimates, and
Sandisk
(SNDK)
, which beat estimates by 6 cents but also set price cuts that sank the stock 10.3%.
The market had no second thoughts about
Broadcom
undefined
, which saw its shares vault 19% after it reported adjusted earnings of 50 cents a share and sales of $820.6 million. Wall Street was forecasting earnings of 44 cents a share on $780 million in sales. The stock finished up $11.15 to $69.87.
Medical device maker
Stryker
(SYK) - Get Stryker Corporation Report
said fourth-quarter earnings rose 22% to $198 million, or 48 cents a share, matching estimates. For 2006, the company sees earnings of $2.02 a share, short of the $2.09-a-share estimate. Stryker jumped $6, or 13.5%, to close at $50.33.
Guidant
(GDT)
posted fourth-quarter earnings of $78.9 million, or 23 cents a share, falling from $104.5 million, or 32 cents a share, a year ago. Sales fell 14% to $828 million, due to the impact of product recalls.
Before certain items, Guidant earned 31 cents, but was expected to have a profit of 34 cents a share on revenue of $851.3 million, according to Thomson First Call. The company, which is planning to be acquired by
Boston Scientific
(BSX) - Get Boston Scientific Corporation Report
, slid $1.54, or 2.1%, to $73.72.
Black & Decker
undefined
reported fourth-quarter net earnings of $100.6 million, or $1.27 a share, down from $135.3 million, or $1.62 a share, a year earlier. Adjusted earnings were $1.93 a share, beating estimates by 3 cents a share. The stock dipped 13 cents, or 0.2%, at $84.63.
Shares of
Pfizer
(PFE) - Get Pfizer Inc. Report
closed up 3.8% after the company's Exubera inhalable insulin drug was approved by European regulators. Earlier, CEO Hank McKinnell had stated the U.S. Food & Drug Administration had approved the drug but he quickly retracted the statement, citing miscommunication.
In the retail sector, J.P. Morgan upgraded
Target
(TGT) - Get Target Corporation Report
to overweight from neutral and downgraded
Wal-Mart
(WMT) - Get Walmart Inc. Report
to neutral from overweight. The firm believes Target is the best name in retail and has sustainable growth, while Wal-Mart is expected to face challenges over the next 12 to 24 months.
Target tacked on 27 cents, or 0.5%, to $54.17. Wal-Mart was off 49 cents, or 1.1%, to close at $45.83.
Overseas markets were sharply higher, as
Sony's
earnings drove Japan to its best gain in more than three years. The Nikkei rose 3.6% overnight to 16,461, while Hong Kong's Hang Seng rose 1.5% to 15,753.
In Europe, London's FTSE 100 rose 1.1% to 5785, while Germany's Xetra DAX added 1.7% to 5640. The DAX is up about 5% this week and is at levels it hasn't seen since 2001.