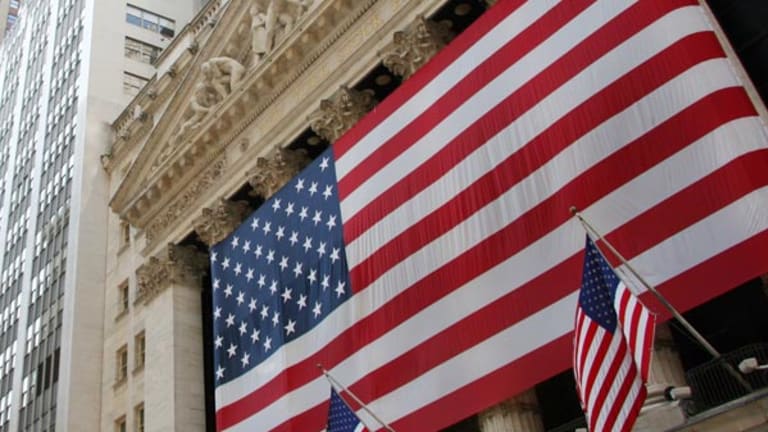 Publish date:
Bulls Climb Off the Mat
Stocks run higher after benign readings on GDP and housing.
Stocks run higher after benign readings on GDP and housing.
Updated from 4:14 p.m. EDT
Market bulls got a measure of revenge after two weeks of selling Thursday as a government report on first-quarter economic growth helped ease interest rate concerns.
The
Dow Jones Industrial Average
surged 93.73 points, or 0.84%, to 11,211.05, and the
S&P 500
was up 14.31 points, or 1.14%, to 1272.88. The
Nasdaq Composite
jumped 29.07 points, or 1.34%, to 2198.24. The 10-year Treasury bond was down 8/32 in price to yield 5.07%, while the dollar fell against the yen and euro.
"The markets experienced a well-deserved bounce, hopefully one that will carry through the next few sessions," said Michael Sheldon, chief market strategist with Spencer Clarke LLC. "Energy and material stocks were strong again, while semiconductors remained weaker. Overall, a pretty good session."
About 1.74 billion shares changed hands on the
New York Stock Exchange
, with advancers outpacing decliners by a 3-to-1 margin. Volume on the Nasdaq was 2.03 billion shares, with advancers beating decliners 3 to 1.
For a second day,
General Motors
(GM) - Get Report
was the leading advancer of the Dow components. The automaker added 5.2% Thursday, following an 8.3% gain on Wednesday after Merrill Lynch upgraded the company to buy from neutral, citing a higher-than-expected acceptance rate among workers for the company's employee buyout program.
At Bank of America,
Wal-Mart
(WMT) - Get Report
went to buy from neutral on expectations of stronger earnings this year and next. Shares rose $1.42, or 3%, to close at $49.45.
"It's a positive sign that Wal-Mart and GM were higher today," said Sheldon. "The fact that they were leading the Dow shows that people are betting on consumer discretionary stocks, indicating that investors believe the consumer may not be dead just yet."
The U.S. economy grew at a 5.3% rate in the first quarter, up from a previous estimate of 4.8%, the Commerce Department said. On average, economists were expecting a bigger revision to gross domestic product, to 5.8%. A gauge of inflation contained in the report, the implicit price deflator, held at positive 3.3%, while the core personal consumption expenditure index was up 2%.
"The GDP number is pretty good, even though it's old data," said Paul Mendelsohn, chief financial officer with Windham Financial. "The core PCE number is right at the top of the
Fed's
limit. Seeing that this number is under control is going to help the market."
Also on the economic front, the Labor Department said weekly initial jobless fell by a smaller-than-expected 40,000 to 329,000 last week. The less volatile four-week moving average rose 3,250 to 337,000. A report on existing-home sales was in line with estimates at an annual rate of 6.76 million units in April, down 2%.
Ian Shepherdson, chief economist with High Frequency Economics, says that the housing number "is a surprise. The data do now seem to be pointing to something of slowdown in payroll growth over the summer."
The advance in equities was something of a rarity of late. Through the close of trading Wednesday, the Dow had lost 550 points, or 4.7%, while the S&P 500 had lost 58 points, or 4.3%, since their recent peaks on May 10. The Nasdaq, whose most recent high was May 5, was down 155 points, or 6.9%, before trading began Thursday.
"While there are many indicators that suggest the market should bottom here, there has been no collapse," said Ken Tower, chief market strategist with CyberTrader. "The decline has been accompanied by a lot of signs that investors are troubled, but there has been no panic."
Commodity prices were higher after a selloff Wednesday. July crude gained $1.46 to close at $71.32 a barrel, gold added $11 to $648.50 an ounce, and copper rose 7 cents to $3.71 a pound. Weakness in commodity prices has coincided with a flight from risk assets, where speculators had enjoyed bull markets until earlier this month.
By sector, the Amex Gold Bugs index rebounded from heavy losses of the last two sessions and ended up 5.2%. The Philadelphia Oil Service Sector index added 4.3%, and the Philadelphia Bank Sector index was up 0.5%. The Philadelphia Semiconductor Sector index fell 0.4%.
To view Lauren Silva's video take on today's market, click here
.
In corporate news, Prudential raised
eBay
(EBAY) - Get Report
to overweight on the basis of valuation. The stock is down 30% on the year, making it one of the Nasdaq's weakest-performing names. The online auction site also announced a partnership with
Yahoo!
(YHOO)
that will enable users to pay for Yahoo! services through eBay's PayPal system.
eBay was higher by $3.68, or 12.2%, to $33.88. Yahoo! added $1.13, or 3.6%, to close at $32.92.
Meanwhile, one of the biggest corporate scandals in U.S. history was essentially concluded -- at least for now -- when Jeffrey Skilling and Kenneth Lay were convicted of securities fraud and conspiracy charges that were related to their roles in the 2001 collapse of
Enron
.
The latest bank merger will see
Regions Financial
(RF) - Get Report
buy Birmingham, Ala., rival
Amsouth
(ASO)
for stock worth $9.8 billion. The deal will create the country's 10th-largest bank. Regions finished down 3.1% to $34.44. Amsouth was lower by 3.1% to $28.
MasterCard International
(MA) - Get Report
priced a 61.5-million-share initial public offering late Wednesday at $39 apiece, slightly below the expected range. The deal, raising $2.39 billion, is among the largest U.S. IPOs of the past two years. Shares finished the session at $46.
Homebuilder
Ryland
(RYL)
cut its full-year earnings guidance Thursday, citing a weakening order outlook. Ryland expects to earn $8.50 to $9 a share this year, down from the $9.50 a share it forecast last month. Ryland fell 80 cents, or 1.5%, to $51.74.
In other ratings moves, Prudential upgraded
Wachovia
(WG)
to neutral from underweight, while Bear Stearns upped
Electronic Arts
(ERTS)
to peer perform from underperform.
Wachovia rose 23 cents, or 0.4%, to $53.26. Electronic Arts, was higher by 20 cents, or 0.5%, to close at $44.20.
XM Satellite Radio
(XMSR)
was downgraded by Bear Stearns and Barrington Research after XM lowered its full-year subscriber growth and revenue targets. Still, shares added 60 cents, or 4.4%, to $14.35.
Overseas markets were mixed, with London's FTSE adding 1.6% to 5678 and Germany's Xetra DAX up 2.1% to 5706. In Asia, Japan's Nikkei fell 1.3% overnight to 15,694, while Hong Kong's Hang Seng lost 0.8% to 15,670.