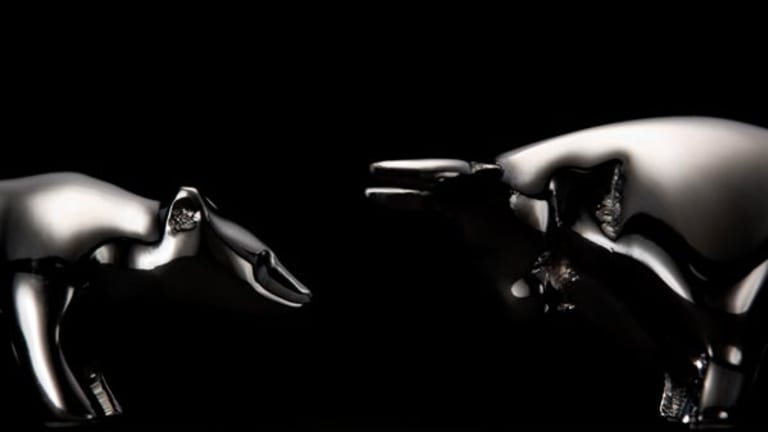 Bulls Back for Revenge
Energy and chip stocks are among the leaders of a broad rally that lifts the Dow nearly 200 points.
Updated from 4:12 p.m. EDT
Stocks took flight Thursday as a broad rally led by oil stocks, miners and the computer sector combined with a handful of brokerage upgrades to extend the market's cheer for another day.
The
Dow Jones Industrial Average
rose 198.27 points, or 1.83%, to 11,015.19, bringing its two-session gain to 309 points and putting it back in positive territory for the year. Prior to Wednesday, the average had lost 554 points, or 4.9%, over the previous eight sessions. The Dow posted its first consecutive triple-digit gains since 2004.
The
S&P 500
, meanwhile, rose 26.12 points, or 2.12%, to 1256.16, and the
Nasdaq Composite
vaulted 58.15 points, or 2.79%, to 2144.15.
"The bulls still have a lot to prove," said Ken Tower, chief market strategist with CyberTrader. "Two higher sessions do not make a long-lasting trend, no matter how much we've gone up. There are still enough negatives out there to keep investors from feeling urgent to put money to work."
The 10-year Treasury note was down 9/32 in price to yield 5.10%, while the dollar fell against the yen and euro.
Caterpillar
(CAT) - Get Caterpillar Inc. Report
,
Boeing
(BA) - Get The Boeing Company Report
and
Hewlett-Packard
were the best performers on the Dow, rising between 3.4% and 5.8%.
By market subgroup, the Philadelphia Oil Service Sector index added 5.7%. The Philadelphia Semiconductor Sector index was higher by 4.2%, the Dow Jones Transportation Average gained 3.8%, and the Nasdaq Financial index tacked on 2.9%.
The Amex Airline index ended the session 5.9% higher, and the Amex Gold Bugs measure collected a 6.4% gain.
"Inflation expectations are moderating a bit," says Al Goldman, chief market strategist with A.G. Edwards. "We're now less worried about inflation than the economy cooling down. We have been primed for a rally as we were deeply oversold over the short term. We've come a long way in a short period of time. Enough was enough with the bad news."
About 1.98 billion shares changed hands on the
New York Stock Exchange
, and volume on the Nasdaq was 2.28 billion shares. Advancers trounced decliners 4 to 1.
Federal Reserve
Chairman Ben Bernanke was speaking again, saying this time that the "rate of pass-through of higher energy and other commodity prices to core consumer-price inflation appears to have remained low." Bernanke also repeated comments that the Fed will remain vigilant about inflation, saying surges in oil and commodity prices are developments that "bear watching."
July crude added 36 cents to close at $69.50 a barrel. Gold gained $3.80 to $570.30 an ounce, copper rose 16 cents to $3.21 a pound, and silver gained 23 cents to finish at $9.97 an ounce.
To view Gregg Greenberg's video take on today's market, click here
.
The iShares MSCI Emerging Markets index, designed to measure the equity market performance in the global emerging markets, rose 5.8%. The index had lost 15.2% during a seven-session decline before rising 2.9% Wednesday.
U.S. stocks rose from seven-month lows Wednesday as investors finally went bargain-hunting despite a slightly higher-than-expected reading on core inflation. For the day, the Dow surged 111 points to 10,817, and the S&P 500 added 6 points to 1230. The Nasdaq Composite gained 13 points to 2086. It was the Nasdaq's first up session in nine.
On the economic docket Thursday were first-time jobless claims, which unexpectedly fell 8,000 to 295,000 last week. The Labor Department also said the less-volatile four-week moving average fell 12,250 to 315,750.
Ian Shepherdson, chief economist with High Frequency Economics, said the payroll numbers "are stronger than expected and cast at least some doubt on the idea that payrolls are now in a serious weakening trend."
Also, the Treasury Department said international capital inflows to the U.S. were $46.7 billion in April, down from $69.8 billion in March. Meanwhile, the
Federal Reserve
said U.S. industrial production unexpectedly fell 0.1% in May, while capacity utilization dipped to 81.7% from 81.9% in April.
In addition, the New York Federal Reserve Bank said its Empire State Manufacturing index rose to a reading of 29.0 in June from a revised reading of 12.9 in May. Economists were expecting a small increase. Meanwhile, the Philly Fed index dipped to 13.1 in June from 14.4 in May. The consensus was for a drop to 11.0.
Investors saw another earnings report from a big securities firm, this time
Bear Stearns
( BSC). The company posted a second-quarter profit of $539.3 million, or $3.72 a share, up 81% from a year ago. Results were ahead of the Thomson First Call consensus of $3.12 a share. Bear Stearns added $7.36, or 5.9%, to $131.56.
Stocks also got some support from Wall Street analysts Thursday as UBS upgraded semiconductor outfits
Nvidia
(NVDA) - Get NVIDIA Corporation Report
and
SanDisk
(SNDK)
to buy. The brokerage also raised
Circuit City
(CC) - Get Chemours Company (The) Report
to buy and upped its price target on the retailer by $8 to $36.
Nvidia surged 8.8% to finish at $22.23, SanDisk was higher by 5.7% to $54.45, and Circuit City rose 6.3% to $30.01.
General Mills
(GIS) - Get General Mills Inc. Report
raised earnings guidance for 2006, saying it expects to report $2.90 a share, up from its previous range of $2.80 to $2.85. In 2007, however, a higher tax rate and stock-options expense could result in slightly slower growth than previously expected, the company said. Citigroup downgraded the shares in the wake of the announcement. General Mills fell 63 cents, or 1.2%, to $50.83.
Philips Electronics
(PHG) - Get Koninklijke Philips N.V. NY Registry Shares Report
agreed to acquire Nasdaq-traded
Intermagnetics
for $1.26 billion, or $21.38 a share, expanding its presence in a technology for medical imaging. The price is roughly 30% above Intermagnetics' Wednesday close. The stock tacked on $1.08, or 3.9%, to $28.84.
Pier 1's
(PIR) - Get n.a. Report
first-quarter loss widened to $23.2 million, or 27 cents a share, from $12.5 million, or 14 cents a share, a year ago. The retailer's adjusted loss of 26 cents a share matched estimates. "Customer traffic remained weak" in the quarter, Pier 1 said. Shares lost 20 cents, or 2.4%, to $8.20.
Among other ratings moves, Morgan Stanley cut the homebuilding sector to cautious from attractive, citing rising inventory levels and negative earnings revisions.
KB Home
,
Lennar
(LEN) - Get Lennar Corporation Class A Report
and
Pulte Homes
(PHM) - Get PulteGroup Inc. Report
saw their rating downgraded to equal weight from overweight.
KB Home gained 4.4% to $45.10, and Pulte added 4.4% to $28.31. Lennar was higher by 4% to finish at $45.39.
Shares of
Black & Decker
( BDK) finished up 4.1% after Citigroup raised its rating on the home improvement company to buy from hold. The stock rose $3.32 to $84.
Overseas markets rose across the board. London's FTSE 100 was up 2% to 5619, and Germany's Xetra DAX was adding 2.2% to 5422. In Asia, Japan's Nikkei rose 1.1% overnight to 14,471, and Hong Kong's Hang Seng rose 1.2% to 15,435.
Stock indices in Sweden, Switzerland, Mexico and the Netherlands were showing gains between 2.1% and 4.1%.