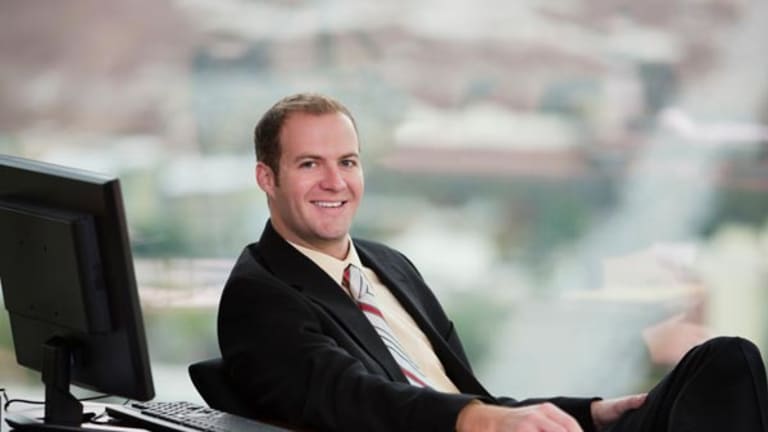 Bullishness Alone Isn't Always Enough
The force that's keeping the Arms Index overbought can't seem to power the indices higher.
This column was originally published on RealMoney on April 7 at 8:10 a.m. EDT. It's being republished as a bonus for TheStreet.com readers.
Two days ago, we were seeing that the
Nasdaq
had been underperforming the
Dow
, and it looked as though it was due to catch up some. Since then, we have seen exactly that, albeit without a great deal of enthusiasm in either market. The Nasdaq has pushed a bit further into new-high territory, while the Dow has stayed below its former highs.
On the final chart below you will see, within the upper ellipse, the sideways area that has confined the Dow for the last 16 sessions. Below it we see the five-day moving average of the Arms Index in red and the 10-day Arms Index moving average in blue.
It is instructive that the two indices remain quite overbought and have been generally in that region throughout the consolidation. It implies that we are seeing a high level of bullishness, but that it is unable to push prices higher. Therefore, I am not changing my very cautious stance at this time.
To view a larger version of these charts (in some browsers), after clicking on the "larger image" link below the chart, mouse over the lower-right area of the chart until the icon with four arrows appears. Then click on that icon.
Martha Stewart Living Omnimedia
(MSO)
seems to have been imprisoned between parallel bars (the lows around $16 and the highs around $20) for a five-month term. But in February and again Thursday, the stock tried very hard to break out. Notice the big increase in effort, in terms of volume and trading range, on both occasions. I believe we are getting very close to a release to the upside. It will take a penetration of the $20 level to get the move going, but I am inclined to buy some here, and round out the position when and if the breakout occurs. (To do my Equivolume charting, as in the charts that appear in this column, I use a charting program called
MetaStock. To learn more about this method, read my series of columns,
.)
Martha Stewart Living Omnimedia: Buy
Applied Digital
After a long-term decline started around the end of 2004, a year ago
Applied Digital
undefined
entered a sideways move. Notice that each rally since then has been accompanied by an increase in volume. The advance a week ago penetrated the shorter-term downtrend line, suggesting an upward move is starting to develop. That was followed by a lighter-volume pullback, which is an encouraging sign. I believe it could be bought around current levels. This is a low-priced stock that can move quite fast. As usual, a protective stop is suggested.
Great Atlantic & Pacific: Sell
I suggested
Great Atlantic & Pacific
(GAP)
on
Oct. 26, 2005 on the basis of the chart pattern. The stock had broken out above resistance with much heavier volume and a wide trading range, and then pulled back on much lighter trading. Since then, it has had a very large advance, especially for such a prosaic stock. But two days ago, it went to a new high and volume became extremely heavy, yet the trading range was not proportionately as large as we would like to see. That suggests a big supply just above current levels. Consequently, I suggest taking profits in long positions. There is no sign of weakness yet, though, that could justify a short position.
Dow Jones: Short
Dow Jones
undefined
is presenting us with a fairly typical chart of a stock that has been in an uptrend, but has started to turn lower. We have a series of descending tops followed by a sign of weakness in the form of a heavy-volume down day that took the stock below a key support level. In addition, the ascending trendline has been penetrated. There is a support level just below the current position, but volume was light there before so it probably is not very good support. The stock looks like a short, especially on a lighter-volume rally.
Please note that due to factors including low market capitalization and/or insufficient public float, we consider Applied Digital to be a small-cap stock. You should be aware that such stocks are subject to more risk than stocks of larger companies, including greater volatility, lower liquidity and less publicly available information, and that postings such as this one can have an effect on their stock prices.
P.S. from TheStreet.com Editor-in-Chief, Dave Morrow:
It's always been my opinion that it pays to have more -- not fewer -- expert market views and analyses when you're making investing or trading decisions. That's why I recommend you take advantage of our
to TheStreet.com's
RealMoney
premium Web site, where you'll get in-depth commentary
and
money-making strategies from over 50 Wall Street pros, including Jim Cramer. Take my advice --
Richard Arms is a renowned stock market technician who invented the Arms Index (often referred to as the TRIN), which has become a mainstay of market analysis, appearing in
The Wall Street Journal
and
Barron's
. Arms also developed the widely used technical method Equivolume Charting. Since 1996, he has been publishing the Arms Advisory newsletter for money managers and financial institutions. He also has authored
Profits in Volume
,
Volume Cycles in the Stock Market
,
Trading Without Fear
and
The Arms Index
, and has been honored with the Market Technicians' Award for Lifetime Contribution to Technical Analysis. At the time of publication, he had no positions in stocks mentioned in this report, although holdings can change at any time. Under no circumstances does the information in this commentary represent a recommendation to buy or sell stocks. Richard appreciates your feedback;
to send him an email.
TheStreet.com has a revenue-sharing relationship with Trader's Library under which it receives a portion of the revenue from purchases by customers directed there from TheStreet.com.