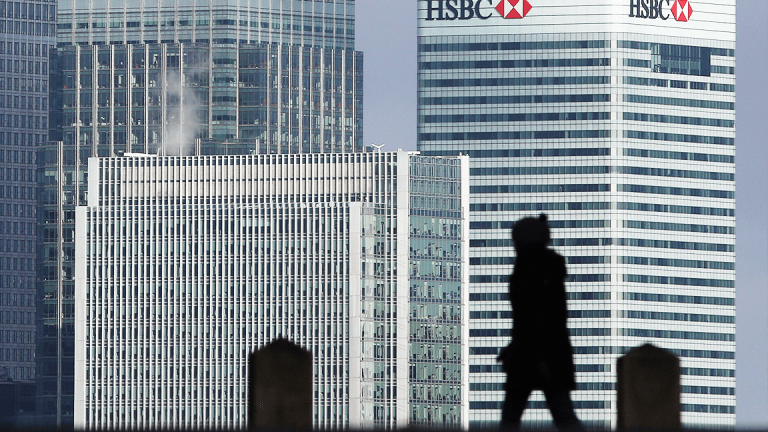 Britain's Opposition Leader Says Labour Party a 'Threat' to Investment Banks
Jeremy Corbyn, who leads Britain's Labour Party and could be the country's next Prime Ministers, has called investment banks 'gamblers and speculators' and said he would be a 'threat to a damaging system.'
The leader of Britain's Labour Party, and the man many say could be the country's next Prime Minister, has hit back at a warning over his leadership by Morgan Stanley (MS) - Get Morgan Stanley (MS) Report , calling the U.S. investment bank and its peers "speculators and gamblers who crashed our economy."
The direct response from Jeremy Corbyn and Labour, which holds a consistent lead over Prime Minister Theresa May's Conservative Party in recent polls, followed a research note from the bank that highlighted significant concerns -- "a double whammy of uncertainty in the shape of Brexit and a fragile domestic political situation" -- the country faces and the impact his election would have. 
"Nurses, teachers, shopworkers, builders, just about everyone is finding it harder to get by, while Morgan Stanley's CEO paid himself £21.5 million ($29 million) last year and UK banks paid out £15 billion in bonuses," Corbyn said as part of a video post shared through his official social media accounts. "Labour is a growing movement of well over half a million members and a government-in-waiting that will work for the many. So when they say we're a threat, they're right. We're a threat to a damaging and failed system that's rigged for the few."
The attack is likely to raise questions as to what kind of relationship a new government would have with a Labour-led government and what role the City of London would play in Britain's trading relationship with Europe when it exits the Union in 2019.
The City's financial sector paid a record £72 billion in tax to the U.K. Treasury in the government's last fiscal year, a figure that represents around 11% of the total and the single-largest business contribution. 
That tally could be threatened if a Brexit deal fails to secure a so-called financial services "passport" that would allow banks and other firms to base themselves in London while doing business in the 27 EU member states. 
U.S. banks, including JPMorgan Chase (JPM) - Get JPMorgan Chase & Co. (JPM) Report , Bank of America (BA) - Get Boeing Company Report and Citigroup (C) - Get Citigroup Inc. Report have all explored secondary options on the Continent, with Paris, Frankfurt, Madrid and Lisbon all vying for new tenants with sweetheart deals on taxes and office space.
BofA is said to be in talks to lease 100,000 square feet of space near the Arc de Triomphe in Paris, while JPMorgan is reportedly ready to increase its own headcount in the French capital.
The London School of Economics' Centre for Economic Performance and Centre for Cities estimates the British capital could lose as much as £18 billion in annual revenue and as many as 30,000 jobs, a figure that EY suggests could rise to 83,000 in a worst-case "Hard Brexit" scenario.
Curiously, although policymakers such as Bank of England Governor Mark Carney have cautioned on the need to arrange what he called "as comprehensive and open a trading and investment partnership between the UK and the EU" as possible, few business leaders have been prepared to criticise the U.K. government in public.
One notable exception, however, has been Carolyn Fairbairn, the director general of the Confederation of British Industry, a lobby group, who warned last month that it was "deeply concerning to many businesses in the UK and the rest of Europe" that a financial settlement had not been reached.
More of What's Trending on TheStreet: