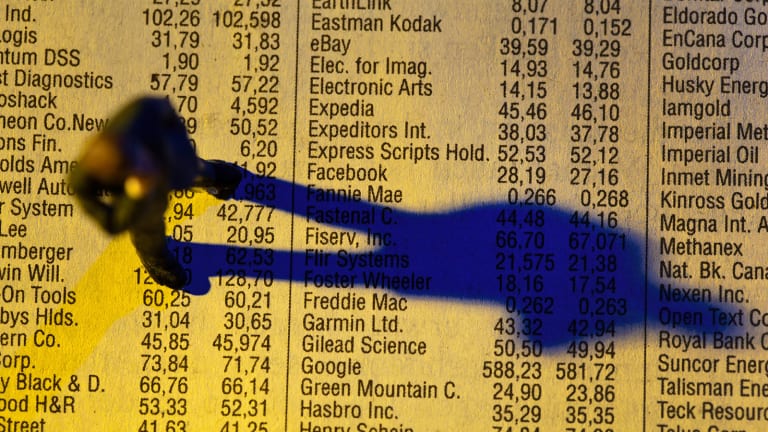 Britain's FTSE 100 Hits Record Close as Miners Drive Benchmark Past 7,100
Britain's benchmark FTSE 100 closed at a record high Wednesday as mining stocks lifted the index past 7,100
Britain's FTSE 100 index closed at a record high Wednesday as a surge in mining stocks lifted the benchmark past the 7,100 barrier in an otherwise quiet European session.
The most-recognised measure of U.K. stock performance ended 37.91 points, or 0.54%, higher to close at 7,106.08, beating the benchmark's previous record of 7,097 points set on Oct. 10. The intra-day high remains 7,130.39, set around mid-day on Oct. 11.
Mining stocks led the advance, with BHP Billition (BHP) - Get Free Report one of the day's top gainers with a 4.28% rise. More broadly, the Stoxx 600 Basic Resources subindex, a region-wide measure, rose just over 3% on the session to 398.25 points.
The benchmark was also helped by another weak session for the pound, which fell 0.54% against the U.S. dollar to 1.2213, the lowest since Nov. 1. FTSE 100 companies earn around 75% of their revenues outside of the U.K., and the index's performance has closely tracked the pound's decline since the country voted to leave the European Union on June 23.
Outside of the U.K. stocks were mixed, with major indices trading in an out of positive territory for most of the session. Germany's DAX performance index ended  2.75 points higher at 11,474.99 while France's CAC-40 was essentially unchanged at 4,848.01 points.
Both the FTSE gains and the broader upward trend helped take the Stoxx 600 Index to a 2016 high of 361.63  by the session's close.
Away from equities, eurozone government bonds traded higher, which pushed benchmark borrowings costs around the region lower as traders added to defensive positions amid the uncertainty surrounding the planned rescue of Italy's failing lender, Banca Monte dei Paschi di Siena. (BMDPY)
Italy's government has authorised €20 billion in extra borrowing to stabilise the country's banking system, with around €5 billion originally earmarked for the BMPS rescue.
However, the European Central Bank, which ultimately oversees the region's lenders, has reportedly asked that €8.8 billion be used to plug a now expanding hole in the bank's balance sheet, causing some investors to worry that Italy could be forced to add even more debt to its existing pile - the largest in Europe and the third largest bond market in the world.
Germany's benchmark 10-year bunds traded as low as 0.18%, making the extra yield, or spread, that investors can earn by owning 10-year Treasury bonds instead expand to 2.32%. Two-year German government bond yields, known as schatz, traded at a record low -0.84%, albeit in thin volume.