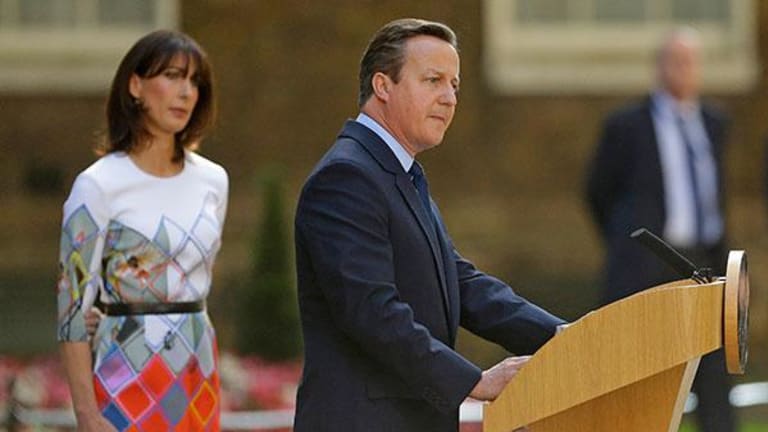 Britain Is Able To Handle Brexit, Prime Minister Assures
In an address to parliament on Monday, British Prime Minister David Cameron said the country can handle Brexit due to its current 'position of strength.'
In an address to parliament on Monday, British Prime Minister David Cameron said the country can handle Brexit due to its current 'position of strength.'
NEW YORK (TheStreet) -- Britain will be able to handle whatever the Brexit brings from a "position of strength," British Prime Minister David Cameron reassured the U.K. in a live address to parliament on Monday morning.
"We have today one of the strongest major advanced economies in the world, we have low stable inflation, the employment rate remains the highest it's ever been, the budget deficit is down from 11% of national income. The financial system is also substantially more resilient than it was six years ago," Cameron explained.
U.K. institutions have enough capital and liquidity to support a worse economy than the nation is currently facing and the Bank of England will be able to make available $250 billion to support banks and markets, he continued.
After the U.K. voted in favor of leaving the European Union (E.U.) last week, global markets have been heavily pressured, on the uncertainties of what the Brexit will bring. In addition, Cameron, who was in the remain camp, resigned from his position as prime minister.
"As I have said, I think the country requires a new prime minister and cabinet to take it in this direction. This is not a decision I've taken lightly but I am absolutely convinced it is in the national interest," Cameron announced.
Cameron reassured U.K. citizens living in Britain and British citizens residing in other European countries that there will be no "immediate changes" in the way they will be able to travel, in the way goods move or in the way services are sold.
In preparation for the exit from the E.U., the cabinet agreed Monday morning on the creation of a new unit, made up of officials from the treasury, foreign office and business departments, to help the transition.
"Clearly this will be the most complex and most important task that the British civil service has undertaken in decades," Cameron stated. The British and Irish governments will begin working together this week to hash out border issues.
Britain must not turn its back on the other countries in Europe, Cameron insisted.
"In the past few days we've seen despicable graffiti on a Polish community center, verbal abuse hurled against individuals because they are members of ethnic minorities. Let's remember these people have come here and made a wonderful contribution to our country. We will not stand for hate crime or these kind of attacks," he noted.
The Dow Jones continues to fall late Monday morning by about 318 points, the NASDAQ is off by around 120 points and the S&P 500 is lower by about 41 points.