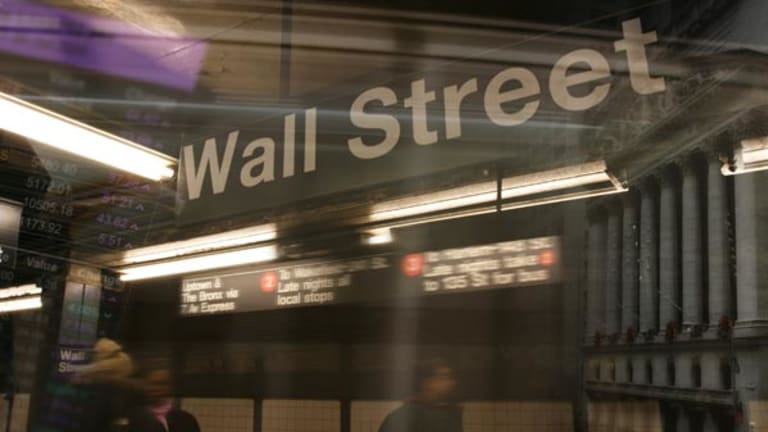 'Brexit' Shockwaves Pull Wall Street Selloff Into Day Two
It was another rotten day for Wall Street as the shockwaves from Friday's 'Brexit' vote continued to reverberate through global markets.
It was another rotten day for Wall Street as the shockwaves from Friday's 'Brexit' vote continued to reverberate through global markets.
It was another rotten day for Wall Street as the shockwaves from Friday's 'Brexit' vote continued to reverberate through global markets.
U.S. stocks suffered their worst selloff since August, planting benchmark indexes firmly in negative territory for 2016. The S&P 500 was down 1.81%, the Dow Jones Industrial Average declined 1.50% and the Nasdaq fell 2.41%.
Traders continue to assess the impact of the United Kingdom's decision to exit the European Union. Pundits expect roughly two years of transition as U.K. politicians negotiate its exit, though the timeline is still fuzzy. The impact on the U.S. economy is still unclear, which in the short term will likely contribute to volatility. 
"Greater uncertainty about the prospects for global growth and increased financial market volatility could make U.S. businesses more cautious in hiring and investing," Bill Stone, chief investment strategist at PNC Asset Management Group, said of the fallout of the vote. "Uncertainty and volatility will also push investors to seek the safety of the dollar, making the currency strengthen in the near term. This will make U.S. exports abroad more expensive and imports to the U.S. less expensive, creating a drag on growth."
Safe-haven assets such as gold were on the rise as traders fled riskier investments. Gold was trading near its best levels in two years on Monday. Gold producers such as Randgold Resources (GOLD) - Get Report , Barrick Gold (ABX) and Newmont Mining (NEM) - Get Report were in rally mode.
S&P cut the United Kingdom's sovereign credit rating to AA from AAA, mainly due to Friday's vote. The firm said the pro-exit result would lead to a "less predictable, stable and effective policy framework."
European markets closed sharply lower with the FTSE 100 in London posting a 2.6% drop. The pound slumped to its worst level in 31 years, falling nearly 4% against the greenback. The pound was trading at around $1.31 Monday afternoon.
Financial stocks were the worst performers on Monday as major banks faced two years of protracted negotiations across Europe. Regulations for the finance industry, particularly regarding cross-border transactions among EU countries, will likely be altered as the U.K. prepares its EU exit.
U.S.-listed shares of Lloyd's (LYG) - Get Report plummeted 17%, Barclays (BCS) - Get Report tanked 21% and RoyalBank of Scotland (RBS) - Get Report slumped 14% in U.S. trading Monday. U.S. banks including Bank of America (BAC) - Get Report , Citigroup (C) - Get Report , JPMorgan (JPM) - Get Report and Wells Fargo (WFC) - Get Report were also in steep decline.
Citigroup and Wells Fargo are holdings in Jim Cramer's Action Alerts PLUS Charitable Trust Portfolio. Want to be alerted before Cramer buys or sells C or WFC? Learn more now.
Crude oil prices closed at their lowest level in a week as fears over 'Brexit' reached a crescendo. Commodity traders grew concerned that the U.K.'s exit from the EU could depress economic demand for oil. West Texas Intermediate crude oil was down 2.8% to $46.33 a barrel on Monday.
"A stronger dollar makes buying crude more expensive for most of the world, and while the repercussions of a Brexit affect the EU and Britain legally, the ramifications are wide-spread," said Daniel Holder, commodity analyst at Schneider Electric. "As higher prices lead to lower demand, the nominal price of crude in dollars is down."
George Osborne, the U.K. Chancellor of the Exchequer, assured that the Treasury and the Bank of England have come up with further contingency plans following Britain's vote to leave the EU. Osborne said "swap lines" had been established so institutions could access foreign currency if needed. He also warned that volatility would likely continue for now.
The 'Brexit' vote significantly reduced the chances of a rate hike from the Federal Reserve this year. A July rate hike currently has a 6% probability, a September rate hike has a 17.2% probability, a November rate hike has a 17.2% probability and a December rate hike has a 14% probability, according to CME Group fed funds futures.
"The Brexit vote has significantly diminished the import of this week's data, as the May/June figures will be viewed as "old news" (e.g. pre-Brexit) and therefore less relevant for policymakers," RBS Securities analysts wrote in a note. "For now, the Fed (and market participants) will be ... focused on the fallout from Brexit on financial markets and the global economy."
The U.S. international trade deficit widened to $60.6 billion in May from $57.5 billion in April, according to the Census Bureau. Economists had expected the deficit to widen to just $59.3 billion. Weaker export activity and a pickup in import demand weighed on the trade balance. The wider-than-expected deficit likely pulled second-quarter GDP down to 2.5% from previous estimates of 2.7%, according to TD Securities.