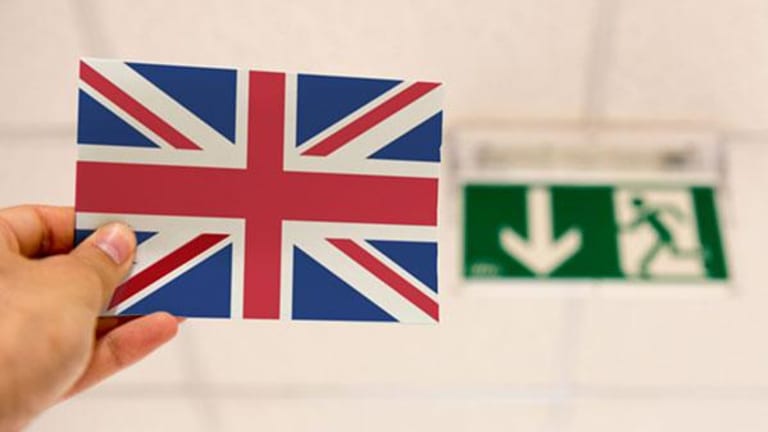 Brexit Fears Are 'Rubbish,' Nigel Farage Says on CNBC
U.K. Independence Party Leader Nigel Farage was on CNBC today and told people who are fearing market declines due to the Brexit to 'grow up.'
U.K. Independence Party Leader Nigel Farage was on CNBC today and told people who are fearing market declines due to the Brexit to 'grow up.'
NEW YORK (TheStreet) -- The perception that the British vote to leave the European Union (E.U.) will result in a "fall of city business" is "false," U.K. Independence Party leader Nigel Farage told CNBC's Wilfred Frost on "Power Lunch" Tuesday.
"Can we just end this complete rubbish? Can we all grow up? Stop this absolute scare mongering nonsense," Farage argued, citing that after the global markets initially plunged last week on uncertainty concerns surrounding the Brexit, they have since started to rebound.
On Wall Street, the Dow Jones is climbing by about 130 points, the S&P 500 is higher by around 62 points and the NASDAQ is up by about 18 points this afternoon.
"So the pensions that people have seen fall in the last couple of days is irrelevant?" Frost asked.
The British 100-company share index Financial Times Stock Exchange (FTSE) or "Footsie," is up by 3% today and is 12% higher than it was in February, Farage replied.
Farage admitted that there is a decreasing global economy, and "indeed in Britain," but said it is not because of Brexit.
The declining economies are a result of the government's over-borrowing habits, he commented.
Farage added that he was excited last night when the prime ministers of Australia and New Zealand said they are in a "race" to see who can be the first country to do a trade deal with the U.K. after the Brexit.
Prior to Frost's interview with Farage for CNBC, the politician addressed the European Parliament in Brussels, where he was booed for essentially flaunting the Brexit vote and taunting the other members for "being in denial that your currency is failing," the Guardian reported.