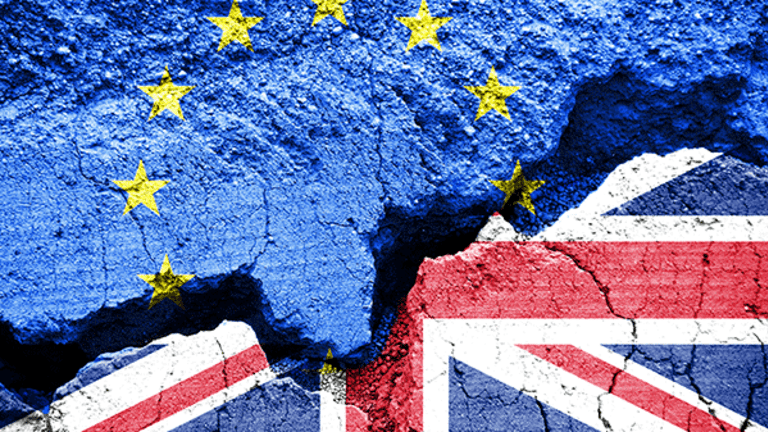 Brexit Day Timeline: Key Events in Britain's Historic Exit From the European Union
Britain will start the formal process of exiting the EU Wednesday by invoking Article 50, a treaty clause that fires a metaphorical starting gun on the country's negotiations.
Britain will start the formal process of exiting the European Union Wednesday by invoking a clause within the Treaty of Lisbon, known as Article 50, that fires a metaphorical starting gun on a two-year negotiation between London and Brussels.
Below is a near-term timeline for key events in the days and weeks ahead: 
Wednesday:
12:00 London time: Prime Minister Theresa May will appear in Parliament for her regular weekly debate with U.K. lawmakers that will likely be dominated by the impending Brexit talks and challenging questions from opposition leader Jeremy Corbyn with respect to the government's priorities and guarantees for workers' rights.
12:20 - 12:30: Britain's EU Ambassador, Sir Tim Barrrow, will deliver a six-page letter, signed by May late Tuesday, to European Council President Donald Tusk.
12:30: Around that time, May will rise in Parliament to address lawmakers with a formal statement confirming delivery of the letter, with a likely reference to the 'will of the people' expressed in the June 23 Brexit vote in which 52% of the electorate opted to leave the European Union.
12:45: Tusk will issue a formal statement in Brussels in reply to receipt of the Article 50 letter, with the expectation that he will outline the structure of the European response and perhaps signal the priorities of its negotiating position.
19:00: May will sit down for a nationally televised interview on BBC television with Andrew Neil, a veteran journalist and broadcaster who is expected to test the Prime Minister with tough questions about her ability to meet the expectations of both voters and business leaders and any suggestion she may call an early election to shore up support within her party and shut-down any potential challenge from a Labour opposition that continues to sink in the polls.
In the days ahead:
Michel Barnier, the EU's chief negotiator nicked-named 'the ski instructor' in reference to his role in organizing the 1992 Winter Olympics in Albertville, France, will clarify the bloc's formal negotiating priorities in a more detailed response to the Article 50 letter that most analysts say will come withing 48 hours. 
Within a similar time frame, U.K. lawmakers will unveil what is known as the Great Repeal Bill, a massive legislative effort that will attempt to both codify some of the 19,000 EU-related rules and regulations into British law while simultaneously rolling back some of the more unpopular statues and leaving room for future governments to make subsequent changes. 
April 23: France will hold the first round of its contentious Presidential elections in which far-right and anti-EU candidate Marine Le Pen is essentially running neck-and-neck with centrist Emmanuel Macron. Any suggestion that officials in Brussels are either softening their stance to appease London will be seized upon by Le Pen in order to bolster support outside of metropolitan Paris, where anti-Brussels sentiment is more prevalent.
April 29: EU leaders will meet in Brussels to agree on terms of the bloc's negotiating position set out in Barnier's statement and will be chaired by EU President Jean-Claude Juncker, the former Prime Minister of Luxembourg and perhaps the most divisive politician in the Brexit debate.