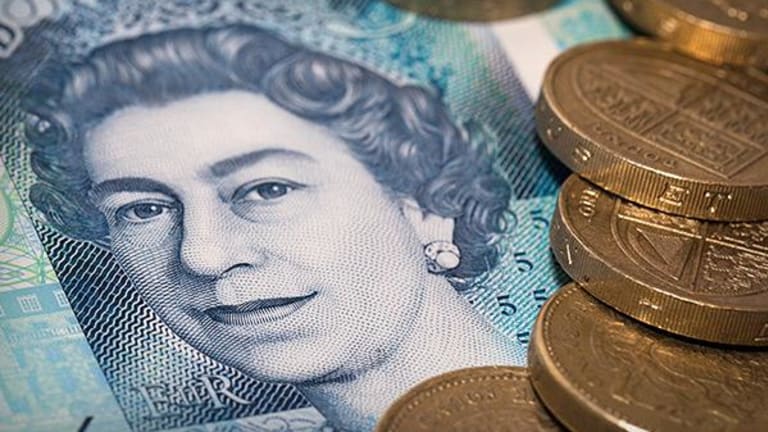 Brexit Anniversary: Tracking the Pound's Historic Decline Since Britain Voted to Leave the EU
The pound has fallen more than 15% against the U.S. dollar since the country voted to leave the European Union on this day last year.
The pound has fallen more than 15% against the U.S. dollar since the country voted to leave the European Union on this day last year, making it one of the worst-performing currencies in the world over the past 12 months.
In fact, sterling has only recorded gains against six global currencies -- the Egyptian pound, the Sierra Leone leone, the Congolese franc, the Uzbekistani soum, the Mongolian tugrik and the Turkish lira -- since the June 23, 2016 Brexit vote, according to Bloomberg data.
Below is a quick point-by-point tracking of the pound's historic fall in global foreign exchange markets over the past year.
Earlier this week, the pound fell to the lowest level against the U.S. dollar since April after S&P Global warned it may cut Britain's debt rating before it concludes its Brexit negotiations with the European Union and Bank of England Governor Mark Carney poured cold water on rate hike expectations in a key London speech.
S&P Global's Moritz Kraemer told Reuters that the U.K.'s current rating of AA would may be reviewed more frequently than the current six-month cycle and stressed that "we don't have to wait" for the conclusion of Brexit talks before making a further downgrade.
In a speech that was due to be delivered last week at the annual Mansion House dinner, but was delayed as a mark of respect to the victims of the Grenfell Tower fire in West London, Carney said that "now is not yet the time" to raise interest rates and chided the government by adding that Britain's EU exit negotiations would signal "the extent to which Brexit is a gentle stroll along a smooth path to a land of cake and consumption."
The phrase is a clear challenge to a now infamous comment from Foreign Secretary Boris Johnson, who said last year in reference to the government's ambition for a post-Brexit relationship: "My policy on cake is pro having it and pro eating it."
"From my perspective, given the mixed signals on consumer spending and business investment, and given the still subdued domestic inflationary pressures, in particular anaemic wage growth, now is not yet the time to begin that adjustment," Carney said. "In the coming months, I would like to see the extent to which weaker consumption growth is offset by other components of demand, whether wages begin to firm, and more generally, how the economy reacts to the prospect of tighter financial conditions and the reality of Brexit negotiations."