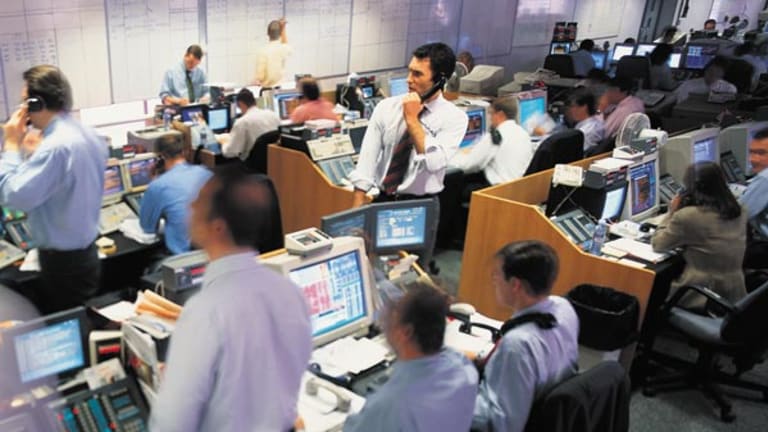 Breathtaking Rally
Thursday's move came as a surprise, and now comes the real pressure.
This column was originally published on RealMoney on June 30 at 9:43 a.m. EDT. It's being republished as a bonus for TheStreet.com readers.
Paranoia strikes deep
Into your life it will creep
It starts when you're always afraid
You step out of line, the man come and take you away.
-- Buffalo Springfield
Put simply, it stinks to be wrong, but that's no reason to change your strategy. I was wrong in thinking the Fed announcement wouldn't be a catalyst. It was a catalyst, and it was a big one.
I spent most of the night beating myself up for having missed a chance to profit off that announcement. Heck, I even considered buying some
Semiconductor HOLDRs
(SMH) - Get VanEck Semiconductor ETF Report
and
Nasdaq-100 Trust
(QQQQ)
on Wednesday when they were both trading poorly and had been trashed the day before. But I didn't, and that upsets me.
To be sure, I wouldn't have used much capital on such a trade at all, as I've explained that it doesn't make a whole lot of sense for me to risk hard-earned gains at this juncture.
This setup of mine is new territory for me as a hedge fund manager. As long-time readers of my columns know, I've spent most of the last nearly four years aggressively long, using lots of common stock and calls in what some would call high-beta tech stocks and what others would call speculative, high-risk tech stocks. From my long-held
Apple
(AAPL) - Get Apple Inc. Report
and
Google
(GOOG) - Get Alphabet Inc. Report
positions to
JDS Uniphase
(JDSU)
and
Tellabs
(TLAB)
, which I also owned and traded around for years, I've been very aggressive on the long side. I've had long-term positions and I've put on short-term trades, often right before an earnings report.
And that approach, as my practically nonexistent personal life and the omnipresent knot in my stomach attest, is difficult and scary although also often profitable. In April, after a huge first quarter, I felt like I went ice-cold into the first quarter's earnings reports, and no matter how good a grasp I had on the fundamentals, I felt that the market wasn't rewarding my analysis. Seeing commodities and commodity companies go into parabolic blowoff-top mode and then interviewing the CEOs of some of those commodity companies and hearing endless commentary about how this cycle is going to be "different" and perhaps "secular," I pulled my chips off the table for the first time in years.
I told Larry Kudlow on TV and wrote here on the site about that move and explained it at times as "wanting to catch my breath." And, up until yesterday's huge rally, which I missed, I was really enjoying my newfound inhale, exhale pattern.
Now comes the test. I've got investors, readers, subscribers, friends and family who want to know when I'm going to get back into the market with some gusto again. I can feel the pressure building after the
Nasdaq
spiked 3% yesterday. "How could you miss something so obvious?" ask some of them. Others say, "I told you so." And yet others want to know, "So, is it safe to get back in now?" Even my friends Bob Marcin and RevShark unwittingly added to the pressure last night. Bob, when he pinged me last night rightly reminding me how he repeatedly told me that we'd spike after the Fed met and that I should be high-fiving him right now. I agreed. And RevShark, when in his column last night rightly chastised those of us who doubted the market would or even could rally post the Fed.
So much for catching my breath.
The fact of the matter is that, as longtime readers of my column also know, I'm going to be wrong a lot. Certainly anyone who takes a stand about the market, the economy, stocks or anything else will often be wrong. I was wrong yesterday, and it makes me upset, and the pressure that comes with it now builds.
But pressure is a terrible catalyst to trade on, and I'm not going to play that game. I'm going to continue to strive to just be cool, and not be goaded into making any trades or even market calls simply to meet the expectations of anyone else, whether readers, investors, emailers, blog commentors, editors, or anyone else at all. You should do the same.
At the time of publication, the firm in which Willard is a partner was net long GOOG and AAPL, although positions can change at any time and without notice.
Cody Willard is the manager of a hedge fund, author of
The Telecom Connection
, a newsletter published by
TheStreet.com
and a contributor to the
Financial Times
and
VON Magazine
. He is also a regular guest on CNBC's
Kudlow & Company
and an adjunct professor at Seton Hall.
He earned a bachelor's degree in economics at the University of New Mexico. Willard appreciates your feedback --
to send him an email.