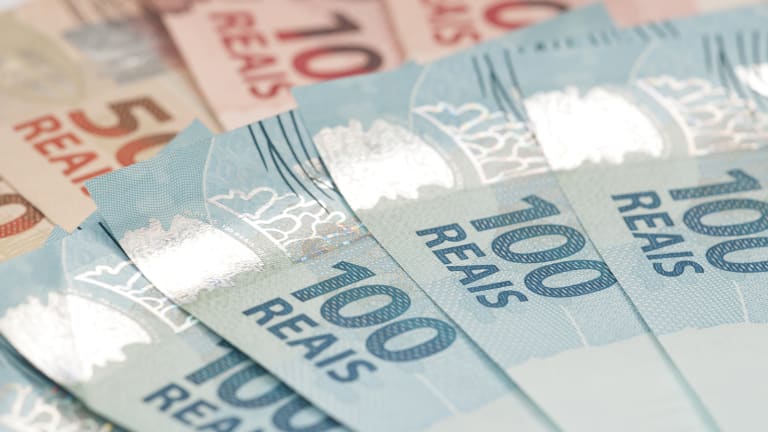 Brazilian Real Rises as Rousseff Says She Won't Quit, BloombergTV Reports
Brazil's President Dilma Rousseff defended herself before Congress today for the first time as her impeachment trial draws to a close.
NEW YORK (TheStreet) -- The impeachment trial of Brazil's President Dilma Rousseff is in its final stages. Rousseff appeared before Congress Monday to defend herself against accusations of financial manipulation, and her remarks sent the country's currency higher.
Rousseff declared that she has committed no crimes and vowed to never give up fighting, sending the real soaring the most against the dollar among emerging market currencies on investor optimism, BloombergTV's Mark Barton reported on "Bloomberg Markets: European Close" on Monday.
Carolina Matos, a sociology lecturer at the City University London, spent 10 years as a journalist in Brazil and joined Barton on the show to talk about the impeachment process.
"It's highly likely that it will go through. Unfortunately this is a sad day in democracy for Brazil because there is a sense of such a young fragile democracy," Matos said. "We're having an impeachment again since 1992 with Fernando Collor.
This particular impeachment process is viewed as controversial and flawed because "the crime of responsibility, which is permitted for the impeachment, is not exactly what Rousseff is being accused of," Matos said.
Crime of responsibility refers to corruption, she has been accused of tax peddling which is something other Brazilian officials have done in the past.
The impeachment would mean a sharp shift in the form of government from one that is more center-left to one that is pushing forward policies the people have not voted on.
Interim President Michel Temer is currently standing in for Rousseff and if she is permanently ousted he will finish the two years remaining on her term.