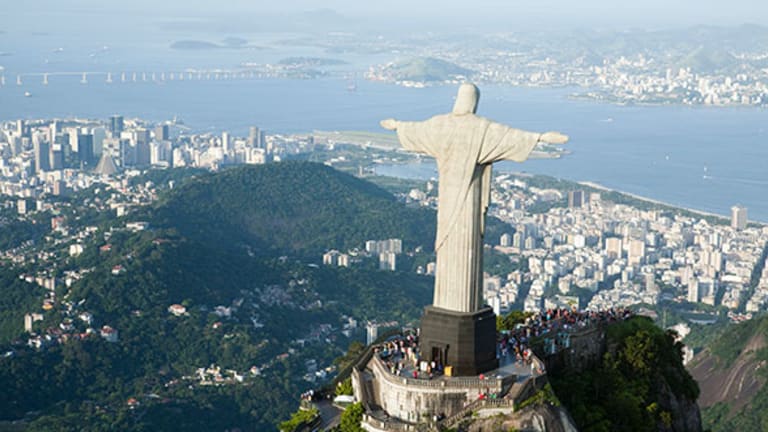 Suspended Brazilian President Dilma Rousseff Will Be Permanently Removed, Analyst Tells BloombergTV
It is believed that the decision to permanently remove Brazil's suspended President Dilma Rousseff will be reached sometime next week.
NEW YORK (TheStreet) -- With the excitement of the 2016 Summer Olympics behind it Brazil has returned to reality and its continuing political issues. The Senate begin its impeachment trial of suspended president Dilma Rousseff on Thursday.
Rousseff is accused of mismanaging financials, corporate corruption and is largely blamed for the South American country's inability to pull itself out of the worst recession in over 100 years.
The outcome of the trial could end up permanently removing Rousseff from office. Currently Michel Temer is acting as interim president, if Rousseff is ousted Temer will be sworn in and finish the two years left on her term, NPR reports.
Albright Stonebridge Group Senior VP Joel Velasco appeared on BloombergTV's "Bloomberg Markets" on Thursday afternoon to discuss the impeachment and if it has been priced into the market. The firm advises clients on government and business issues.
"This is Brazil after all and we're right after the Olympics so we're going to have some excitement in any of these things. And the previous vote to begin the process in the lower house was very exciting, let's put it this way," Velasco said.
"Some of the comments won't be necessarily politically correct in this process and I think we need to be prepared for that. But I think the market has pretty much priced in most of this," he added.
Brazil's stock market has done well since the beginning of the year with the real regaining some of its losses.
Velesco believes that the overall expectation is that Rousseff will be permanently removed from office. The process is in its final run, with the decision expected sometime in the middle of next week. Velesco believes the decision to keep her out of office will be reached by more than two-thirds of the needed votes.
"When that happens I think the real pressure will be on then president Temer to begin to make the reforms that the country so desperately needs," Velesco said.
The country has a number of issues to deal with, the main one Temer will be asked to handle is Brazil's fiscal imbalance and the structural imbalance in its accounts.
"The primary measure to do that in the coming weeks will be to propose a constitutional amendment to cap the growth in government spending to the prior year, plus inflation," Velesco said.