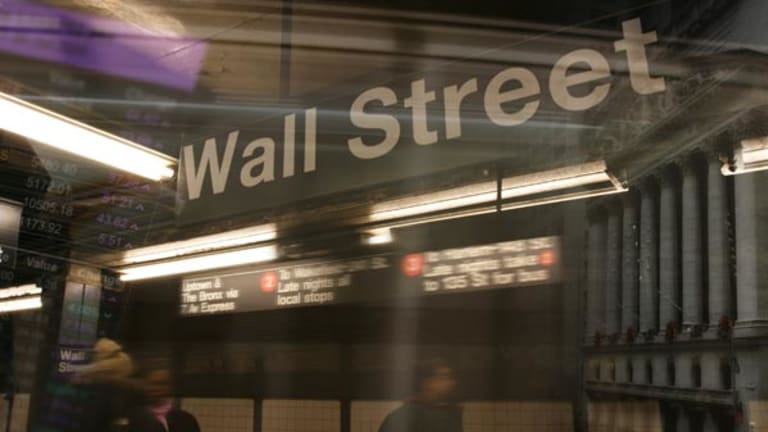 Books Case: Dow, Nasdaq Fall on Accounting Fears
The Dow drops more than 240 points. The Nasdaq skids 51 points, or 2.6%.
Updated from 4:04 p.m. EST
Sellers took charge on Wall Street on Tuesday as unprecedented scrutiny of corporate accounting practices weighed heavily on the broader market.
The
Dow Jones Industrial Average ended with a loss of 247.51 points, or 2.5%, to 9618.24. The
Nasdaq dropped 50.92 points, or 2.6%, to 1892.99, and the
S&P 500 was off 32.42 points, or 2.9%, to 1100.64.
The market was rankled by news that energy trader
Williams Cos.
(WMB) - Get Williams Companies, Inc. Report
was
delaying release of its year-end results while it reassesses its debt exposure to its recently spun-off telecommunications unit,
Williams Communications
(WCG) - Get WellCare Health Plans, Inc. Report
.
Williams' chief executive told analysts the move was in response to the
Enron
( ENRNQ) and
Global Crossing
( GX) bankruptcies and "developments in the telecom industry." Another executive put Williams' potential debt liability with Williams Communications near $1.4 billion, on top of about $700 million in potential lease obligations. Williams fell $5.36, or 22.2%, to $18.78.
Cendant
( CD) was under pressure as well, as rumors and questions about the company's accounting procedures apparently resurfaced. The stock was down $1.83, or 10%, to $16.52.
Electronic Data Systems
(EDS)
and
Tyco
(TYC)
were also trading lower, at least partly because of concerns about the companies' bookkeeping. EDS lost $4.54, or 7.4%, to $57.25, while Tyco fell $8.35, 19.9%, to $33.65.
Another company,
PNC Financial
(PNC) - Get PNC Financial Services Group, Inc. Report
, was also being roughed up after the
Federal Reserve
warned that it had incorrectly accounted for preferred interests in subsidiaries of another financial institution. PNC said it will comply with the Fed's edict and reduce its 2001 earnings by 53 cents a share. The stock dropped $5.79, or 9.4%, to $56.08.
Investors were also eyeing the first day of the
Federal Open Market Committee's meeting in Washington.
Meanwhile, the Commerce Department said
durable goods orders rose 2% in December, following a 4.8% decline in November. Economists had been predicting a 1.7% increase. Separately, the Conference Board said
consumer confidence rose again in January. The group said U.S. consumers are becoming increasingly confident about the business outlook and job prospects.
Texas Instruments
(TXN) - Get Texas Instruments Incorporated Report
posted a
narrower-than-expected fourth-quarter loss after the close Monday, citing a 3% rise in semiconductor sales following a yearlong slump. The company said it expects to break even in the first quarter. Analysts at Morgan Stanley raised their rating on the stock to strong buy from outperform. The stock gained $1.62, or 5.7%, to $29.96.
AT&T Wireless
( AWE)
missed bottom-line estimates for the fourth quarter, posting a loss from continuing operations of 14 cents a share, compared with analysts' expectations for a loss of 6 cents. But the company did meet its targets for quarterly revenue and subscriber growth and predicted that earnings before interest, taxes, depreciation and amortization would rise by 30% in 2002. Shares of the wireless services provider shed 10 cents, or 0.9%, to $11.65.
WorldCom
( WCOM) traded well below its 52-week low as rumors circulated that the company will be removed from the S&P 500 and that its debt rating will be lowered to junk status. The stock closed at $10.40, down $1.60, or 13.3%.
FleetBoston
( FBF) posted a fourth-quarter loss of 49 cents a share, including charges. The company recorded a charge of $1.19 billion, or $1.14 a share, in the quarter, including $650 million for investments and bad loans and another $538 million related to the devaluation of the Argentine peso. The bank's shares were off $2.23, or 6.4%, at $32.86.
Coca-Cola
(KO) - Get Coca-Cola Company Report
met fourth-quarter earnings estimates but said unit case volume in North America in 2001 rose at the low end of forecasts. The soft-drink giant earned $914 million, or 37 cents a share, up from $242 million, or 10 cents a share, a year earlier, including special charges. Excluding one-time items, Coke had earned 38 cents a share in the fourth quarter of 2000. Revenue in the latest quarter was $4.92 billion, up 4% from $4.73 billion last year. Coke finished down $1.21, or 2.7%, to $44.
Merck
(MRK) - Get Merck & Co., Inc. (MRK) Report
said it plans to spin off its pharmacy benefits business, Merck-Medco, as a publicly traded company sometime in 2002. Shares of the drugmaker rose 52 cents, or 0.9%, to $57.52.
Western Wireless
( WWCA) continued to take a beating after a series of downgrades from Wall Street analysts. After plummeting 33% yesterday, the company's shares were down another 22% to $7.75.
Level 3 Communications
(LVLT)
reported a loss of $3.3 billion, or $8.54 a share, in the fourth quarter, compared with a loss of $552 million, or $1.50 a share, in the year-ago period. Excluding $3.2 billion in charges and other items, the company lost $475 million, or $1.24 a share. The stock was off 72 cents, or 15.4%, to $3.95.
Foreign markets were primarily lower, with London's FTSE 100 losing 1.8% to 5131 and Germany's Xetra Dax down 1.4% to 5085. In Asia, Japan's Nikkei closed down 1.9% to 10,026 while Hong Kong's Hang Seng rose 2.3% to 11,014.
Treasury issues were higher. Around 4 p.m. EST, the 10-year note was up 30/32 to 100 13/32, yielding 4.94%.