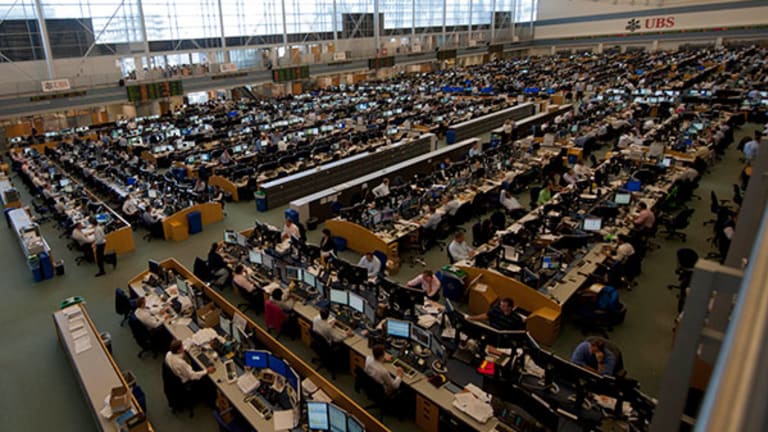 Bonds Rally, Dollar Eases as Investors Steady the Ship After Fed Upheaval
Bonds attempt a mini-rally in Europe amid potential sea-changes for global fixed income markets.
Government bond markets rallied Friday and the dollar eased from multi-decade highs in European trading as investors began to re-set prices in the wake of the U.S. Federal Reserve's surprisingly hawkish rate forecasts earlier this week.
Benchmark 10-year U.S. Treasury yields have fallen 5 basis points in European trading to 2.56%, retracing a rise that followed Wednesday's Fed rate hike and rate forecasts that lifted yields to the highest levels in more than two years. The advance in Treasuries was matched by traders in 10-year German bunds, which marked the European borrowing benchmark 5 basis points lower at 0.31%. Two-year German bonds, known as schatz, fell two basis points to a record-low -0.80%.
The rally followed an overnight surge that lifted the greenback to its highest since December 2002 against a basket of global currencies as the dollar index to 103.56 before easing to 102.81 in European hours.
The bond moves, however, are an interesting contrast to the recent concerns that investors have over inflation expectations in advance of what could be $1.5 trillion worth of fiscal stimulus from the new administration of President-elect Donald Trump.
The mini-rally in bonds also reflects some of the themes that analysts at PIMCO, the world's biggest bond fund manger, identified in a December research note. Authors Joachim Fels and Andrew Balls wrote Thursday that fixed income markets will be dictated in the coming year by the switch from central bank support to fiscal stimulus, the transition of China's currency away from its dollar peg and a broader move towards inward-looking U.S. trade policies.
In that respect, comments from European Central Bank Governing Council member Jens Weidmann, who also heads Germany's powerful Bundesbank and has been a long and vocal critic of loose monetary policy, may have influenced Friday's trading.
"Politicians hold the key to stronger growth, not the central bank," Weidmann said during a speech in Frankfurt Friday. "I have been pointing out for a while now that we cannot demand too much of monetary policy."
"We are not primarily dealing with weak demand but with slow growth," he added. "Monetary policy is largely powerless in battling that."
China's currency was also in focus overnight as the yuan drifted to an 8-and-a-half year low of 6.9533 against the U.S. dollar amid the worst week for the country's Shanghai Composite Index in at least eight months. 
In fact, the weakening currency, which has fallen more than 3% against the greenback since October, has also led to what could be a significant shift in global bond markets: China is no longer the world's biggest holder of U.S. Treasuries. 
The PBOC's consistent dipping into its foreign exchange reserves in order to keep the yuan within the required band has eroded its Treasury holdings by $139.2 billion in the 12 months ending in October, taking its overall total to $1.115 trillion, just shy of the $1.132 trillion held by Japan.
Japan's holdings provide a fascinating prospect for long-term Treasury yields, given that its rapidly ageing population will rely heavily on the sale of dollar-denominated assets to fund its advancing retirement, particularly given the meagre-to-non-existent returns offered by Japanese government bonds and the destruction of savings from the Bank of Japan's ongoing zero interest rate policy.
The government expects Japan's population to decrease by as much as 33% by 2050, according to OECD research, by which time 40% of its population will have reached retirement age.