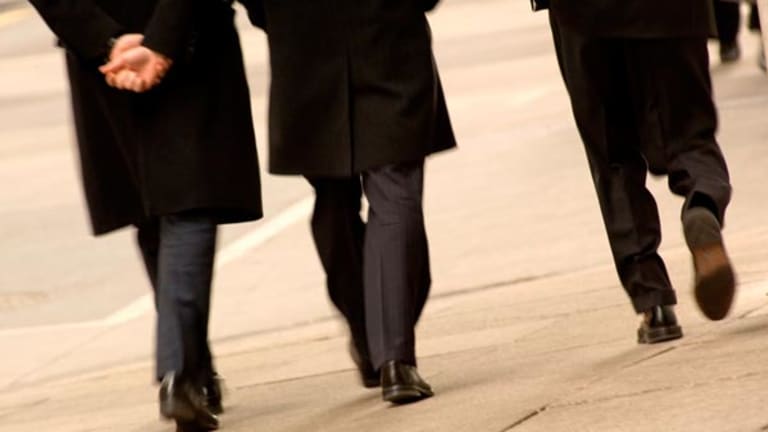 Bond Slide Brings Back Bears
The major indices tumble late in the session as yields jump again.
Updated from 4:14 p.m. EDT
Stocks in the U.S. started off with gains Wednesday, but rising bond yields sent the major averages spiraling downward late in the session.
The
Dow Jones Industrial Average
slid 146 points, or 1.07%, to 13,489.42, despite a 4.6% jump in component
Home Depot
(HD) - Get Report
. The
S&P 500
fell 20.86 points, or 1.36%, to 1512.84, and the
Nasdaq
tumbled 26.80 points, or 1.02%, to 2599.96.
The latest shakiness came amid a pullback in long-term Treasuries, which have been a main focus of late because of a surge in yields. The 10-year note was down 10/32 in price, yielding 5.12%, and the 30-year bond was lower by 18/32, yielding 5.24%.
"The sudden rise in bond yields caught many on Wall Street off guard, and the reasons behind the push higher were numerous," said Robert Pavlik, chief investment officer with Oaktree Asset Management. "The market had decided to look past the benign core inflation readings and instead decided to refocus its attention on the overall numbers, which have been on the rise due to higher food and energy prices."
"A lot of participants have been looking to take money off the table, so once the momentum moved it kept rolling," said Art Hogan, chief market analyst with Jefferies. "In simple terms, the yield on the 10-year moved in the wrong direction for equities."
The downturn was the first decisive move that Wall Street has seen all week. The major averages were with little direction in the past two trading days, though on Tuesday the market found late strength to close a bit higher.
About 3.28 billion shares changed hands on the
New York Stock Exchange
, with decliners beating advancers by a 3-to-1 margin. Volume on the Nasdaq reached 2.01 billion shares, as losers outpaced winners 11 to 4.
"That momentum carried us lower after we turned due to energy stocks," Hogan continued. "There is also some concern in the financials. It's a reminder that the subprime issues will be with us for a while."
Among individual energy stocks,
Exxon Mobil
(XOM) - Get Report
,
Sunoco
(SUN) - Get Report
,
Marathon Oil
(MRO) - Get Report
, and
Occidental Petroleum
(OXY) - Get Report
all finished lower by 3.4% or greater.
After the following session, Home Depot announced plans for a $22.5 billion increase in its share buyback plan. The move, which was announced in conjunction with the $10.3 billion sale of the company's wholesale division, would cut Home Depot's shares outstanding by more than a quarter. The stock jumped $1.76 to $40.03.
Financial-services giant
Morgan Stanley
(MS) - Get Report
eased even after the company's second-quarter results easily beat estimates. Morgan Stanley posted second-quarter earnings of $2.45 a share and revenue of $11.52 billion. Shares were lower by 48 cents, or 0.6%, to $87.32.
FedEx
(FDX) - Get Report
rose, even though its report wasn't as upbeat. The shipping company said profits for the current quarter and possibly full year could fall short of analysts' expectations. Still, the stock added $1.74, or 1.6%, to $109.80.
Electronics retailer
Circuit City
(CC) - Get Report
swung to a fiscal first-quarter loss of $54.57 million, or 33 cents a share, compared with a profit of $6.37 million, or 4 cents a share, in the year-ago period. Circuit City also withdrew its guidance for the full year. Shares were higher by 3 cents, or 0.2%, to $16.10.
Rival
Best Buy
(BBY) - Get Report
, which slid nearly 6% in the previous session after first-quarter earnings missed targets, was lower by another 0.6% to $44.92.
Away from earnings, shares of
MGM Mirage
(MGM) - Get Report
slumped more than 7% after billionaire Kirk Kerkorian's Tracinda investment group ended talks to purchase the Bellagio Hotel & Casino and CityCenter properties in Las Vegas.
Instead, MGM said it will enter a joint venture project with real estate developer Kerzner International Holdings to construct a new resort on the Vegas Strip. MGM shed $5.90, or 6.8%, to $80.60.
Meanwhile, the Paris Air Show is ongoing and planemakers continue to collect new orders. Among them,
Boeing
(BA) - Get Report
signed a deal to sell 16 planes, worth $2.7 billion at list prices, to
Air France KLM
( AKH), and
Textron's
(TXT) - Get Report
Cessna unit signed a more than $1 billion pact to provide 96 jets to NetJets.
Airbus, Europe's rival to Boeing, has reportedly received a commitment from India's Kingfisher Airlines to acquire 50 planes, including the new A350 XWB, in a $7.3 billion agreement.
Elsewhere,
Wal-Mart
(WMT) - Get Report
plans to open 1,000 MoneyCenters, which will offer low-cost check cashing, money orders, bill payment and money transfers, in its stores by the end of next year. The company will also expand its financial products and services, starting with the Wal-Mart MoneyCard, a reloadable prepaid Visa.
Wal-Mart shares ended lower by 22 cents, or 0.5%, at $48.59.
As for research calls, Deutsche Bank downgraded
Occidental Petroleum
(OXY) - Get Report
to hold from buy, and UBS began coverage of
Under Armour
(UA) - Get Report
with a buy rating.
Energy prices fell in the wake of the Energy Department's weekly inventory report, which showed a greater-than-expected gain of 6.9 million barrels in crude inventories. Gasoline stocks rose 1.8 million barrels last week, and distillate stocks rose by only 100,000 barrels.
The front-month July contract dropped 91 cents to $68.19 a barrel, and gasoline was lower by a penny at $2.22 a gallon.
Precious metals were also weaker. Gold fell $4.70 to $660 an ounce, and silver was off 7.5 cents at $13.25 an ounce.
Global markets generally improved. Overnight, Tokyo's Nikkei increased 0.3%, and Hong Kong's Hang Seng was up 0.5%. London's FTSE was unchanged, while Frankfurt's DAX climbed 0.7%.