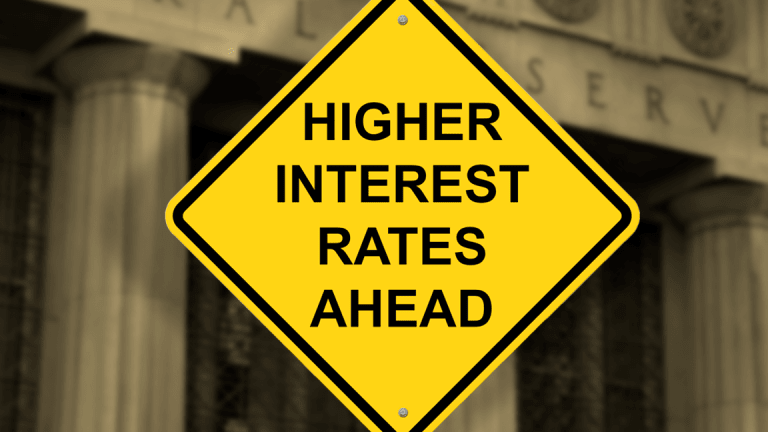 Bond Losses Keep Climbing for JPMorgan, U.S. Banks as Rates Rise
Rising U.S. interest rates have eroded the value of hundreds of billions of dollars of bonds and loans, raising doubts about banks' valuations.
As U.S. interest rates march higher, paper losses are swelling on the combined $1.2 trillion of bonds held by banking giants JPMorgan Chase & Co. (JPM) - Get JPMorgan Chase & Co. Report , Bank of America Corp. (BAC) - Get Bank of America Corp Report , Citigroup Inc. (C) - Get Citigroup Inc. Report and Wells Fargo & Co. (WFC) - Get Wells Fargo & Company Report  .
In the first 10 days of October alone, all banks in the U.S. suffered about $8 billion of paper losses on their bond holdings, a Federal Reserve report last week showed. A large proportion of that likely came at expense of the biggest four U.S. firms, since they account for about 40% of all banking assets in the country.
After the most recent bruising, the U.S. banks are now sitting on a combined $50.4 billion of losses on their bond holdings, the Federal Reserve data show -- the most since the aftermath of the financial crisis in July 2009. The amount has increased sevenfold since the start of the year, though under the vagaries of accounting rules, the paper losses are "unrealized" -- meaning that even though a savvy investor would consider the money gone, executives can avoid recognizing the losses in net income unless the assets are actually sold. 
While bank executives and most Wall Street analysts have been arguing for years that financial firms would benefit from higher interest rates in the form of fatter loan payments, the surging losses on bond holdings show that the trend can be a double-edged sword. 
And indeed, as banks reported their third-quarter earnings earlier this quarter, executives touted their higher interest income, and analysts cheered. Yet there was little mention of the damage from surging interest rates, which came as bond-market investors became increasingly nervous about Federal Reserve rate increases, the potential for overheating inflation and the U.S. government's $21-trillion-and-growing debt.
Since the end of the third quarter, JPMorgan shares have fallen by 1%, Bank of America has slid 2.2%, Citgroup has lost 1.7% and Wells Fargo has slipped by 1.9%.
One reason the bond losses have attracted less attention is that the current accounting rules allow banks to exclude them from headline earnings and instead report them in an obscure line item called "accumulated other comprehensive income," which also includes a grab-bag of other items like foreign-currency hedging gains and adjustments related to pension benefits. 
On a combined basis, JPMorgan, Bank of America, Wells Fargo and Citigroup reported a combined $5.4 billion drop in the amount to a negative $62.8 billion, based on an analysis by TheStreet. The negative value serves as a reminder that the losses are unrealized; were banks to sell the assets before interest rates rebounded, similar to the way a savvy trader might cut bait, they would have to recognize the losses in earnings.  
As the Federal Reserve pushes overnight interest rates higher, and as U.S. Treasury yields increase, those losses are poised to swell, possibly leading to drastic cuts in banks' valuation. It's simple bond math: bond prices fall when interest rates rise. 
Banks are stuck with their giant bond portfolios, typically in the hundreds of billions of dollars, because regulators require them to hold big piles of U.S. Treasury notes and other assets that can be quickly liquidated for cash in the event of a deposit run, steep collateral calls or a panic that prompts big trading customers to rapidly shift their accounts elsewhere.
These "liquidity" requirements were stiffened in the aftermath of the 2008 financial crisis, after the entire banking system nearly collapsed. The firms survived only thanks to bailouts from the U.S. Treasury Department and hundreds of billions of dollars more of secret emergency funds from the Federal Reserve.
On a combined basis, all U.S. banks recorded roughly $10 billion of the paper losses on bond holdings during the second quarter, based on the Federal Reserve data, as 10-year U.S. Treasury yields climbed by about 0.2 percentage point to 3.05%.
The roughly $8 billion of losses this month through Oct. 10 came as 10-year Treasury yields rose by another 0.17 percentage points to 3.22%.
And while 10-year Treasury yields have recently eased back down to 3.13%, bond-market analysts at Bank of America predicted earlier this month that the level would hit 3.25% by the end of the year. 
Earlier this month, none other than JPMorgan CEO Jamie Dimon said he could envision 10-year U.S. Treasury yields eventually hitting 4%.