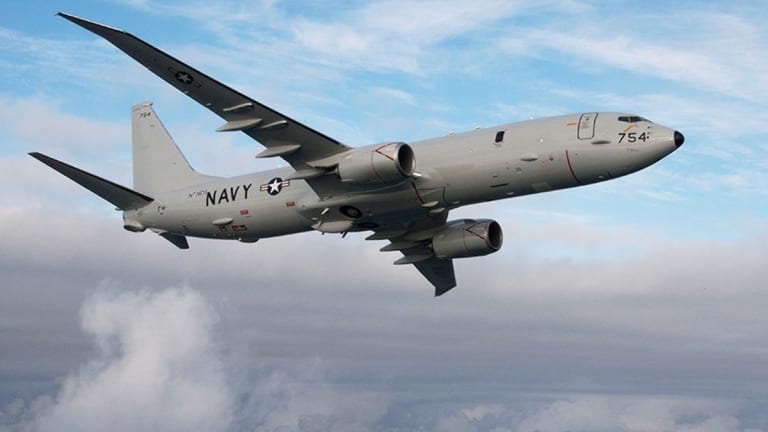 Boeing Stock Soars on New Zealand Deal, Saudi Arabian Airlines Report
New Zealand is acquiring four Boeing P-8A Poseidon maritime patrol planes for 2.35 billion New Zealand dollars.
Boeing Co. (BA) - Get The Boeing Company Report stock is flying higher. 
Shares of the world's largest aerospace company rose on news that New Zealand is acquiring some of its maritime patrol planes and on reports that Saudi Arabian Airlines is considering a potential order for Boeing 777X widebody jets, Reuters reported, citing three sources familiar with the matter.
Boeing stock gained 1.6% to $340.01 at noon New York time.
New Zealand is acquiring four Boeing aircraft for more than 2 billion New Zealand dollars as it works to strengthen its surveillance capabilities.
New Zealand's Defense Minister Ron Mark announced on Monday, July 9, that the country has agreed to purchase four Boeing P-8A Poseidon maritime patrol planes from the U.S. government for about 2.346 billion New Zealand dollars ($1.6 billion). The new planes will replace the six aging Lockheed P-3K2 Orion maritime patrol planes that New Zealand currently has, which have been operated by the Royal New Zealand Air Force since the 1960s, Mark said.
The total capital cost includes the planes, a simulator training system, infrastructure and service costs. The new P-8As will begin operations in 2023, and New Zealand will pay for the planes and other costs over several years, "out to 2025-2026," said Mark in a statement, adding that the P-8A was the most cost-effective maritime patrol aircraft option available.
"Maintaining maritime patrol capabilities is essential for New Zealand's national security and for our ability to contribute to global security efforts," Mark said during a press conference.
"The purchase enables New Zealand to continue to deploy in a wide range of airborne maritime situations independently, and when required, work effectively with partners including Australia, the United Kingdom, and the United States, which all operate, or will operate, the aircraft," Mark said.
The P-8A Poseidon, in service since 2009, is designed for long-range anti-submarine warfare; anti-surface warfare; and intelligence, surveillance and reconnaissance missions, Boeing said on its website. The aircraft is also effective at humanitarian and search and rescue missions.
"We are honored that New Zealand chose the P-8," Boeing told The Deal.
Most international defense sales happen through the U.S. government via the Department of State and the Department of Defense. A U.S. service, such as the Navy or Air Force, acquires the aircraft from Boeing and the international country buys it from the U.S. government, pending approval from the State Department. There are a few direct commercial sales of defense items, but they all require approval from the U.S. government.
Today's announcement from New Zealand comes less than a week after Boeing and Brazilian aerospace company Embraer SA (ERJ) - Get Embraer S.A. Reportagreed to establish a strategic partnership, giving the Chicago-based company control of Embraer's commercial business. The terms of the agreement say the two companies will form a joint venture, consisting of Embraer's commercial airplane and services business and Boeing's commercial development, production, marketing and lifecycle services operations. Boeing will hold an 80% ownership stake in the joint venture, which is worth approximately $3.8 billion.