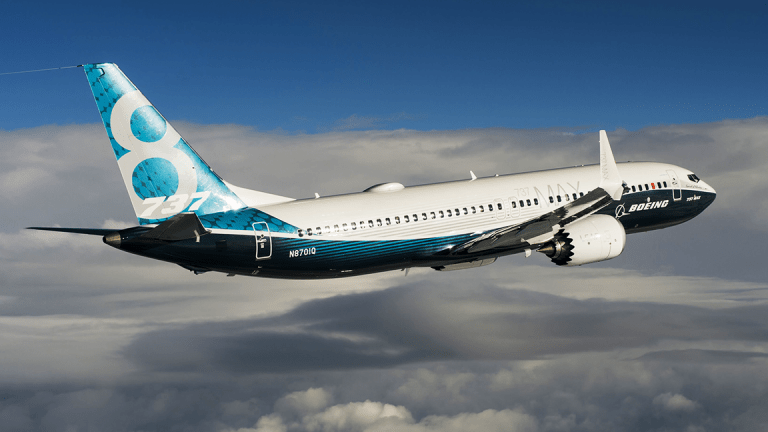 Boeing Stock Slips After Halting New 737 Max Deliveries
Boeing's stock continued its slide Thursday evening in after-hours trading following aircraft maker's decision to temporarily halt deliveries of its 737 Max jets.
Boeing Co. (BA) - Get The Boeing Company Report stock continued its slide in after-hours trading after the aircraft manufacturer said it would temporarily halt deliveries of new 737 Max jets.
Boeing's stock fell .17% Thursday evening to $372.65 as the aeronautics company confirmed it had paused delivery of new 737 Max jets to clients after two of the jets crashed in the past five months.
Boeing's stock earlier fell 1% during Thursday's trading session, closing at $373.30.
The U.S. on Wednesday became the last major country to ground the 737 Max following Sunday's Ethiopian Airlines crash that killed 157.
The grounding could take months to resolve as new software is installed in the 737 Max jets. Briefed by aviation officials, U.S. lawmakers said late Thursday the grounding could extend through April, Reuters reported.
"We have paused delivery of 737 MAX airplanes due to the temporary grounding," a Boeing spokesman said in a statement to TheStreet.
In its decision to ground the 737 Max, the U.S. Federal Aviation Administration cited similarities, picked up by satellite, in the movements of the doomed Ethiopian Airlines jet and Lion Air Flight 610 that killed 189 people after crashing into the ocean off Indonesia in October.
The Boeing spokesman, in the statement, said the aircraft manufacturer would continue to build new 737 Max jets, and that there "would be no change to our production rate at this time."
Boeing is reportedly building 52 of its newest line of commercial passenger jets each month.
The company said it is continuing to deliver new 737 NG, or Next Generation jets, the predecessor to the 737 Max, which dates to the early 1990s.
"We continue to build 737 MAX airplanes, while assessing how the situation, including potential capacity constraints, will impact our production system," Boeing said, in its statement. "No change to our production rate at this time, but we continue to work through production decisions."