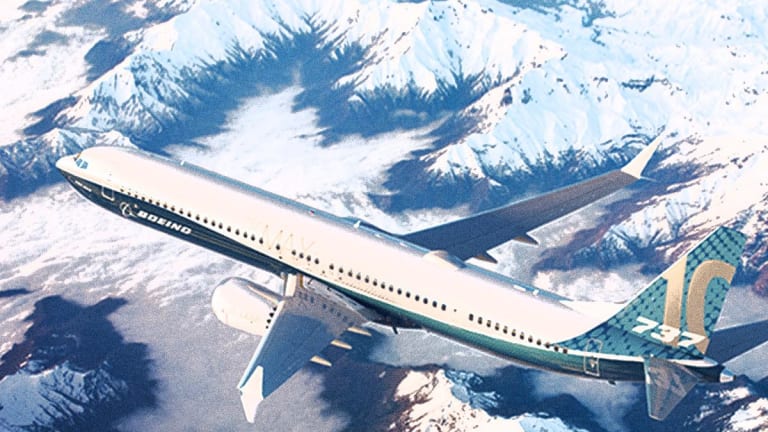 Boeing Reports 149 Q1 Airplane Deliveries, Down Sharply From Year Earlier
Boeing delivers 149 aircraft in the first quarter of 2019, below year-earlier levels.
Boeing (BA) - Get Boeing Company Report shares declined Tuesday after the airplane maker said it delivered 149 aircraft in the first quarter of 2019, below year-earlier levels.
The stock fell 1.48% to $369.16 a share.
Boeing delivered 238 aircraft in the fourth quarter and 184 in the first quarter a year earlier.
Of the 149 planes delivered in the quarter, the 737, Boeing's flagship product, had 89 deliveries, the most out of all the company's models, Boeing said. 
Many top analysts on Wall Street had revised their estimates for Boeing lower as a result of the 737 MAX 8 being grounded following two crashes of the aircraft in the last six months.
Net orders in the first quarter were 95, down from 180 a year earlier. There were no new MAX orders in March, the company said.
Barclays analysts -- who have a $417 per share price target on the stock -- were looking for just more than 180 total aircraft deliveries for the quarter. Barclays had reduced its price target from $480 share after Boeing's planes were grounded in March.
Bank of America, which reduced its price target to $420 from $480 recently, expects 357 deliveries of 737s for all of 2019, which is an average of 89 per quarter, although the bank didn't disclose in its most recent research note how many 737 deliveries it expects per quarter.
Goldman Sachs analysts had said in a note Monday that it "removed the last few weeks of 737 MAX deliveries from our 1Q estimate, as the aircraft was grounded globally in early March," but didn't say how many deliveries they were looking for in the first quarter or year. Goldman revised its revenue forecasts for Boeing down to $107.7 billion with earnings per share at $19.04. 
Boeing shares have risen 14% year to date, roughly in line with the S&P 500.