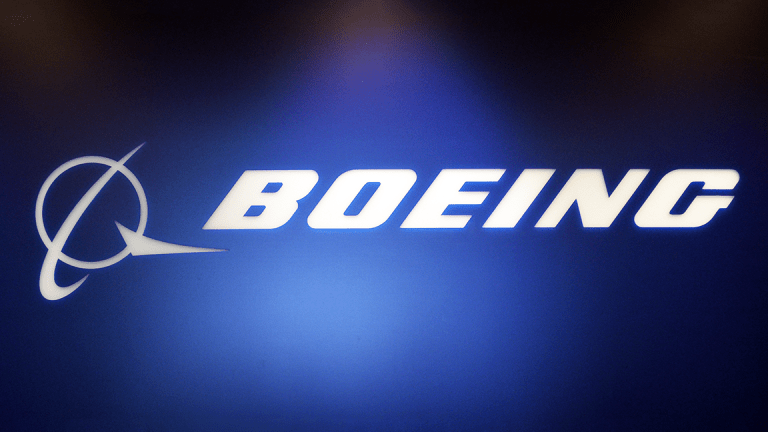 Boeing Inks Freighter Deal, Lifts Industry Demand Forecast
Boeing inks a deal with Russian airline Volga-Dnepr Group and British private holding company CargoLogicHolding for dozens of freighters worth about $12 billion.
As part of a slew of deals that came out of the Farnborough Airshow 2018, Boeing Co. (BA) - Get The Boeing Company Report announced on Tuesday, July 17, yet another deal, this time with Russian airline Volga-Dnepr Group and British private holding company CargoLogicHolding for more than 30 freighters worth about $12 billion.
The companies signed a letter of intent to purchase 29 Boeing 777 freighters, which are valued at $9.8 billion and confirmed a $2 billion order for five 747-8 freighters, Chicago-based Boeing said in a statement. The deal also included an agreement to work together on future freighter projects.
CargoLogicHolding intends to order the 777 freighters. The holding company "unites under its umbrella the international group of the Cargo Airlines, with CargoLogicAir, the only all-British cargo airline," according to a statement.
Volga-Dnepr, meanwhile, said it wanted more 747-8 freighters and committed to buying five. The air transportation services company, which is based in Ulyanovsk, Russia, specializes in outsize and heavyweight air cargo and is among the world's largest Boeing 747 freighter operators.
"We are true believers in the 747-8 Freighter, it is a very special airplane," said Alexey Isaykin, President of Volga-Dnepr Group and Chairman of CargoLogicHolding. "We fly it every day and we understand why operators around the world want more of them."
Shares of Boeing rose 0.3% to $357.08 at 3 p.m. New York time.
Boeing said there has been "big spike" in interest for cargo jets amid the resurgence in the air freight market, which saw demand grow by 10% by last year. On Monday, the aerospace company announced two deals worth a total of $6.4 billion for 777 freighters.
The aerospace company with a market capitalization of $207 billion also lifted its rolling 20-year outlook for commercial aircraft on Tuesday. Boeing expects the need for 43,730 new jets, valued at $6.3 trillion, over the next 20 years because of rising passenger traffic and upcoming airplane retirements.
"The global airplane fleet will also sustain growing demand for commercial aviation services, leading to a total market opportunity of $15 trillion," the planemaker said.
Boeing's forecast highlights the reliance on strong demand from emerging markets, particularly China, which could be vulnerable given the ongoing trade spat between the U.S. and China presently. Boeing called out the anticipated growth in the single-aisle segment, which the company expects to be mainly driven by China and Southeast Asia.
"For the first time in years, we are seeing economies growing in every region of the world. This synchronized growth is providing more stimulus for global air travel," Randy Tinseth, vice president of Commercial Marketing for Boeing, said in a statement. "We are seeing strong traffic trends not only in the emerging markets of China and India but also in the mature markets of Europe and North America."