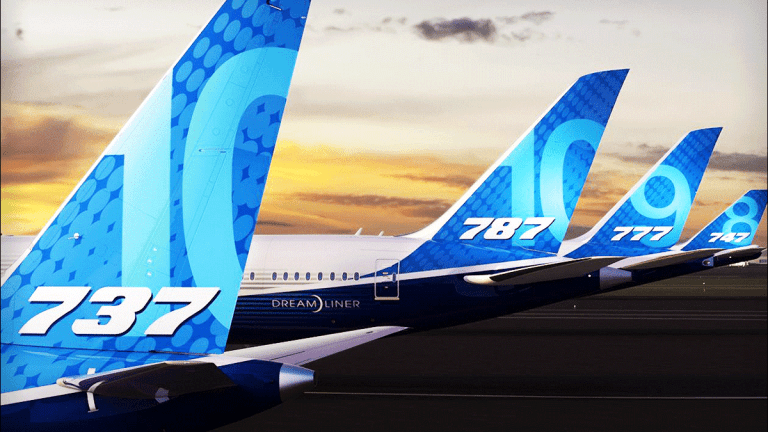 Boeing Head of Commercial Airplanes to Leave Amid 737 MAX Crisis
Boeing's McAllister is leaving the aerospace giant as the crisis around the grounded 737 MAX jetliner continues to grow.
Boeing's (BA) - Get Free Report head of commercial airlines is leaving the aerospace giant as the crisis around the grounded 737 MAX jetliner continues to grow, according to news reports.
Kevin McAllister, who joined Boeing in November 2016, is leaving, the reports say.
The plane was involved in two crashes in which a total of 346 people were killed. 
Executives had been concerned that McAllister had not been proactive in enough in communicating with airlines about steps the company was taking in light of the accidents, the New York Times reported.
Dennis A. Muilenburg, the company's chief executive, earlier this month had been stripped of his title as chairman.
Boeing's problems continued last week with the release of a Nov. 15, 2016, instant message involving a former Boeing employee, Mark Forkner, a technical pilot involved in the development of training and manuals.
The message said that the MCAS flight system was "running rampant" while undergoing testing in a flight simulator, according to a report in the Associated Press. The message added that the pilot said he "basically lied to the regulators (unknowingly)."
Boeing said it regretted the concern caused by publication of the instant messages.
On Monday, analysts from at least two firms cut their ratings and price targets in light of recent revelations about the 737 MAX jetliner.
"We can no longer defend the shares in light of the latest discoveries, [which] significantly increase the risk profile for investors," Credit Suisse analyst Robert Spingarn said in a note to investors.
Investors shrugged off a downbeat S&P report to send shares of the aircraft manufacturer higher Tuesday as it prepares to report quarterly earnings tomorrow. While affirming Boeing's A credit rating, S&P lowered its outlook on the jet builder to negative from stable.
Boeing shares were up 1.8% to $337.09 in late trading.