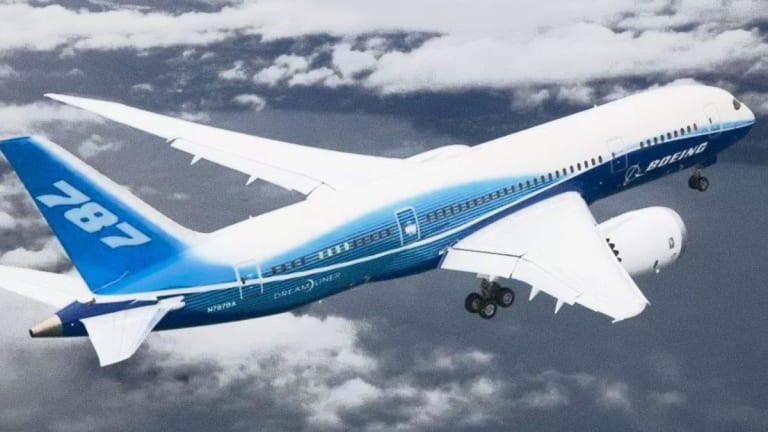 Boeing Soars on Letter of Intent for 200 of its 737 Max Planes
The aerospace sees interest from IAG and separately from Korean Air which has ordered 20 Boeing 787 Dreamliner passenger jets and agreed to lease another 10.
Shares of Boeing (BA) - Get Boeing Company Report  jumped Tuesday after International Airlines Group signed a letter of intent to acquire 200 Boeing 737 Max aircraft and after the aerospace giant and Korean Air jointly announced a $6.3 billion purchase and lease agreement for Boeing 787 Dreamliner passenger jets.
Boeing shares rose $19.06 to close at $373.96 helping to lead the Dow Industrials to a 1.35% gain.
IAG, which operates British Airways, Iberia and Aer Lingus, LEVEL and Vueling,  said in a statement that the mix of 737-8 and 737-10 aircraft would be delivered between 2023 and 2027 "subject to formal agreement."
The letter of intent provides some much-needed good news for Boeing. The 737 MAX was grounded all over the world in March after the second of two fatal crashes. Boeing officially acknowledged that its MCAS flight software system played a role in the two accidents.
Willie Walsh, IAG chief executive, said in the statement that "We have every confidence in Boeing and expect that the [737 Max] aircraft will make a successful return to service in the coming months having received approval from the regulators."
The 737 MAX is Boeing's bestselling aircraft with a backlog of nearly 5,000 of the jets on order.
Separately Korean Air said it would introduce 20 of the largest version of the Dreamliner, the 787-10, and 10 more slightly smaller 787-9s. The deal has a value of $6.3 billion before industry-standard discounts. As part of the agreement, Korean Air will also lease 10 787-10s from Air Lease (ALC) - Get Alcon AG Report .
With this order, Korean Air will quadruple its 787 fleet to 40 airplanes. Boeing said it has sold more than 1,400 Dreamliners since the program's introduction.
In an interview with Bloomberg, Boeing Chief Financial Officer Greg Smith said the company may consider changing the name of 737 MAX, stating "we're committed to doing what we need to do to restore it. If that means changing the brand to restore it, then we'll address that."