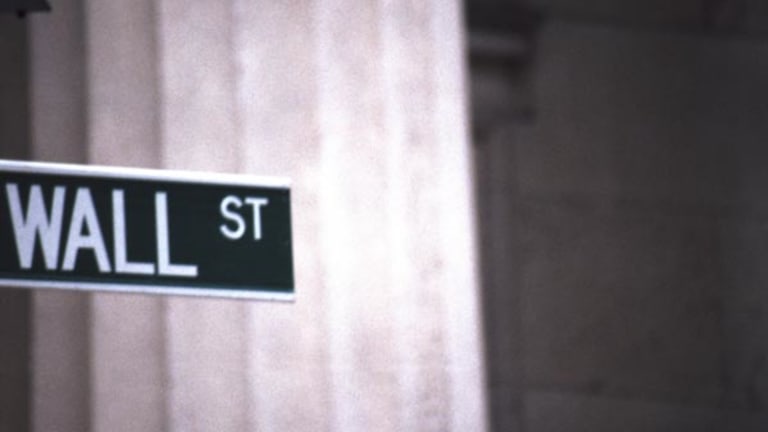 Blue Chips Still Running
Early strength survives a huge reading on durable goods.
Updated from 4:12 p.m. EDT
Stocks closed higher Wednesday as positive results from
Amazon.com
(AMZN) - Get Free Report
and other bellwether companies jump-started blue chips and produced smaller gains in the recently moribund technology sector.
The
Dow Jones Industrial Average
rose 71.24 points, or 0.63%, to 11,354.49, and the
was up 3.67 points, or 0.28%, to 1305.41. The
Nasdaq Composite
gained 3.33 points, or 0.14%, to 2333.63.
"The Nasdaq treaded water all day and it hasn't been doing well all week," said Paul Nolte, director of investments with Hinsdale Associates. "It's been the weakest for a while now. The industrial complex has been doing better as a whole. I was surprised by the market's general strength today because the numbers put the Federal Reserve back into the mix."
Semiconductors again pressured the Nasdaq, as the Philadelphia Semiconductor Sector index fell 0.5%. Elsewhere, the Amex Oil index was off 2.3%. Gainers included the Amex Gold Bugs index, up 1.5%, and the S&P Retail index, which finished up 0.9%.
The Dow's best performer was
General Motors
(GM) - Get Free Report
, ending the session up 8.1%. Merrill Lynch upgraded the shares to neutral from sell, saying it believes the automaker will successfully execute its restructuring plan using its overfunded U.S. pension. GM added $1.74 to $23.15.
The 10-year Treasury bond was down 7/32 in price to yield 5.10%, while the dollar was weaker against the yen and euro.
About 1.77 billion shares traded on the
, with advancers narrowly beating decliners by a 6-to-5 margin. Trading volume on the Nasdaq was 2.11 billion shares, with decliners matching advancers.
The market didn't have much of a reaction to the
Federal Reserve's
beige book, which showed that the economy continued to expand in March and the first half of April. Most of the Fed's 12 districts reported that high energy prices were leading to increased cost pressures, while some mentioned the rising costs of metal.
In addition, most districts noticed a cooling of residential real estate activity. Reports on manufacturing activity in most districts remained positive. Some districts reported that labor markets are tightening, especially for skilled workers.
Before the opening bell, the Commerce Department said durable-goods orders rose 6.1% in March, more than triple the expected gain. Excluding aircraft, which increased 71% for the month, new orders were up 2.8%, the largest rise since August.
The same agency also said new homes jumped 13.8% in March to an annual rate of 1.21 million units. Economists had anticipated new-home sales would rise to an annual rate of 1.1 million. The data helped the Philadelphia Housing Sector index, which was up 1.2% after the report.
On Tuesday, a buoyant reading on existing-home sales raised concerns about the future of Fed interest rate policy and sent major stock indices lower, with the Nasdaq falling for the fourth straight session.
To view Gregg Greenberg's video take on today's market, click here
.
Analysts said Wednesday's reports raised the likelihood of two more official rate hikes -- a quarter-point tightening next month and an identical increase when the Fed meets in June.
"We have good earnings today, but there's just too much good economic news," said Larry Wachtel, senior market analyst with Wachovia Securities. "We're increasing the likelihood of a rate hike in June. The data are coming in stronger than expected, so the Street is expecting another hike. The better the news, the more likely the Fed will tighten. It's a strange phenomenon that good news can be bad news."
Marc Pado, a market strategist with Cantor Fitzgerald, agrees that "too much economic strength is perceived to be a negative for the markets, because it will force the Fed to anticipate the inflationary pressures, even if it means dragging down economic growth. Despite what the Fed says, its No. 1 objective is price stability, not economic growth."
June crude, which has lost 3% since topping out above $75 a barrel Friday, slipped by 95 cents to close at $71.93 a barrel. The Energy Department said in its weekly inventory data that crude stocks were down 200,000 barrels last week, while gasoline stocks dropped 1.9 million barrels and distillates fell by 1 million barrels.
Precious metals finished higher again Wednesday. Gold rose, adding $7.80 to $642, and silver was up 25 cents to $12.81 an ounce.
Another big story early Wednesday involves chemical company
Engelhard
(EC) - Get Free Report
, which detailed a plan to repurchase about 20% of its stock at a 17% premium to the market price. The buyback will be financed with debt and is intended to counter a hostile takeover offer made three months ago by Germany's
BASF
. Englehard rose 20 cents, or 0.5%, to $38.50.
WellPoint
(WLP)
kicked off the earnings cascade, saying its first-quarter profit rose 20% to $731.8 million, or $1.09 a share. The health insurer beat on the bottom line, although sales of $13.61 billion were slightly light. WellPoint was lower by 30 cents, or 0.4%, to close at $70.44.
Amazon rose after reporting a 35% decline in first-quarter earnings to $51 million, or 12 cents a share, reflecting a gain in the year-ago period. The results, which included a 20% gain in sales to $2.28 billion, matched estimates, and the company boosted revenue guidance for the full year. Amazon added 24 cents, or 0.7%, to $35.79.
Several other companies that are sometimes viewed as proxies for the tech economy had solid results. Wholesaler
Ingram Micro
(IM)
said first-quarter earnings rose 45% from a year ago on an 8% rise in sales, beating estimates. The stock was off $1.36, or 7.1%, to finish at $17.89.
Electronics contractor
Sanmina-SCI
(SANM) - Get Free Report
saw its shares surge on a sharply narrowed second-quarter loss and strong guidance. The company sees sales of $2.7 billion to $2.8 billion in the coming quarter. Sanmina was higher by $1.05, or 26%, to $5.09.
RF Micro Devices
(RFMD)
also posted a narrowed quarterly loss and said sales surged 50% on strong demand for its cell-phone chips. The company guided to a better-than-expected earnings and sales in the current period. Shares jumped $1.16, or 14%, to $9.44.
Dow component
Boeing
(BA) - Get Free Report
posted first-quarter net income of $692 million, or 88 cents a share, up 29% from a year ago. Results included a gain of 3 cents a share related to tax settlements. Revenue jumped 12% to $14.26 billion from a year ago. The Thomson First Call consensus was for EPS of 76 cents on sales of $14.53 billion. The company also reaffirmed its 2006 outlook. Still, Boeing gave up 20 cents, or 0.2%, to $84.91.
Biogen Idec
(BIIB) - Get Free Report
said it had first-quarter earnings of $123 million, or 36 cents a share, up from $43 million, or 12 cents a share, last year. Excluding items, the company earned 55 cents a share. Analysts were looking for a profit of 48 cents a share, according to Thomson First Call. Biogen fell a penny to $44.07.
ConocoPhillips
(COP) - Get Free Report
reported first-quarter earnings of $3.29 billion, or $2.34 a share, up 13% from a year ago and in line with the Thomson First Call average consensus. Total revenue jumped to $47.9 billion from $38.9 billion a year earlier. ConocoPhillips was lower by $1.10, or 1.6%, to close at $67.15.
PepsiCo
(PEP) - Get Free Report
posted first-quarter earnings of $1.02 billion, or 60 cents a share, up 12% from last year. Revenue rose to $7.21 billion from $6.59 billion a year earlier. The latest quarter's results included a $50 million pretax gain from the sale of
Pepsi Bottling Group
( PBG) shares. Analysts were looking for a profit of 58 cents a share on revenue of $7.03 billion. PepsiCo gained 36 cents, or 0.6%, to $57.86.
Sprint
(S) - Get Free Report
had first-quarter earnings of $419 million, or 14 cents a share, down 11% from a year ago. Excluding certain costs, the company earned 35 cents a share, 2 cents below the consensus estimate. Sprint lost 68 cents, or 2.7%, to $24.35.
Colgate-Palmolive
(CL) - Get Free Report
said it had first-quarter net income of $324.5 million, or 59 cents a share, up from $300.1 million, or 53 cents, a year earlier. Excluding restructuring and stock-based compensation charges, the company earned 68 cents a share, beating the average estimate by 2 cents. Shares climbed $1.60, or 2.8%, to $58.95.
Earnings reports on tap for Thursday include
Exxon Mobil
(XOM) - Get Free Report
,
Microsoft
(MSFT) - Get Free Report
,
Comcast
(CMCSA) - Get Free Report
,
Bristol-Myers Squibb
(BMY) - Get Free Report
and
Wendy's
(WEN) - Get Free Report
, among others.
Overseas markets were higher, with London's FTSE 100 up 0.3% to 6104 and Germany's Xetra DAX rising 0.5% at 6107. In Asia, Japan's Nikkei rose 0.5% overnight to 17,055, while Hong Kong's Hang Seng added 0.6% to 16,672.