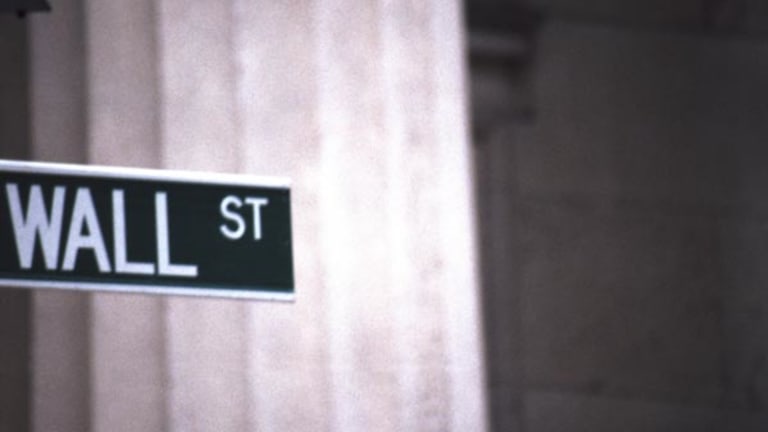 Blue-Chips Slip, While Nasdaq Ekes Out a Gain
Weaker-than-expected manufacturing data spook investors.
Updated from 4:06 p.m. EST
The
Dow
ended lower Monday, as a softer-than-expected manufacturing report gave investors a reason to take some money off the table following an eight-week rally. Still, the
Nasdaq
held on to slim gains amid positive analyst comments on the chip and wireless sectors.
The Dow, which had posted a triple-digit gain and a triple-digit loss at one stage Monday, closed down 33 points, or 0.4%, at 8862, while the
lost 1.8 points, or 0.2%, to 934. The Nasdaq rose 6 points, or 0.4%, to 1484. The Dow closed last week higher for an eighth straight week -- a feat not accomplished since early 1998.
"The ISM gave the market an excuse to pull back," said Peter Cardillo, chief strategist at Global Partners Securities. Cardillo said the major averages started to show some "fatigue" after hitting key resistance levels earlier. The Dow briefly moved above 9000, while the S&P rose above 950 and the Nasdaq hit 1500.
The Institute for Supply Management index, a measure of the nation's manufacturing sector, rose to 49.2 from 48.5 in October, below economists' forecasts for a reading of 51. Production rose to 54.6 from 49.3 in October, but new orders fell to 49.9 from 50.9 in the prior month.
While U.S. construction spending rose 0.3% in October -- above analysts' estimates for a flat reading -- the prior month's gain was revised down to 0.3% from 0.6%.
Merrill Lynch economist Gerald Cohen said the data are consistent with his forecast of 1.5% GDP growth in the fourth quarter. "This data suggest the pitfalls of reading too much into the positive regional purchasing reports," he said.
Last week, the Chicago NAPM showed expansion in the manufacturing sector, and other economic reports had suggested that the economy was recovering more quickly than anticipated.
Larry Wachtel, market analyst at Prudential Securities, said the market was due for a pullback after eight consecutive upside weeks. "Stocks had reached an overbought status and were priced for near-term perfection," he said.
Wachtel believes the market may be entering "a digestive phase after two months of high living." But he noted that stocks have proven to be very resilient of late and said the month of December is seasonally strong.
In the technology sector,
Intel
(INTC) - Get Free Report
advanced but was off its best levels for the day. Lehman Brothers analyst Dan Niles upgraded the stock to "overweight" from "equal weight" ahead of the firm's midquarter update on Thursday. Shares rose 1% to $21.05.
"We believe we are in the early stages of a slowly improving IT demand environment," Niles said in a research note. "First, improving corporate profits should drive increased business investment. Next, the installed base continues to age, with about 180 million PCs over four years old."
Niles raised his 12-month price target on Intel to $24 from $17. He also upgraded shares of
Advanced Micro Devices
(AMD) - Get Free Report
and increased his price target to $10 from $6.
Other analysts were also constructive on Intel, with Morgan Stanley and Merrill Lynch raising their fourth-quarter estimates and UBS Warburg telling clients that it expects Intel's management to increase revenue guidance from the original range of $6.5 billion to $6.9 billion, with a midpoint of $6.7 billion, to tighter range with a midpoint of roughly $6.8 billion.
Still, not everyone was so upbeat on the chip sector overall. Sanford Bernstein said that the typical December strength in chip stocks won't be as large this year given the huge run-up in these stocks over the last two months, and it advised clients to lighten exposure going into the end of the year.
In another ominous sign, RBC Capital Markets downgraded
Cisco
(CSCO) - Get Free Report
, saying the stock has surpassed his price target of $15. "Although Cisco's balance sheet and margin strength could continue to take the stock higher in the near term, we continue to expect revenue declines of up to 3% to 5% sequentially over the next two quarters," he said.
Still, Cisco brushed off the news and rose almost 1% to $15.06. Wireless stocks were also higher after Merrill Lynch raised
Nokia
(NOK) - Get Free Report
to buy and raised its estimate for 2002 handset sales. Meanwhile, Morgan Stanley raised the entire sector to attractive, citing the likelihood it will start producing free cash flow in the near future. Nokia gained almost 5% to $20.15, while
Nextel
undefined
added almost 2% to $13.49.
In the retail sector,
Wal-Mart
(WMT) - Get Free Report
rose nearly 1% to $54.38 after reporting record sales of more than $1.43 billion on Friday, up from $1.25 billion a year ago. Overall, Friday's retail sales were up about 12% from last year and about 9% on Saturday, but many analysts say they still expect the Christmas selling season to be soft.
In other news,
United Airlines
(UAL) - Get Free Report
jumped 34% to $3.28 after reaching an agreement on wage cuts with its mechanics union, a move that could potentially save the company from filing for bankruptcy.
Separately,
Disney
(DIS) - Get Free Report
will likely create a new "presiding director" post on its board in an effort to improve its corporate governance, according to
The Wall Street Journal
. Disney fell 2% to $19.39.
Another Dow component,
Johnson & Johnson
(JNJ) - Get Free Report
, also was experiencing weakness Monday on concerns that French regulators may issue a total ban on the company's anemia drug Eprex, because it made the anemia worse in some patients. Shares shed 2% to 55.70.
Treasuries were sharply lower, with the 10-year note down 29/32 to yield 4.32%.