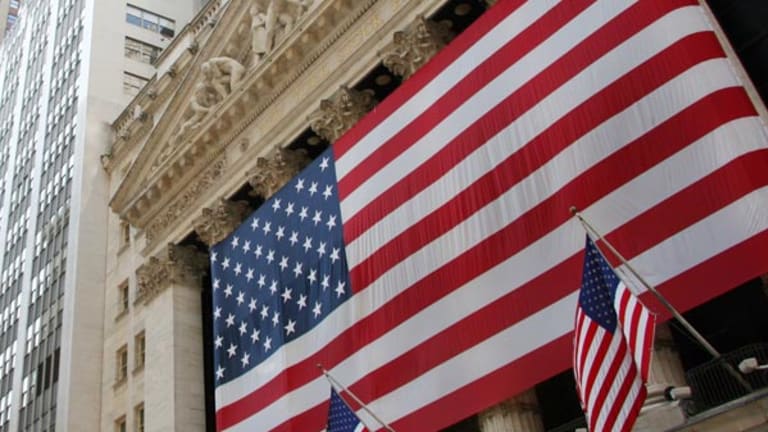 Blue Chips Ripped
The Dow falls 111 as Exxon, GM and Wal-Mart see losses.
Updated from 4:08 p.m. EDT
Blue chips were whacked Thursday as a strong reading on retail sales from the government along with falling oil prices couldn't overcome selling pressure that pounded many old-line industrial shares.
The
Dow Jones Industrial Average
fell 110.77 points, or 1.08%, to 10,189.48. The
lost 11.75 points, or 1%, to 1159.36, and the
Nasdaq Composite
fell 7.67 points, or 0.39%, to 1959.36. The 10-year Treasury was up 6/32 in price to yield 4.17%, while the dollar was higher against the yen and euro.
"The spin on everything now is negative," said Paul Nolte, director of investments with Hinsdale Associates. "Oil prices are falling, but then everyone says it's because the demand is not there. The trade balance was better, but people say we're not importing as much since we're not consuming as much."
Trading volume on the
New York Stock Exchange
was 1.97 billion shares, with decliners beating advancers by almost a 3-to-1 margin. Volume on the Nasdaq was 1.74 billion shares, with decliners outpacing advancers 5 to 3.
Alcoa
(AA)
,
DuPont
(DD)
,
Caterpillar
(CAT)
and
General Motors
(GM)
were among the leading percentage decliners on the Dow.
As for oil, the June crude contract closed down $1.91, or 3.8%, to $48.54 a barrel, bringing its two-day decline to nearly 7%. The slide contributed to heavy selling in
Exxon Mobil
(XOM)
, which tumbled 4.3%, the biggest loser of the 30 Dow components.
"What we're continuing to see are mixed economic messages," said Paul Mendelsohn, chief investment strategist with Windham Financial Services. "The market is taking news as it is, seeing two sides of a battle that's taking place. There's just not a clear picture of where we are now in this economic cycle. This activity you're seeing is the uncertainty, although the market does seem fairly balanced in the middle of it."
The Commerce Department said retail sales in April rose 1.4%, the biggest gain in seven months. Excluding autos, retail sales rose 1.1% last month. Both numbers were about twice the Wall Street consensus.
"These data will doubtless be spun as evidence of the end of the soft patch," said Ian Shepardson, chief economist with High Frequency Economics. "Instead, they reflect the unwinding of the seasonal adjustment problems, related to the early Easter, that limited the gain in March sales. The April data show strength in clothing, building materials, general merchandise and gasoline, but this is illusory; it's mostly seasonals."
The other side of the retail coin was
Wal-Mart
(WMT)
, which said first-quarter profit rose 14% from a year ago to $2.5 billion, or 58 cents a share. Adjusted for gains, the retailer earned 55 cents a share, a penny short of estimates. For the current quarter, Wal-Mart sees earnings of 63 cents to 67 cents a share; analysts had been forecasting 70 cents a share. Shares fell 95 cents, or 1.9%, to $47.65.
"There are a lot of crosscurrents in the economy," said Ken Tower, chief market strategist with CyberTrader. "Lately, with every positive number, we get a disappointing number as well. We get a good retail number as well as disappointing news from Wal-Mart. This economic environment isn't growing strongly or decreasing. It's in a moderate pace of growth."
Elsewhere, the Labor Department said that initial jobless claims for the week ended May 7 increased unexpectedly to 340,000 from a revised 336,000 the previous week. Economists had expected new claims to fall for the week to 325,000. The less volatile four-week moving average rose 2,000 to 324,000.
Ford
(F)
saw its long-term credit rating with Moody's cut to Baa3, the agency's lowest investment-grade rating. The move was a moderate positive for Ford investors, who worried the agency would follow Standard & Poor's in lowering the bonds to junk. Ford shares still lost 29 cents, or 3%, to $9.35.
Dow component
Disney
(DIS)
said Wednesday that second-quarter earnings jumped 30% from a year ago to $698 million, or 33 cents a share, a penny ahead of estimates. Revenue was in line at $7.83 billion. Disney added 8 cents, or 0.3%, to $26.75.
Target
(TGT)
, the nation's second-largest retail chain behind Wal-Mart, reported a 15% rise in first-quarter earnings to $494 million, or 55 cents a share, from $432 million, or 47 cents a share, a year ago. Revenue grew 13% to $11.48 billion. On average, analysts expected EPS of 53 cents on sales of $11.53 billion, according to Thomson First Call. Target rose 60 cents, or 1.2%, to $48.80.
Urban Outfitters'
(URBN)
first-quarter profit jumped 63% to $27.4 million, or 32 cents a share, 2 cents ahead of estimates. Revenue rose 36% to $231.3 million on an 11% jump in same-store results. Analysts had been forecasting sales of $228.2 million. The stock gained $1.96, or 4.1%, to $49.74.
Fellow clothing retailer
American Eagle Outfitters
undefined
said profit in the first quarter doubled to $55.3 million, or 35 cents a share. Analysts had expected earnings of 34 cents a share, according to Thomson First Call. Total sales rose 36.7% to $454 million, narrowly beating expectations. The retailer also offered second-quarter earnings guidance of 32 cents to 33 cents a share, ahead of analysts' estimate of 31 cents. American Eagle lost $1.75, or 6.2%, to $26.44.
Napster
undefined
was lower after the online music company reported a loss of $24.3 million, or 60 cents a share, for the fourth quarter, compared with a loss of $6.56 million, or 20 cents a share a year ago. Quarterly revenue was $17.4 million. The Thomson First Call consensus called for a loss of 63 cents a share on revenue of $16.18 million. Napster, which dropped 26.8% during Wednesday's session, tumbled 70 cents, or 15%, to $3.95.
Movie Gallery
undefined
late Wednesday said first-quarter profit reached $18.4 million, or 58 cents a share, compared with $18.3 million, or 54 cents a share, a year earlier. Results matched analysts' expectations, according to Thomson First Call. Movie Gallery, which recently acquired rival
Hollywood Entertainment
, was up 32 cents, or 1.1%, to close at $28.85.
Ameritrade
(AMTD)
said Thursday that it will continue to explore strategic alternatives in the online brokerage space, but does not currently consider itself for sale. The company, which fielded an overture from rival
E*Trade
(ET)
, said it believes further industry consolidation is probable. Shares of Ameritrade rose 4 cents, or 0.3%, to $13.80. E*Trade was lower by 34 cents, or 2.8%, to close at $12.04.
In M&A activity,
3M
(MMM)
agreed to acquire
Cuno
undefined
in a deal carrying a total value of $1.35 billion. 3M will pay $72 a share in cash for Cuno's outstanding stock and will assume $60 million in existing net debt. Shares of 3M fell $1.21, or 1.6%, to $75.78, while Cuno jumped by $16.03, or 29.2%, to finish at $70.85.
Delphi
undefined
delayed the filing of its quarterly earnings, which the company was to report Friday. In a filing to the
Securities and Exchange Commission
, the company said it will file earnings "within the prescribed time period because the company could not complete the preparation of the required information without unreasonable effort and expense." Delphi said it expects to post restatements by June 30. Shares dropped 28 cents, or 7.6%, to $3.40.
Retailer
Deb Shops
undefined
said it will pay a special cash dividend of $6 a share, or about $83 million. The money will be distributed Aug. 16 to shareholders of record on July 29. Shares gained $2.48, or 9.7%, to $28.
Micromuse
undefined
rose 13.9% after Raymond James upgraded the stock to strong buy from outperform. The brokerage also set a stock price target of $7.25. Shares added 72 cents to $5.91.
Overseas markets were mostly higher, with London's FTSE 100 up 0.2% to 4887 and Germany's Xetra DAX higher by 0.5% to 4266. In Asia, Japan's Nikkei lost 0.4% overnight to 11,078, while Hong Kong's Hang Seng added 0.2% to 13,968.
To view Aaron Task's video take on today's market, click here
.