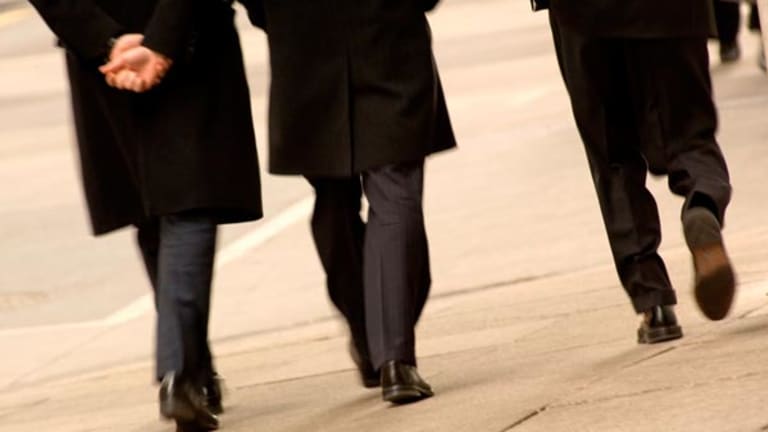 Blue-Chips Lift as Oil Prices Drop
But a chip pullback prevents the Nasdaq from keeping pace.
But a chip pullback prevents the Nasdaq from keeping pace.
Updated from 4:09 p.m. EDT
Blue-chip stocks staged another late-day rally to lock in solid gains Wednesday, sparked by a plunge in oil prices, while tech stocks were forced slightly into the red by weakness in semiconductors.
The
Dow Jones Industrial Average
closed up 60.32 points, or 0.59%, to 10,262.97; the
S&P 500
added 3.80 points, or 0.34%, to 1125; and the
Nasdaq Composite
was off 1.79 points, or 0.09%, to 1988.98.
The 10-year Treasury note traded down 8/32 in price to yield 4.73%, while the dollar was lower against the yen and higher vs. the euro.
The Dow's rally took the index above its 50-day moving average of 10,251; all three indices are now above that technically significant level.
Trip Jones, managing director at SunGard Institutional Brokerage, attributed the afternoon rally to a short-term, overbought condition in the market. "The volume and breadth in the market shows absolutely no conviction in this move," he said.
"We don't think this market has finished its adjustment," Jones added. "We think this is a relief rally in a larger correction. Given the lack of volume in this thing, I'm not impressed at all."
More than 1.2 billion shares were traded on the
New York Stock Exchange
, where advancers outnumbered decliners by about 2 to 1. On the Nasdaq, almost 1.5 billion shares changed hands, and advancers held a slight majority over decliners.
Crude-oil futures eased after Kuwait's Oil Minister Sheikh Ahmad Fahad Al-Ahmad Al-Sabah said OPEC could add 700,000 million barrels a day of real crude to the world's oil markets. Earlier, Qatar's energy minister suggested OPEC members should "produce what they want" in the near future to avoid price shocks. According to
Bloomberg
, Abdullah bin Hamad al-Attiyah said the cartel is near a consensus to raise output by 2.5 million barrels a day when it meets Thursday in Beirut.
On Tuesday, oil traders took hefty profits after July crude touched a record $42.45 on Nymex. Crude futures settled down Wednesday by $2.37 a barrel, to $39.96. Among major oil stocks,
BP
(BP) - Get Report
closed up 46 cents, or 1.1%, to $53.92, while
Royal Dutch/Shell
(RD)
was up 21 cents, or 0.4%, to $50.57.
Saudi Arabia said its security forces killed two key militants with alleged ties to a shooting attack and hostage-taking in eastern Saudi Arabia that killed 22 people over the weekend, according to the
Associated Press
.
In Iraq, insurgents loyal to radical Shiite cleric Muqtada al Sadr fought U.S. forces near a mosque in Kufa and Baghdad, and officials said six Iraqis were killed and 40 others wounded. Elsewhere, a third fatal car bomb in as many days exploded in a Sunni Muslim district of Baghdad, killing at least five people and wounding about 33 others, including children, police said.
John Hughes, equity strategist at Shields & Co., said he thinks the market's ability to shake off both the news of violence in the Middle East over the weekend and record-high oil prices show that these negative factors, which have been weighing on stocks for weeks now, already are factored into the equation for investors and people are ready to trade on other positive factors.
"I think it's kind of built in now, and I think the fact that the market was able to take it in stride is important," Hughes said. "It's become sort of old news. Going forward, people are looking for a positive catalyst out of the Middle East or second-quarter earnings forecasts or a good employment number on Friday.
"We're a little overbought here on a short-term basis after last week's gains, so you might see some back-and-fill action for a couple of days leading up to these economic reports coming up," he added. "On balance, I think we're going to continue to see things push higher here."
Trading volume remains muted ahead of Friday, when the government will release its all-important employment report for May. Nonfarm payrolls are expected to have added 215,000 jobs, down from the 288,000 reported in April. Meanwhile, the unemployment rate is expected to stay flat at 5.6%.
Semiconductor stocks were a main drag on tech stocks after chipmaker
Altera
(ALTR) - Get Report
reported after Tuesday's close that second-quarter top-line growth should come in at the high end of its previous guidance of 7% to 9%. That would put revenue at about $265 million, above the current Thomson First Call range of $262.4 million.
Several semiconductor-equipment names moved Wednesday after Smith Barney initiated coverage on the group with a warning that capacity use will probably peak for the group this quarter. The firm downgraded a handful of names, including
Applied Materials
(AMAT) - Get Report
,
Teradyne
(TER) - Get Report
and
Novellus
(NVLS)
, while upgrading
MEMC
(WFR)
and
Amkor
(AMKR) - Get Report
.
MEMC closed up 2 cents, or 0.2%, to $9.32, while Applied Materials was off 63 cents, or 3.2%, to $19.05. The Philadelphia Semiconductor Index closed down 2.3%.
U.S. automakers reported mostly better-than-expected sales in May.
General Motors
(GM) - Get Report
said sales climbed 2.6%, thanks to double-digit sales gains for its trucks and SUVs.
Ford Motors
(F) - Get Report
reported a 3.1% decline, hurt by slower demand for its cars and trucks, and
DaimlerChrysler AG
(DCX)
said May sales of its auto brands in the U.S. rose almost 1%. Ford closed down 1% to $14.89, while GM gained 0.8% to $45.38.
Allos Therapeutics
(ALTH)
said it got conditional support from the Food and Drug Administration for its experimental drug to treat patients with brain cancer that spreads from the breast. Its stock was recently up 87 cents, or 44.6 %, to $2.82.
Shares of
Home Depot
(HD) - Get Report
dropped 9 cents, or 0.2%, to $35.67 after Banc of America Securities downgraded the stock, citing concerns that a slowing housing market could hurt its sales.
In earnings news,
Albertson's
(ABS)
reported plunging first-quarter profits but the grocery chain assured Wall Street that its annual results would come in toward the top-end if estimates. Its quarterly income fell to $36 million, or 10 cents a share, from $172 million, or 47 cents a share, in the same quarter last year, thanks largely to a recent labor strike in Southern California.
Overseas stocks were mostly higher, with London's FTSE 100 closing flat at 4423 while Germany's Xetra DAX added 0.6% to 3888. In Asia, Japan's Nikkei fell 0.5% to 11,242, while Hong Kong's Hang Seng rose 0.8% to 12,202.
The lull in economic news ends Thursday morning at 8:30 a.m. EDT when the Labor Department will revise its first-quarter report on worker productivity. Economists expect the government to revise the figure up slightly to an increase of 3.6% for the quarter from the previously reported 3.5% increase. The productivity of the U.S. labor force rose 2.6% in the fourth quarter.
Also, the Labor Department is expected to report that initial jobless claims for the week ended May 29 totaled 339,000, down from the 344,000 logged in the previous week.
At 10 a.m. EDT, the government is expected to say factory orders slowed to an increase of 0.4% in April, down from the 4.3% jump in March, and the Institute for Supply Management is scheduled to release the results of its index measuring economic activity in the nation's service sector in May. Economists expect the index to fall to 66 from the 68.4 recorded in April.
Before the opening bell,
Pathmark Stores
(PTMK)
is slated to report first-quarter operating results. Consensus estimates call for a loss before items of 9 cents a share, down from last year's profit of 4 cents a share. After the closing bell, a much-anticipated midquarter update is expected from
Intel
(INTC) - Get Report
.