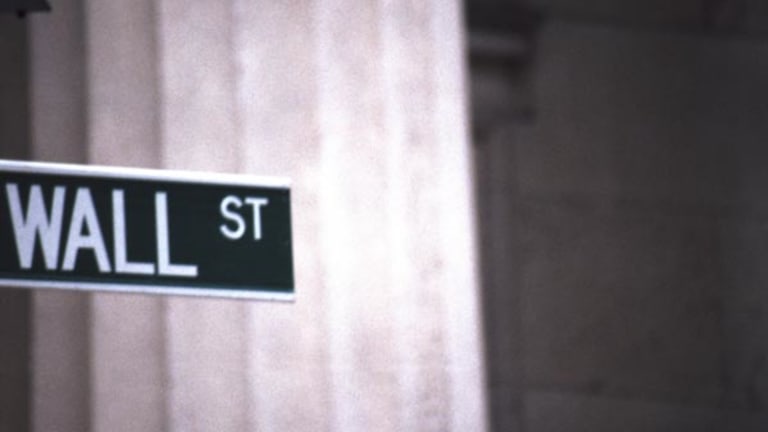 Publish date:
Blue Chip Stocks Close Higher
Blue chip stocks made gains but the tech-heavy Nasdaq finished flat on Friday, as investors weighed a strengthening U.S. dollar against rosier consumer data. Gregg Greenberg has The Real Story.
Blue chip stocks made gains but the tech-heavy Nasdaq finished flat on Friday, as investors weighed a strengthening U.S. dollar against rosier consumer data. Gregg Greenberg has The Real Story.
NEW YORK (
) -- Blue chips made gains but the tech-heavy
Nasdaq
finished unchanged on Friday, as investors weighed a strengthening U.S. dollar against fresh data suggesting that U.S. consumers are holding up better than anticipated.
The
Dow Jones Industrial Average
finished higher by 66 points, or 0.6%, to 10,472 and the
S&P 500
rose by 4 points, or 0.4%, to 1106. The Nasdaq slipped just half a point to 2190.
Both the Dow and the S&P 500 advanced for the week, rising 0.8% and 0.04% each, though the Nasdaq ended lower after declining 0.2% since last Friday.
>>Five Bold 2010 Predictions for Financial Stocks
Alcoa
(AA) - Get Report
led percentage advancers on the Dow, up over 8%. The aluminum concern's shares rallied after a note from JPMorgan raised its profit outlook and stock price target due to increasing metal price forecasts.
United Technologies
shares also climbed 2.2% after the manufacturer said it expects a 10% profit jump next year.
The semiconductor segment weighed on the tech space, with the Philadelphia Semiconductor Index down by 1%. Shares of
National Semiconductor
(NSM)
tumbled 3.6%, despite reporting an earnings beat late Thursday. That followed an underwhelming mid-quarter review from
Texas Instruments
(TI)
earlier in the week.
Intel
(INTC) - Get Report
shed 1.2% Friday, making it the biggest percentage decliner on the Dow.
Name stocks on the Nasdaq losing ground today included
Apple
(AAPL) - Get Report
,
Research in Motion
(RIMM)
and
Google
(GOOG) - Get Report
, which each slumped 0.9%, 3% and 0.2%.
In the afternoon, the House of Representatives voted 223 to 202 in favor of a sweeping financial regulatory reform legislation. Among other things, the measure would create a new consumer protection agency, impose increasing oversight on the financial sector and outlines powers to unwind those firms that pose a systemic risk to the system at large.
Also on Friday, the Obama administration's executive pay czar, Kenneth Feinberg, set compensation limitations on four firms that received significant bailout funds, including
American International Group
(AIG) - Get Report
,
Citigroup
(C) - Get Report
,
General Motors
and
GMAC
. Salaries will be capped at $500,000 for the 26th through the 100th highest-paid employees at the aforementioned firms.
November
far exceeded expectations, coming in 1.3% higher than October's 1.1% increase. Excluding autos, sales were still up by 1.2% in November, which was the strongest gain since January. Economists had been anticipating a mild uptick of 0.6% and an increase of 0.4%, excluding autos. Import prices, driven by fuel costs, rose the most they have since June, up 1.7%. Export prices were 0.8% higher in November.
Consumer sentiment is also moving in the right direction, strengthening signs consumers may be becoming more willing to open their wallets. A preliminary December reading on the Reuters/University of Michigan Surveys of Consumers sentiment index came in at 73.4, which easily beat the projected reading of 68.8.
Jim Baird, chief investment strategist at Plante Moran Financial Advisors, said that while November's rise in retail sales supported the image of a steadily improving consumer sector, significant pressures -- including high unemployment, a struggling housing market and constrained credit conditions -- remain and will likely result in a more gradual recovery.
"Consumers are still stinging from the past year, and still lack the confidence that drove their aggressive pre-recessionary spending habits," he wrote in an email.
Shares across the retail sector rose Friday with the
Retail HOLDRs
(RTH) - Get Report
ETF up by $1.15, or 1.2%, at $95.01.
In other economic news on Friday,
business inventories rose 0.2% in October, while economists had been anticipating a 0.2% slump.
As bulls and bears grasp at evidence supporting their views in new data, Max Bublitz, chief market strategist at SCM Advisors, was more surprised by how tepid the market has been in the last several weeks. He interprets this a sign of a high level of uncertainty for investors.
"I don't think now is the time to for strident, table-pounding views," Bublitz said, advising a cautious approach. "I'd take advantage of the low volatility and use it pick up some protection -- for whichever way the market is headed."
A stronger U.S. dollar, which hit its highest point in recent months, pressured earlier gains seen across equity and commodity markets. The Dollar Index was most recently up by 0.7%.
Gold for February delivery traded lower by $6.30 to settle at $1,119.90 an ounce after hitting a four-week low at $1,110.20 an ounce.
The January crude contract lost 67 cents to settle below $70 at $69.87 a barrel. Earlier, the International Energy Agency said
global oil demand would hit 86.3 million barrels a day in 2010, rising at a slightly faster pace than previously forecast on improved economic activity across Asia and the Middle East.
Procter & Gamble
(PG) - Get Report
snapped up
Sara Lee's
(SLE)
European air freshener business, Ambi Pur, for $470 million as the consumer products company seeks to bolster its global presence. Procter & Gamble's stock rose 10 cents, or 0.2%, at $62.34 while Sara Lee shares added 2 cents, or 0.2%, to $12.21.
Shares of
Citigroup
(C) - Get Report
traded 2.1% higher amid
ongoing speculation that it would become the latest bank to present plans to
repay TARP funds.
Bank of New York Mellon
(BK) - Get Report
CEO Robert Kelly appears to be a
candidate to succeed
Bank of America
(BAC) - Get Report
CEO Ken Lewis.
In other news,
Boeing
(BA) - Get Report
said its
long-delayed Dreamliner could fly as early as Tuesday of next week. Its stock traded 1.1% higher at $55.60.
--Written by Melinda Peer and Sung Moss in New York
.