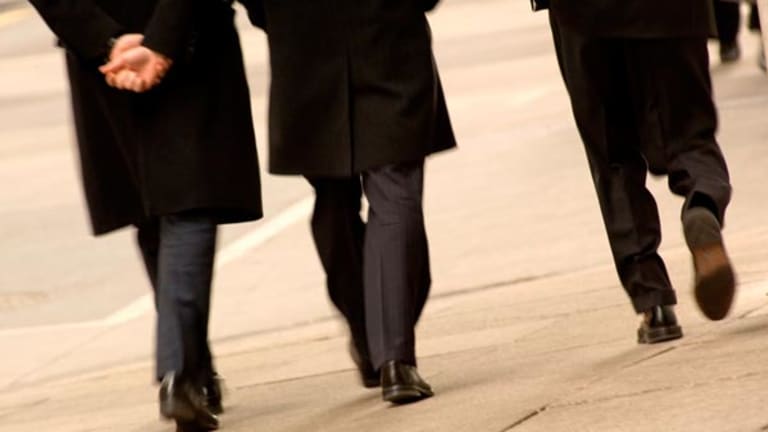 Blue-Chip Rally Plows Ahead
The Dow moves closer to its 2004 high but techs slide despite another pair of big deals.
Updated from 4:04 p.m. EST
Stocks closed decidely mixed Thursday with blue chips gaining and techs suffering, as enthusiam generated by the annoucement of two highly-anticiapted takeover deals wore thin.
The
Dow Jones Industrial Average
added 14.19 points, or 0.1%, to 10,705.64, within 32 points of its 2004 closing high touched Feb. 11; the
S&P 500
was down 2.52 points, or 0.2%, to 1203.20, having reached a new 40-month high Wednesday; the
Nasdaq
closed 16.40 points, or 0.8%, lower at 2146.15, after posting its highest close Wednesday since June 2001.
The Treasury's 10-year note was off 28/32 to yield 4.19%, while the dollar was mixed, trading down vs. the Japanese yen and up against the euro. Oil closed 1 cent lower at $44.18 a barrel in Nymex floor trading, ending a three-day winning streak.
Volume on the
NYSE
was 1.79 billion shares, with decliners beating advancers by a ratio of 2-to-1. Volume on the Nasdaq was 2.36 billion, with decliners beating advancers by a ratio of about 3-to-2.
"You had great excitement over the M&A deals when they were talked about a week ago," said Larry Wachtel, senior market analyst with Wachovia Securities. "But when you get to the scene of the crime, they run out of gas. The price of oil is going back and forth, too. It's been a decent day, but it's hard to judge the market; there is no message being sent in the market today."
"There is pressure in the semiconductor sector and the weakness there is pushing the Nasdaq down," said Brian Williamson of Boston Company Asset Management, addressing the divergence between blue chips and techs. The Philadelphia Semiconductor Index was recently down 1.7%
In economic news, the Labor Department said initial claims for unemployment dropped 43,000 to 317,000 last week, the largest decline since December 2001. Jobless claims are at their lowest since the week ended July 3. Economists were expecting a slight decrease to around 342,000. The number of former workers receiving state unemployment dropped by 50,000 to 2.74 million, dropping the four-week average of 2.75 million to its lowest level since May 2001.
The Federal Reserve Bank of Philadelphia reported that its manufacturing index slowed to 20.7 in November compared with October's reading of 28.5. The decline was larger than economists' consensus expectation of 23.4.
The Commerce Department said U.S. housing starts plummeted 13.1% in November, the sharpest decline in more than a decade. November's seasonally adjusted housing starts rate was 1.77 million, the lowest since May 2003.
"Traders were starting the day off with good economic news, but it's been following data historically," said Ken Tower, chief market strategist with CyberTrader. "On the third Thursday of the month, you're just before the expiration of futures, and historically they show weakness in the morning and strength in the afternoon. After the rally over the past few days, it was likely we'd get profit-taking this morning."
In M&A news,
Johnson & Johnson
(JNJ) - Get Report
late Wednesday announced it will buy medical-device maker
Guidant
( GDT) for $23.9 billion in cash and stock, ending more than a week of speculation about a tie-up. Johnson & Johnson rose $2.55, or 4.2%, to $63.45 while Guidant lost 35 cents, or 0.5%, to $71.70.
Also on the merger front,
Symantec
(SYMC) - Get Report
will acquire rival software firm
Veritas Software
(VRTS) - Get Report
for about $13.5 billion. That deal also has been widely expected. Symantec finished down $2.25, or 8.2%, to $25.13, while Veritas dipped 12 cents, or 0.4%, to $27.99.
Cendant
( CD) has agreed to purchase privately held
Gullivers Travel Associates
for $1.1 billion. The deal, which Cendant sees closing in April 2005, is expected to shave 1 cent off 2005 EPS, while increasing 2006 EPS by 5 cents to 6 cents. Revenue is expected to be between $230 million and $255 million in 2005 and between $360 million and $395 million in 2006. Cendant fell 24 cents, or 1.1%, to $22.46.
In earnings news,
Abbott Laboratories
(ABT) - Get Report
said it expects 2005 earnings of $2.47 to $2.53 a share, with projected sales growth of 10% to 12%, matching the Thomson First Call EPS consensus of $2.50. The medical company also forecast fourth-quarter earnings of 66 cents to 68 cents a share, excluding charges totaling 5 cents. The First Call forecast is 67 cents a share. Abbott Labs gained $1.84, or 4.1%, to $46.19.
Goldman Sachs
(GS) - Get Report
reported fourth-quarter earnings of $1.19 billion, or $2.36 a share, compared with $971 million, or $1.89 a share, from a year ago. The company, however, missed revenue forecasts, posting $4.58 billion vs. the $4.77 billion consensus. Goldman Sachs finished down $3.85, or 3.5%, to $105.40.
Apollo Group
(APOL)
said it had fiscal first-quarter earnings of $109.5 million, or 58 cents a share, vs. $78.4 million, or 44 cents a share, last year. The Thomson First Call consensus was 57 cents a share. Revenue was $534.9 million, up 30% from last year. The education company expects fiscal second-quarter earnings of 46 cents a share, matching current analyst forecasts, with revenue between $507 million and $511 million. Apollo Group fell $5.70, or 6.7%, to $79.63.
Krispy Kreme
(KKD)
said it will miss another deadline to file its 10-Q quarterly financial reports with the
Securities and Exchange Commission
. The company said late Wednesday that it needed more time to analyze franchise issues, after already having missed the Dec. 10 date the SEC had given it to file the reports. Krispy Kreme rose 92 cents, or 8.7%, to $11.55.
Rite Aid
(RAD) - Get Report
dropped its fiscal 2005 earnings forecast to 3 cents to 12 cents a share from its original estimate of 16 cents to 22 cents a share. For the fiscal third quarter, the company reported earnings of $977,000 with a loss of 1 cent per share, compared to $73.6 million, or 12 cents a share, in earnings last year. Rite Aid lost 5 cents, or 1.5%, to $3.41.
Overseas markets were mixed. London's FTSE 100 gained 0.4% to 4745, while Germany's Xetra DAX added 0.5% to 4234. In Asia, Japan's Nikkei fell 0.3% to 10.924 and Hong Kong's Hang Seng lost 0.4% to 14,024.
To view Gregg Greenberg's video take on today's market, click here
.