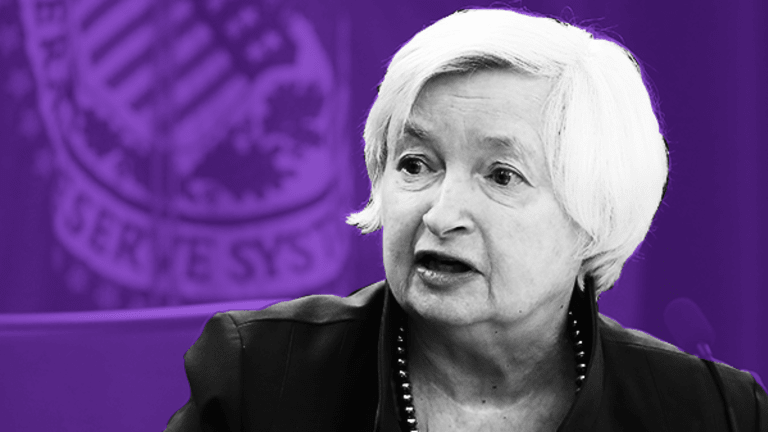 Blame Today's Stock Market Whipping on Central Bankers: Market Recon
It's all about monetary tightening, folks.
"Fragility is the quality of things that are vulnerable to volatility." -- Nassim Nicholas Taleb
We never felt an upper cut -- no right or left cross was thrown. There's been no knockout punch in the market so far Thursday, but there's been body blow after body blow after body blow all day long.
Traders who were long most of the equity space have been taking a steady beating since the opening bell. Many had looked to the S&P 500's 2,420 level for help. Surely that's where we would see a bounce, right? In fact, that has stopped the slide for now, forcing the S&P 500 sideways.
Still, tech stocks have been on sale all day. Semiconductors, software, Internet services, the IT crowd -- get 'em while they're hot, folks. Behold, the VIX has been gifted a new lease on life.
The Ugly Stick
Volatility certainly picked up and the "Ugly Stick" arose. I hate when "The Stick" shows up -- but it did, and it started swinging.
Now, traders' first impulse when they're under pressure seems to be to take money out of where they have the most profit. That's what they call "rotation" (as long as the money goes somewhere else).
Financials and energy have been that "somewhere else" so far Thursday. Those two sectors have been finding bids while most of the rest of the market has been getting gashed. Not only is tech down as I write this, but eight other S&P 500 sectors are also lower by 1% more.
Fear? Yeah, you can say that. Somebody is definitely spooked.
Blame It on Janet
Why today of all days does the market sell off, just one day removed from a raucous rally?
Is this about doubts over the U.S. Senate's ability to get a healthcare bill passed? No, definitely not, even if that means pushing out or delaying all of President Trump's pro-growth, pro-business agenda.
Frankly, the administration's agenda isn't priced in at this point. On the contrary, I think the public would be genuinely surprised if we got any actual progress along those lines.
The reason for this selloff is central bankers, gang -- plain and simple. If you believe that loose monetary policy had a hand (maybe both hands) in driving stock prices to levels previously seen as overvalued, then this selloff makes sense. After all, central bankers are finally beginning to talk tough on policy and yields are starting to show some life.
It makes sense that higher yields would serve as a headwind to equity markets, particularly if there's no simultaneous improvement in economic conditions. So, blame Thursday's selloff on the Federal Reserve, the European Central Bank, the Bank of England, the Bank of Canada and even the Bank of Japan. All of them have been making rumblings recently about potential policy "normalization," as I wrote Thursday morning.
If the marketplace feels that growth is stalling, then higher borrowing costs will simply have to come out of earnings. Earnings have been the story in 2017, and higher borrowing costs will hurt corporate performance. There's no way to sugarcoat that. Not to mention the fact that higher yields will also attract a certain class of investor away from stocks.
But what if the market puts up a fight from Thursday's lows and rallies going into the close? Well, that's why we play this game from bell to bell, folks.
And on a grander scale, what if monetary policy's intended trajectory fails? What then? Well, friend, that's why there are two sides to every trade.
Visit here for the latest business headlines.