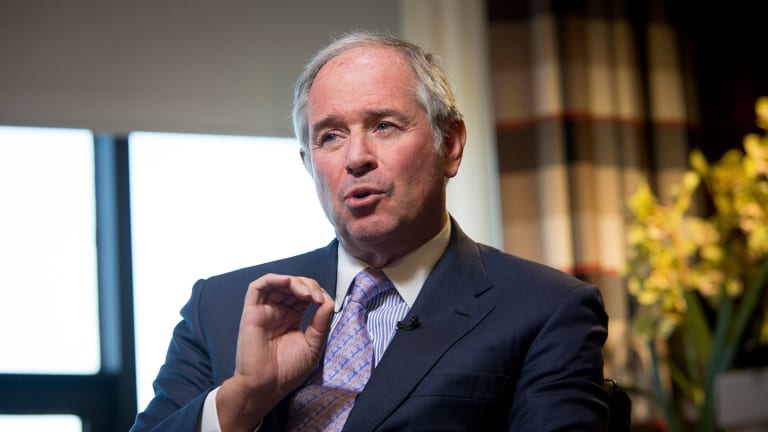 Blackstone Group Doubles Women on Board to Two
As a growing body of research shows that gender diversity on a company's board of directors usually improves long-term shareholder returns, Stephen Schwarzman's Blackstone Group has added former U.S. Senator Kelly Ayotte of New Hampshire as a director. The appointment would double the number of female directors to two out of 11 total board members, or 18%.
It took at least five months for Blackstone Group  (BX) - Get Free Report  to find another qualified woman to join its board of directors.
But now there are two.
Blackstone, the largest U.S. private-equity firm with $472 billion of assets under management, said Thursday in a statement that former U.S. Sen. Kelly Ayotte would join as a director on May 13. 
The New York-based firm, led by its 72-year-old founder, Chairman and CEO Stephen Schwarzman, currently has 10 directors, according to its website. Assuming no other changes to the board's composition, Ayotte's appointment would bring the percentage of female members to 18%, or two out of 11.
While that's still below the average of 25% among companies in the Standard & Poor's 500, the appointment could prove a long-term boon for shareholders: A growing body of research has shown that corporate boards with more female directors are better at decision-making, and that the companies typically reap higher long-term financial returns.
Some experts say women can be more assertive in the boardroom than men and thus more likely to challenge CEOs on crucial topics, such as risk-taking.
"During her career in public service, Kelly distinguished herself with a willingness to work cooperatively to solve complex challenges," Schwarzman said in the statement. "This judgment, combined with her leadership experience in a number of policy areas relevant to Blackstone's business, will add great value to the firm."
Blackstone press officials had told TheStreet in November that the board was looking to add another female director.
Before serving as a senator from New Hampshire from 2011 through 2016, Ayotte served as New Hampshire's first female attorney general, according to the statement. She began her career as a law clerk to the New Hampshire Supreme Court and as an associate at the law firm McLane Middleton, Blackstone said.
The other female director on Blackstone's board is Rochelle B. "Shelly" Lazarus, former CEO of the marketing and communications firm Ogilvy & Mather. 
Blackstone, which went public in 2007, didn't have a single woman on its board until Lazarus joined in 2013.
One concern about Ayotte's appointment is that she is already quite busy, according to Nell Minow, vice chair of consultant ValueEdge Advisors, which counsels big investors on corporate governance. 
According to the statement, she serves on the boards of six other companies, Caterpillar  (CAT) - Get Free Report , News Corp (NWS) - Get Free Report , BAE Systems (BAESY) , Boston Properties (BXP) - Get Free Report , Bloom Energy (BE) - Get Free Report and Blink Health. She also serves on the advisory boards of Microsoft (MSFT) - Get Free Report  , Chubb Insurance and Cirtronics, as well as on a "number" of non-profit boards, Blackstone said.
For the past two decades, it has been a rule of thumb among corporate-governance experts that anything more than four corporate-board appointments is too many for one person, according to Minow. 
"Board service generally takes about 240 hours a year if everything is going well and quickly becomes 24/7 if there's a problem," Minow said in an e-mail to TheStreet. 
In an e-mail, Blackstone spokeswoman Jen Friedman said that Ayotte "devotes her full time to her board seats and is thus able to devote considerable time to each."
Friedman declined to comment on the timing of any possible new directors, though she said Blackstone is currently "focused on adding more diversity to our board."
"That effort continues," she said.  
Big money-management firms like BlackRock  (BLK) - Get Free Report and State Street  (STT) - Get Free Report have pushed for companies to put more women on their boards, in the belief that doing so will improve shareholder returns. Diverse perspectives help to foster healthier debates within boardrooms, the theory goes, resulting in more effective strategic decision-making and potentially higher long-term growth.
And the difference becomes clear when a board has at least three women, ensuring that their contributions will be fruitful, proponents say. The dynamic is partly explained by the reality that when there are least three women on the board, they're more likely to disagree with each other, forcing male directors to recognize that the women's individual perspectives aren't solely gender-based.
Private-equity firms, which have an outsize influence on the corporate world via the companies they control through their investment funds, have generally lagged behind most other public companies when it comes to board gender diversity.
But with the spotlight on fairness that followed the #metoo movement that went viral in 2017, the firms have taken steps to address the perceived deficiency. 
Last September, Blackstone rival KKR & Co.  (KKR) - Get Free Report doubled the number of women on its board to two.