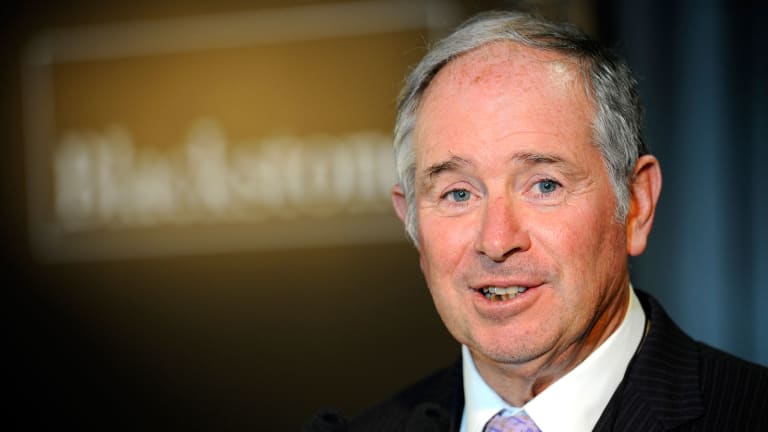 Blackstone CEO Schwarzman Makes $573 Million in One Day as Shares Jump
Stephen Schwarzman, founder and CEO of the giant U.S. private-equity firm Blackstone, was already one of the world's richest men. But after an announcement that the partnership will convert to a stock corporation sparked the biggest one-day rally in its publicly traded units, Schwarzman is immediately $573 million richer on paper.
A plan by the giant U.S. private-equity firm Blackstone Group (BX) - Get Blackstone Group Inc. Class A Report  to convert from a partnership into a stock corporation sent the company's publicly traded units up by 7.49% on Thursday, the biggest single-day rally in almost two years. 
The plan is designed to allow ownership in the company by a broader swath of investors -- mainly those who don't want the hassle of filing the extra Schedule K-1 tax filing required by the Internal Revenue Service for partnerships.     
But no one benefited more from the price jump than founder and CEO Stephen Schwarzman, 72.
According to the company's annual report for 2018, filed last month with the Securities and Exchange Commission, Schwarzman holds 231.9 million partnership units in Blackstone Holdings, which are exchangeable for the publicly traded units up to four times a year. 
The announcement of the conversion plan sent those units up by about $2.47 during the day in New York trading on Thursday - translating to a $573 million paper gain for Schwarzman. 
It should be noted that even with Thursday's price jump, Blackstone shares are still underperforming relative to the broader U.S. stock market and other financial behemoths since the company's June 2007 initial public offering.
Returns to Blackstone unitholders over that period - including distributions - have totaled roughly 7.3% a year, less than the 8% annual returns for the Standard & Poor's 500 Index, according to data provider FactSet. The company's returns are also below the 10.1% a year for shareholders in JPMorgan Chase (JPM) - Get JPMorgan Chase & Co. (JPM) Report , led by CEO Jamie Dimon, and the 9.6% average returns for billionaire Warren Buffett's Berkshire Hathaway (BRK.B) - Get Berkshire Hathaway Inc. Class B Report . 
Based on the latest price of $38.62 for Blackstone's units, Schwarzman's holdings are now worth roughly $8.9 billion, and over the years he's received additional compensation from generous annual pay packages - $69 million in 2018 alone - and distributions to unitholders. So, for Schwarzman, the extra hundreds of millions are just that: a little extra. 
But hey, it's still more than three times the current $175 million jackpot for the 44-state Mega Millions lottery. 
Not bad for a day's work.