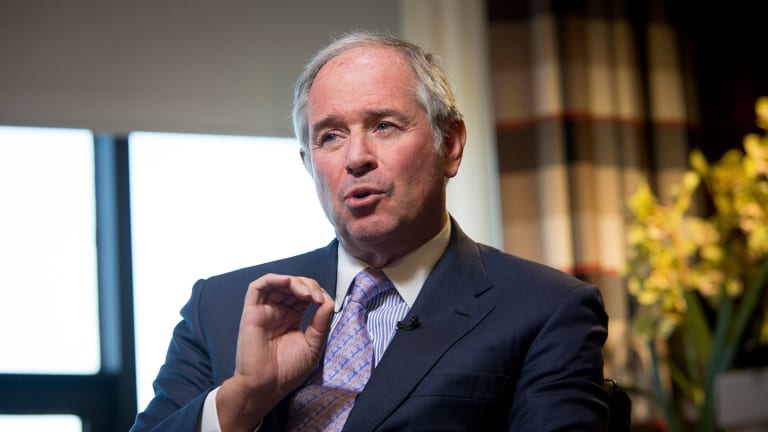 Blackstone CEO Schwarzman Cuts Pay 45% to Mega Millions-Style $69.1 Million
Blackstone CEO Stephen Schwarzman, who sets his own pay, got a 45% cut in total compensation last year to $69.1 million. But compared with JPMorgan Chase CEO Jamie Dimon, considered by most investors to be the reigning dean of Wall Street, Schwarzman still looks vastly overpaid.
Blackstone Group LP (BX) - Get Blackstone Inc. Report  founder and CEO Stephen Schwarzman gave himself a 45% pay cut last year -- and he still looks overpaid compared with JPMorgan Chase & Co. (JPM) - Get JP Morgan Chase & Co. Report CEO Jamie Dimon, considered by most investors to be the reigning dean of Wall Street.
Schwarzman, 72, got $69.1 million of total compensation last year, according to the New York-based investment firm's annual report, filed on March 1. That's down from $125.5 million in 2017. 
It's still well above this week's 44-state Mega Millions lottery jackpot of $40 million, and it's more than 2,000 times the median compensation per U.S. worker of about $32,000. It's also more than twice Dimon's 2018 compensation of $31 million, a roughly 5% raise from the prior year -- offering a pay-for-performance benchmark that might attract investors' attention even if they're indifferent to the gnawing debate over rising wealth inequality in U.S. society.   
A Blackstone spokesman declined to comment. 
The two Wall Street companies are very different: Blackstone takes money from rich individuals and institutional investors such as pension funds, foundations and endowments and then uses that cash -- supplemented by heavy borrowing from banks and investors -- to buy equity stakes in private companies and, increasingly, corporate debt.    
JPMorgan, meanwhile, is the biggest U.S. bank, with a sprawling retail-branch network, vast connections in the global payment system, one of the biggest stock- and bond-trading desks in the world and a top investment bank that underwrites initial public offerings and billion-dollar debt deals while advising on business-landscape-changing mergers and acquisitions.
For shareholders, the business-mix distinction may not matter as much as the results:
- Blackstone's total revenue fell 4.3% last year to $6.83 billion, while New York-based JPMorgan's rose 8.3% to $109 billion.
- Blackstone's pretax income fell by 15% to $3.51 billion, while JPMorgan's rose 14% to $32.5 billion. 
- Blackstone's net income fell by 3.3%, while JPMorgan's surged 33% to $32.5 billion.
Both companies benefited from a lower corporate tax rate, thanks to legislation signed in late 2017 by President Donald Trump.
(Schwarzman briefly led Trump's Strategic and Policy Forum, a group of business leaders including Dimon and the CEOs of General Motors  (GM) - Get General Motors Company Report , Walt Disney   (DIS) - Get The Walt Disney Company Report and IBM (IBM) - Get International Business Machines Corporation Report , until the panel dissolved in 2017 amid public outcry over the president's response to a fatal attack by an alleged white supremacist in Charlottesville, Virginia).
According to Blackstone's website, its private-equity investment portfolio includes more than 95 companies with about 450,000 employees around the world. So on that metric sense it exceeds the 256,105 employees that Dimon oversees at JPMorgan.
As company founder, Schwarzman sets his own compensation, according to Blackstone's annual report. That's a contrast with most publicly traded companies, including at JPMorgan, where the CEO's pay is set by an independent committee of board members.
What's more, the bulk of Schwarzman's annual compensation comes from so-called "carried interest" and incentive fees -- essentially a cut of the gains from Blackstone's investment funds.
That's just how Blackstone designs its compensation plans. The annual report states that the incentive arrangements are needed "to attract and retain the most qualified personnel" -- the same reason most companies pay their employees. Any extra cash that goes into Schwarzman's pocket goes neither to shareholders, nor to the investors in the firm's funds.     
Schwarzman's incentive payments declined last year as Blackstone's total reported incentive fees and investment income tumbled; the S&P 500 Index of large U.S. stocks fell by about 6%, the most since the financial crisis of 2008.
"As everyone knows, the fourth quarter was an extremely difficult period for markets and for most participants in the financial community," Schwarzman told analysts on a conference call in February.  
But from the agnostic shareholder's point of view, JPMorgan's Dimon managed to increase profit anyway -- for less than half the pay.