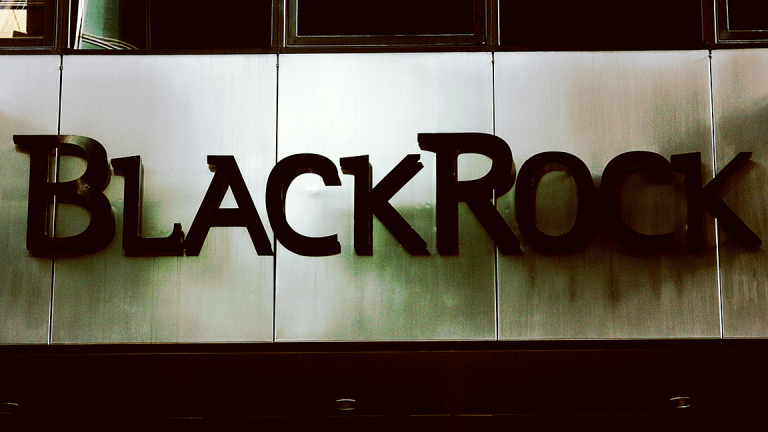 BlackRock's ETF Dominance Enriches Investors as Mutual Funds Suffer
BlackRock continues to steal market share from mutual-fund competitors with its suite of exchange-traded funds. Analysts say investors' increasing preference for ETFs shows no sign of abating. But because of the low fees charged by ETFs, profit margins are shrinking.
As low-fee exchange-traded funds steal an ever-growing share of the money-management industry, so does BlackRock (BLK) - Get Free Report . 
The money-management giant said Tuesday that its iShares ETF business brought in $30.7 billion of new money as financial markets rallied during the first quarter. The ETF inflows were more than double the $13.6 billion that went into BlackRock's "active" mutual funds managed by human bond- and stock-pickers.
BlackRock, the biggest U.S. money manager with more than $6 trillion of assets, has dominated publicly traded rivals like Invesco (IVZ) - Get Free Report , Affiliated Managers Group (AMG) - Get Free Report and Janus Henderson Group (JHG) - Get Free Report in recent years thanks to its suite of ETFs, which can be easily traded on a stock exchange and typically offer market-matching returns in exchange for low fees.
Kyle Sanders, an analyst at the brokerage firm Edward Jones in St. Louis, said there are few signs that the trend will end anytime soon. BlackRock's ability to bring in new assets remains "impressive," Sanders wrote in a note to clients.  
"It's still in the early innings," Sanders said in a phone interview. 
In February, industry-tracker Deborah Fuhr at the London-based consultancy ETFGI predicted that assets in ETFs would surge by 18% this year to surpass $4 trillion for the first time.
And last month, Moody's Investors Service forecast that ETFs and "passive" mutual funds that track indexes like the Standard & Poor's 500 would account for more than 50% of industrywide assets under management by 2021. Active mutual funds, which have historically dominated the market, currently account for about 64% of industrywide assets, according to Moody's.  
Cathy Seifert, an analyst at the stock-research firm CFRA, estimated that BlackRock netted $123.6 billion of net investor inflows last year, even while most of its competitors saw net outflows. 
As of March 31, BlackRock's ETF business alone accounted for $1.9 trillion of assets under management, the New York-based company said Tuesday. 
One risk for BlackRock, led by founder and CEO Larry Fink, is that the low-fee vehicles tend to shrink profit margins. The firm's revenue last year, as a percentage of its total assets under management, was less than 0.3% -- the lowest among a group of 10 big publicly traded investment firms, Seifert wrote last month in a report.
And competition is fierce from rival ETF-heavy money managers, including State Street (STT) - Get Free Report and closely held Vanguard Group: Last year, Vanguard announced commission-free online trading in almost 1,800 of competitors' ETFs in addition to 77 of its own.
BlackRock's operating margin -- essentially pretax income as a percentage of revenue -- shrank to 36.8% in the first quarter from 38.4% a year earlier.
After Tuesday's results were released, Seifert cut her estimate of the firm's 2019 earnings per share by $1.11 to $28.06.  
"I'm assuming there's going to be more fee compression," she said in a phone interview. "ETF fees are going down."
But she still recommends that investors buy the company's shares, because of the ever-growing populating of ETFs. For many of BlackRock's rivals it might be too late to build up the scale needed to profitably survive in the low-fee market, she said.
BlackRock's shares jumped 2.9% in Tuesday trading, even though the company said net income slipped 3% from a year earlier to $1.05 billion, or $6.61 a share. The decline was partly due to the late-2018 swoon in stock markets, which reduced the average level of assets under management, upon which some fees are assessed. The Standard & Poor's has completely reversed those losses this year, pushing toward new highs.  
"These are secular changes," Seifert said of the shift toward ETFs. "I do not think they're going away."