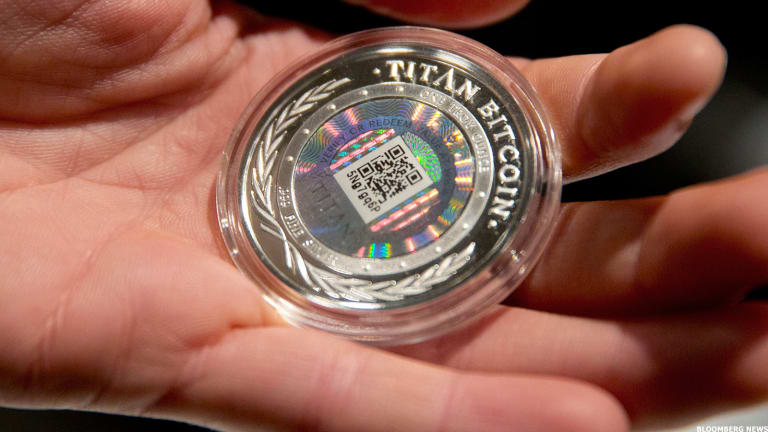 Bitcoin Surges To Fresh Record High, Taking 'Market Cap' Past $68.7 Billion
Bitcoin market cap now bigger than RBS and Credit Suisse combined
Bitcoin prices surged to a fresh record high Monday as cash continues to pour into the cryptocurrency after a major exchange raised $100 million in new funds and new rules look to speed transaction processing times.
Bitcoin prices were marked at $4,171 each on the Bitsmap exchange in London, just a few dollars shy of the record $4,182 the digital currency hit in early trading, a level that takes bitcoin's year-to-date gain to just under 320%. It also gives Bitcoin a theoretical value of around $68.7 billion, based on the 16.5 million coins that have been verified by blockchain miners, a figure that would be larger than the value of Switzerland's UBS AG (UBS) - Get UBS Group AG Report or the combined values of Credit Suisse Group (CS) - Get Credit Suisse Group AG Report and the Royal Bank of Scotland Plc (RBS) - Get Royal Bank of Scotland Group Plc Report . 
Bitcoin Is Attracting Serious Skeptics Despite Rising Euphoria
A portion of Monday's surge is linked to the successful roll-out of a new Bitcoin data source, called SegWit2x, which should relive some of the pressure on the main network and speed up cryptocurrency transaction times, thus increasing their value.
Blockchain, the architecture that supports bitcoin's existence, has a cap on the information it can process, which some argue slows the speed of payment processing. To ease that congestion, software developers pushed to allow some data to leave the spine of the bitcoin system, a move some bitcoin miners say would reduce their ability to verify transactions, thus eroding their "bullet proof" appeal.
A further boost was provided late last week by an announcement that Coinbase, a digital currency exchange founded in 2012, had raised around $100 million in a venture capital funding round that will, among other ambitions, expand its reach into the institutional investor community.
That followed news that Fidelity had rolled out a new service through Fidelity Labs that enables Bitcoin and blockchain users to track their investments alongside their more traditional investment categories, like stocks and mutual funds.
The service is the product of an alliance between Fidelity, an investment company with $6.2 trillion in assets under management, and Coinbase's burgeoning digital wallet platform that will allow Fidelity customers to "view their Bitcoin, Ethereum and Litecoin balances alongside other accounts", according to a company statement.
More of What's Trending on TheStreet:
From Trump to Google's James Damore, Here Are Big Name Guys Acting Badly at Work
Here's Why Amazon Hasn't Crushed Makeup Retailers Yet