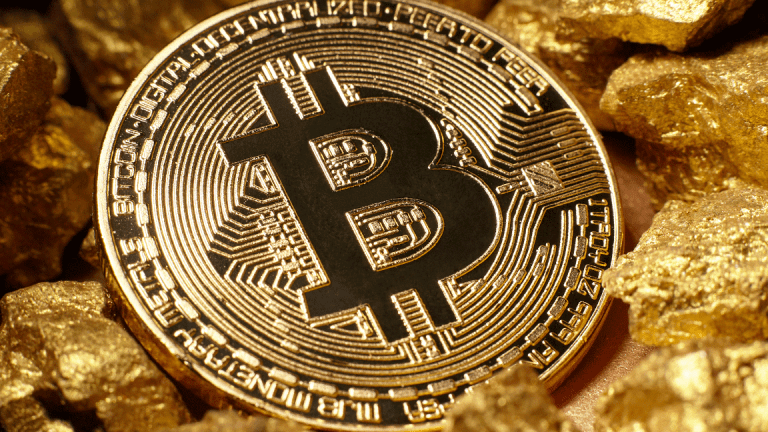 Bitcoin Surges Past $5,000 for the First Time Amid Staggering Cryptocurrency Run
A single bitcoin will now buy you four ounces of pure gold.
Bitcoin smashed through the $5,000 barrier for the first time ever in early Thursday trading, extending its incredible year-to-date gains to trade at a level that is now four times the price of gold. 
Bitcoin prices were marked $415, or 8.6%, higher on the Bitsmap exchange in London Thursday to change hands at an all-time high of $5,240 each before paring gains to around $5,221. So far this month, bitcoin prices have risen nearly 20% and have surged from $966.30 at the start of the year. At the current levels, a single bitcoin is now worth 4 troy ounces of gold, based on current spot prices.
"Recent criticism from industry and regulation crackdowns in China and Russia spooked markets in recent weeks and caused the Bitcoin price to plummet, so we expect some investors to be surprised by Bitcoin bouncing back to this record high so soon afterwards," said Iqbal Gandham, managing director at foreign exchange broker eToro UK. "Yet Bitcoin was designed to operate outside of the influence of governments and central banks, and is doing exactly that. So to us, this bounce back in price is no surprise."
The cryptocurrency's record run has been fueled, in recent days, by speculation that authorities in China could be prepared to relax restrictions in trading after three major exchanges were shut down last month, as well as reports the Goldman Sachs is looking at ways in which it could play a market-making role in the virtual currency world.
The run has not come without criticism or concern, however, with veteran forecaster Peter Schiff, the CEO of Euro Pacific Capital, warning earlier this week that "a lot of people unfortunately, have attributed properties to Bitcoin and other cryptocurrencies that do not exist."
"I think that people who are rightfully skeptical of the dollar, the euro, the yen are taking refuge in bitcoin or other cryptocurrencies and they've jumped from the frying pan into the fire," he told TheStreet.
Harvard economist Ken Rogoff, as well, has warned that all cryptocurrnencies are "fool's gold", writing in a recent blogpost that much of the phenomenon's future will depend on government regulation.
"Will they tolerate anonymous payment systems that facilitate tax evasion and crime? Will they create digital currencies of their own? Another key question is how successfully Bitcoin's numerous "alt-coin" competitors can penetrate the market," he said.
However, he disagreed with the characterization of JPMorgan Chase & Co. (JPM) - Get JPMorgan Chase & Co. (JPM) Report CEO Jamie Dimon, who called the who called the virtual currency concept a "fraud" last month and said he'd fire any of his traders for dealing in it.
"It's not a fraud, it's a genuine technology," Rogoff said. "Every central bank is looking at digital currencies in some way. I don't know which tech will win out in the end, so the question is whether bitcoin levels are sustainable if it doesn't," he told CNBC Thursday.
More of What's Trending on TheStreet:
xx