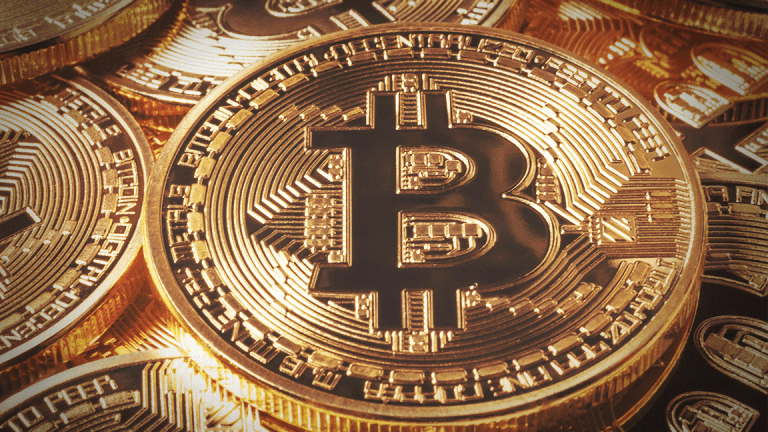 Publish date:
Bitcoin Falls $3,000 From Record High as Futures Trading Looms
Bitcoin's wild ride show no signs of abating, with prices surging and retreating in the final days before the launch of the Cboe debut futures contract.
Bitcoin's wild ride show no signs of abating, with prices surging and retreating in the final days before the launch of the Cboe debut futures contract.
Bitcoin prices tumbled more than $3,000 from the record high reached in overnight trading, only to rally moments later as its wild swings continue ahead of the launch of a futures contract linked to the world's hottest cryptocurrency.
Bitcoins hit a record $16,666.66 each on the bitsmap exchange in Luxembourg overnight, a move which lifted the digital currency's value past the $275 billion mark and taking its December gains to 67.5%. Prices plunged $3,000 in a matter of minutes, however, before stabilizing at around $15,000 by midday in London.
The digital currency's volatility -- which analysts have pegged at more than seven times a traditional currency pair -- could be tempered in the coming days with the launch of futures contracts that will allow investors to effectively execute "short trades" against it.
At present, critics have argued, bitcoin's current market platforms do not have the capacity to allow for effective and efficient two-way trading, leading to massive build-ups in value as new entrants pile into the architecture.
TheStreet's founder, Jim Cramer, thinks that's about to end.
"Enjoy the rise in bitcoin because soon there will be a legitimate two-way market in the device. The Cboe, the CME and the Nasdaq have all thrown their hat in the ring to offer derivatives on bitcoin trading to give everyone a better, more broad way to be involved in the instrument without venturing into what some believe is the wild west of trading," he wrote Thursday on RealMoney.com
"Notice I never once called bitcoin a currency or even a cryptocurrency. That's because with its recent ascent, it has lost its ability to be hallowed as a currency and has simply become some sort of abstruse casino game that seems to have only winners and no losers."
"I think that's about to change," he said. "Not at first, as the size of the market is only $250 billion, far less than what would be regarded as an important currency and -- given its popularity -- certainly means it could be triple, quadruple, or quintuple that given the lack of sellers."
The U.S. Commodities and Futures Trading Commission would agree, and although it approved the listing of cryptocurrency futures on the Chicago Mercantile Exchange, the CBOE Futures Exchange and the Cantor Exchange, the CDTC also warned on the market's extreme volatility.
"Bitcoin, a virtual currency, is a commodity unlike any the Commission has dealt with in the past," said Chairman Christopher Giancarlo. "As a result, we have had extensive discussions with the exchanges regarding the proposed contracts, and CME, CFE and Cantor have agreed to significant enhancements to protect customers and maintain orderly markets."
Others aren't quite so convinced.
Security software pioneer John McAfee, who recently predicted bitcoin may rise to $1 million each, dismissed suggestions its rise could be described as a "bubble."
More of What's Trending on
: