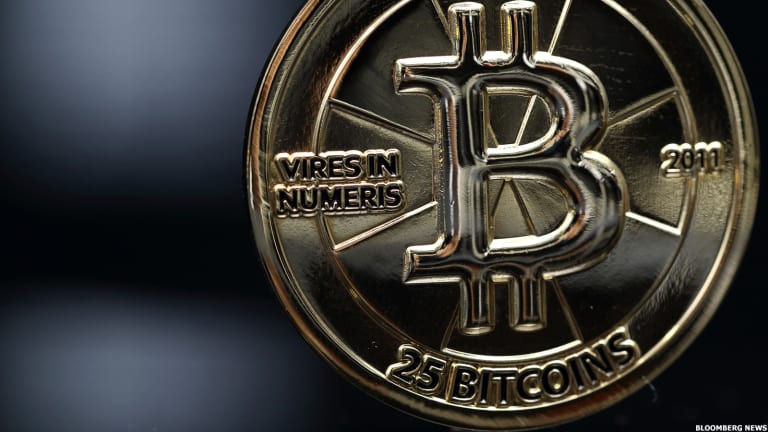 Bitcoin Has Crashed Into a Bear Market -- What You Need to Know
Bitcoin gets ugly.
Bitcoin prices entered into bear market territory Tuesday as an embarrassing legal case kicked off in Japan and  experts continue to squabble over key changes to the cryptocurrency's infrastructure.
Bitcoins were quoted at $2,320 each on the London Bitsmap exchange during Tuesday trading, a 21.3% decline from the all-time high of $2,954 reached on June 11. Bear markets are typically defined as a fall of 20% or more from a recent peak price. Gold, in contrast, has fallen around 6.6% since reaching their 2017 peak of $1,296.17 on June 6.
Pressure on both assets, which have gained investment reputations as a store of value amid the erosion of trust in so-called fiat currencies such as the U.S. dollar and the euro, has risen significantly in recent weeks as global central banks signal similarly-timed increases in interest rates, making traditional assets and investments more attractive than those which rely solely on their capital gains.
Bitcoin's slide into bear market territory also comes, with some degree of irony, on the opening day of a trial in Tokyo in which prosecutors are attempting to convict Mark Karpeles, the former head of the now-defunct Mt. Gox cryptocurrency exchange, on charges of fraud and embezzlement linked to the theft of 850,000 bitcoins -- worth around $470 million at the time -- and $28 million on cash in 2014.
The hacking theft sent bitcoin prices into a tailspin and raised serious questions over the currency's security to cyber attacks.
With those questions in mind, Bitcoin's "creators", in the form of core software engineers and the so-called "miners" that research and validate transactions in exchange for cryptocurrency payment, are attempting to reach an agreement that could allow for a faster expansion of the bitcoin base.
Blockchain, the architecture that supports bitcoin's existence, has a cap on the information it can process, which some argue slows the speed of payment processing. To ease that congestion, software developers would like to allow some data to leave the spine of the bitcoin system, a move the bitcoin miners say would reduce their ability to verify transactions, thus eroding their "bullet proof" appeal.
At present, a compromise agreement is set to be put in place later this month that, if adopted more broadly, would effectively become standard on August 1. However, if developers and miners can't agree, or won't honor, the compromise, a potential spilt in the bitcoin "chain" could result in dual currencies and transactions that could significantly reduce prices from their current levels.
What's Hot On TheStreet
Watch out, Apple: Louis Vuitton Tuesday unveiled its first smartwatch coined the Tambour Horizon in a bid to cut into Apple Inc's (AAPL) - Get Reporthold on the wearables market, TheStreet reports.
The watch was made in conjunction with Alphabet's (GOOGL) - Get ReportGoogle and Qualcomm Technology (QCOM) - Get Reportand starts at a lofty $2,450. It works with both Apple and Android devices, and is the first Android Wear smartwatch that functions in China.
Yes, it's Amazon Prime Day: Although many probably have Amazon (AMZN) - Get ReportPrime Day fatigue right now, that doesn't mean they won't be spending aggressively on big digital deals. Amazon stands to ring up more than $2 billion in sales worldwide during the 30-hour sale known as Prime Day, Internet Retailer predicts. The gain would mark about a 21% increase from a year ago. U.S. sales alone are pegged at $1.56 billion, up 20% from last year, TheStreet reports.
Bye-bye regulations: President Trump late Monday nominated former Treasury official Randal Quarles as the Federal Reserve's top bank supervisor. As TheStreet's Ron Orol reports, the nomination could lead the way to a dismantling of many Obama Administration bank regulations and is one that is expected to send a positive signal for now to big and regional bank stocks. Orol points out that the appointment could boost bank stocks such as Bank of America (BAC) - Get Report, Wells Fargo (WFC) - Get Report, Citigroup (C) - Get Reportand Goldman Sachs (GS) - Get Reportin the near-term.
Apple, Alphabet, Wells Fargo and Citigroup are holdings in Jim Cramer's Action Alerts PLUS Charitable Trust Portfolio. Want to be alerted before Cramer buys or sells AAPL, GOOGL, WFC and C? Learn more now.
More of What's Trending on TheStreet
Ford Has a 23-Year-Old Whiz Kid Helping to Shape Its Future
10 Skinny Wallets to Help You Forget You Spent All Your Money on Amazon's Prime Day
Visit here for the latest business headlines.