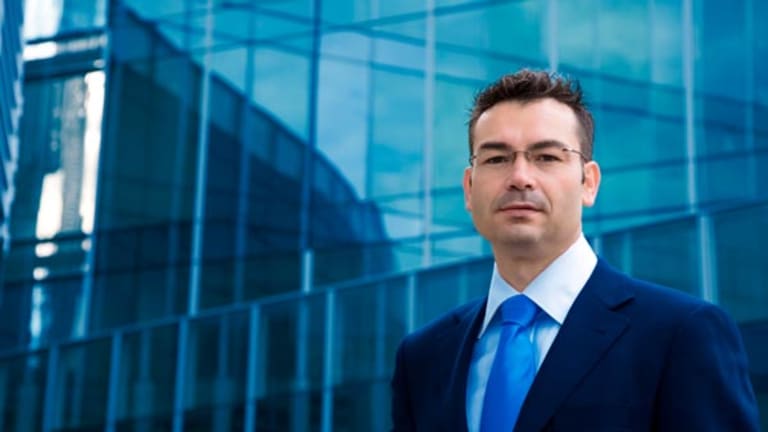 Biotech Stock Mailbag: Oncothyreon, Amag, Keryx Hate Mail
Biotech columnist Adam Feuerstein responds to biotech stock questions posed by his Twitter followers.
Updated and corrected: Oncothyreon conducted the second interim analysis of the Stimuvax trial after 75% of events (patients deaths) occurred, not after 75% of the patients in the trial died.
BOSTON (
) -- This week's Biotech Stock Mailbag opens with an email from Orbee98. He writes, "I follow you on Twitter, so I know you've been negative on
Oncothyreon
(ONTY)
, but I wonder if you have any thoughts about the Stimuvax trial now that it's moving to final analysis. Did you think it would fail already? The fact that it continues perhaps is a good sign that we could see positive results later, possibly?"
Possibly. Likely? I don't believe so. Oncothyreon's best shot at a positive result in the Stimuvax lung cancer trial was at this just-completed second interim analysis conducted after 75% of the events (539 patient deaths) required to conduct the analysis.
I don't want to bog down the Mailbag in biostatistics, but
Merck KGaA
(Oncothyreon's partner) designed the study with enough statistical power to demonstrate a Stimuvax benefit at the second interim analysis. It didn't, which is a problem as the study continues to the final analysis in 2013.
Oncothyreon shares are down 40% this week because supporters weren't just hoping for a win, they were expecting a win based on all their predictive modeling of patient enrollment and prior survival data from similar lung cancer patients.
I suspect that if we got a peek at the survival curves in this study right now, the Stimuvax curve is sitting right on top of the control-arm curve. No difference in survival or very small. With 75% of patient deaths already reported, Stimuvax is running out of time and patients to demonstrate a benefit.
What we do know for certain today is that the assumptions upon which Merck and Oncothyreon built the Stimuvax phase III trial were wrong. Control group lung cancer patients were expected to live around 20 months, which would allow Stimuvax to demonstrate a six-month survival advantage, or a 33% relative reduction in the risk of death.
Survival times in the control arm of the study are well beyond that now, which doesn't bode well for Stimuvax. In fact, it strongly suggests that Stimuvax is having no effect at all. Under the best circumstances, Stimuvax may reduce the relative risk of death by a small amount -- let's say 10% -- compared with the control arm. If that is the final outcome, it's going to be exceedingly difficult for the study as designed to reach statistical significance. A tiny survival benefit may also not be deemed clinically significant.
Don't forget the rationale for the phase III Stimuvax trial came from a
retrospective subset analysis of the phase II trial
. Those kinds of analyses are always fraught with risk, so if Stimuvax fails for the final time next year, you won't be able to say that you weren't warned.
@OmatOye tweets, "What are your thoughts on AMAG's Feraheme trial?"
On Wednesday night,
Amag Pharmaceuticals
(AMAG) - Get AMAG Pharmaceuticals, Inc. Report
reported positive results from the first of two phase III studies of Feraheme in patients with iron-deficiency anemia (IDA) regardless of underlying cause. In the study, Feraheme was statistically non-inferior to Venofer but numerically better in boosting hemoglobin levels. Feraheme's safety profile looked in-line with what's already on the label for the approved kidney disease indication.
The best course of action of Amag is still to find a buyer for the company. The IDA trials make Feraheme a more attractive asset because it potentially doubles the addressable patient population for the iron replacement therapy. Thursday's positive data was good news.
"Biotech Toreador" fumes: "Four of the five banks who did the
Verastem
(VSTM) - Get Verastem, Inc. Report
IPO come out with 'buys' exactly 40 days post-IPO (the minimum time period, per FINRA). How does the SEC not see this can't be random? Why do they even bother to pretend there is a separation between banking and research?"
You have a legitimate gripe. Savvy investors understand that investment banking and sell-side research are intertwined. It is no coincidence that all five (not just four) of the banks that took Verastem public in January have now published glowing, bullish research reports. UBS and Leerink Swann were the lead bankers on the Verastem IPO; the former slapped a "buy" rating and a $20 price target on the stock Wednesday, the latter initiated with an "outperform" and a $15 target.
Verastem is developing anti-cancer drugs based on cancer stem cells. Cool, but the company's entire pipeline is still in the preclinical stage. Initial data from phase I studies may not be ready for two years. Verastem already has a $200 million-plus market value.
If you went looking for evidentiary proof that either of these banks promised warm and fuzzy sell-side coverage in exchange for banking fees, you'd likely come up empty. The banks are smarter than that; we all know it still happens. Wink wink, nudge nudge.
I doubt you'll see a crackdown so the best you can do as an investor is recognize the biases that exist in much (but not all) sell-side research. After all, there's a reason they call it "sell-side."
@BioRunner59 asks, "Will you apologize when perifosine works?"
Yes, absolutely. I understand what's at stake. Part of the responsibility of my job is to hold myself accountable for the predictions and analysis I provide. If I get something wrong, I own it. No one is right 100% of the time. Getting stuff wrong is part of this game, but it's important to acknowledge errors and learn from them.
BioRunner tweeted his question to me because he thinks my prediction of failure for
Keryx Biopharmaceuticals'
(KERX) - Get Keryx Biopharmaceuticals, Inc. Report
phase III study of perifosine in colon cancer is going to be one of those calls I get wrong. I disagree, but we'll see what happens when the results are released, hopefully next month. Right or wrong, you'll hear from me.
Now, for our hate-mail segment, also related to Keryx and perifosine partner,
Aeterna Zentaris
(AEZS) - Get Aeterna Zentaris Inc. Report
.
Bbrewski writes, "You are just Wall Street Scum and when Peri
fosine hits I hope you are man enough to admit you cost a lot of investors major money and you should go to jail, just because you are a coward behind some big firm, we will get the last laugh, because we know what we own and you do not. So let it be written so let it be done you coward behind a key board!!!!!Mark this post I will !!!!!"
Stephen W. writes, "Don't know to break this to you, but the only investing writer whose credibility is gone is looking back at you in the mirror. When you decide to stop shilling for Big Short, that will change. Not before, not unless, not until. Ta-ta!"
MontyM asks, "
Discovery Labs
(DSCO)
, what happened?"
The good news: On the fifth attempt spanning eight years, Discovery was finally able to secure FDA approval for Surfaxin as a new treatment for respiratory distress syndrome in premature infants.
The bad news: Discovery is almost broke and needs to raise money to start selling Surfaxin later this year. Investors knew about Discovery's weak financial position before Surfaxin was approved, setting up the stock for a quick but short-lived pop on approval. After that, a sell off was inevitable as investors/traders either a) took quick profits, or b) took quick profits and tried to find shares to short. Investors don't
Wall Street can be cruel that way.
Surfaxin is a humanized surfactant so, therefore, better than existing competitors, which are all animal-based. That should help Surfaxin gain market share but the total U.S. market is only $75 million, probably a bit more in Europe. It's a niche drug in a niche indication, which also helps explain why Discovery's stock price hasn't taken off following approval.
-- Written by Adam Feuerstein in Boston
>To contact the writer of this article, click here:
Adam Feuerstein
.
>To follow the writer on Twitter, go to
http://twitter.com/adamfeuerstein
.
>To submit a news tip, send an email to:
.
Follow
TheStreet
on
and become a fan on
Adam Feuerstein writes regularly for TheStreet. In keeping with company editorial policy, he doesn't own or short individual stocks, although he owns stock in TheStreet. He also doesn't invest in hedge funds or other private investment partnerships. Feuerstein appreciates your feedback;
to send him an email.