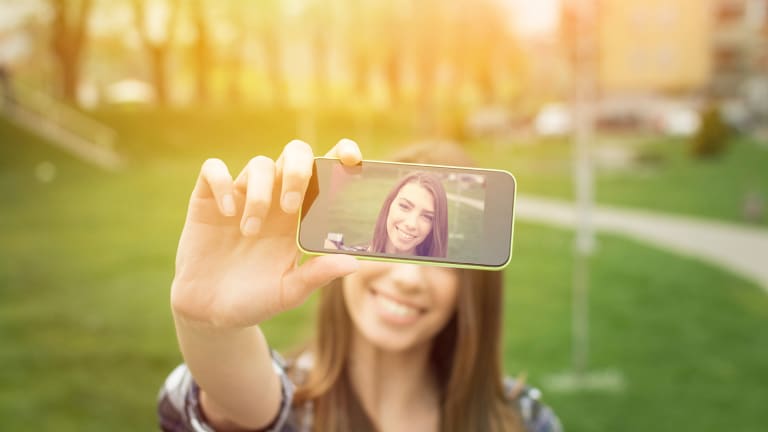 Biometric Selfies Will Replace Passwords, Daon CEO says
Daon CEO Tom Grissen believes the future of online security lies in the ease of using a mobile device to take a selfie.
NEW YORK (TheStreet) -- Password strength is one of the everyday difficulties of the digital age, as anyone from billionaires to high school students must protect the myriad of personal information stored online.
CEO Tom Grissen of software security company Daon thinks that biometric technology can not only make online accounts and mobile devices more secure, but also replace passwords entirely through a simple method.
"Take a selfie," Grissen said on CNBC's "Squawk Box" Friday morning. "If you look at a selfie it's the structure of your face so there's a large series of numbers that make up the math behind that."
A selfie, bolstered with fingerprint and voice authentication, provides "a highly accurate" solution to security, Grissen says. The mathematic output of encrypted numbers also cannot be reversed, so it is impossible to turn numbers "back into the facial image." Over time the technology improves as it develops a distinct picture of the fact its scanning, using only a standard mobile device.
"The beauty of it is as you age, your face actually becomes more defined and more accurate," Grissen noted.
The technology is already rolling out, as Grissen says "innovators like Mastercard (M) - Get Macy's Inc Report are doing it in the world of payments."
"USAA, the business that serves military families rolled it out in 2015, they already have 2 million plus members authenticating using biometrics," Grissen stated.
The goal, which Grissen believes is only a few years away, is to replace passwords, "because they're frustrating, complex and can be compromised."
"The market forces [are there] behind biometrics: they're simple, they're convenient," Grissen added.