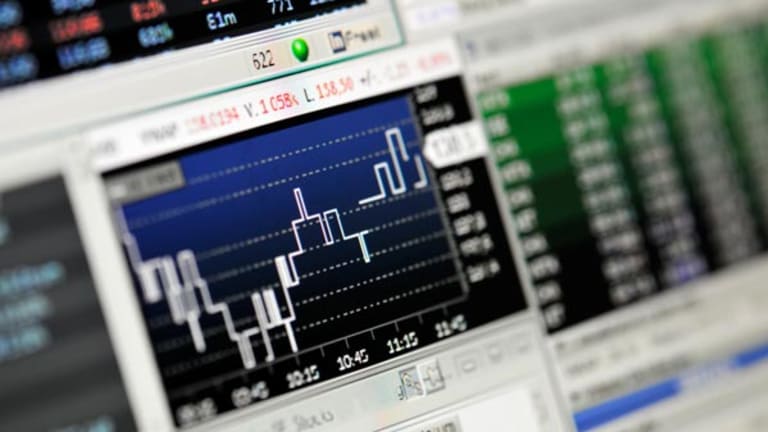 Biomet Plays Mating Game
Analysts see many possible partners but wonder about the price.
Biomet
( BMET) is hoping to be treated like prime real estate -- instead of a bargain fixer-upper -- now that it has a "for sale" sign out front.
The orthopedic-device maker has reportedly hired Morgan Stanley to pursue strategic alternatives, including an outright sale of the company, after it failed to spruce the place up on its own. While Morgan Stanley has so far treated the latest Biomet development as mere rumor, first reported by
CNBC
on Tuesday, the firm issued a new research note on Wednesday that essentially justifies the logic behind such a deal.
In a nutshell, Morgan Stanley claims that appetite for a transaction exists and that past buyouts -- which brought smaller premiums than some may be hoping for now -- should be disregarded when estimating Biomet's potential sale price.
Biomet's stock, while down 13 cents to $38.11 on Wednesday, has recently jumped about 10% on takeover speculation alone. Morgan Stanley owns at least 1% of Biomet.
"We have no knowledge of a transaction, and the company has not commented on this rumor," writes Morgan Stanley analyst Matt Miksic, who has an overweight rating on the company's stock. But "if Biomet is for sale, we do believe that it is a high enough quality asset that potential buyers will need to consider it."
Miksic then goes on to list a number of companies -- including direct competitors and more diversified medical device makers -- with the means to ink a deal. Of those,
Smith & Nephew
(SNN) - Get Free Report
and
Medtronic
(MDT) - Get Free Report
underwent the biggest stock-price changes on Wednesday. Smith & Nephew, which could seek a merger rather than an outright takeover, jumped 3.7% to $47.20. Meanwhile, Medtronic slipped 1.1% to $50.83.
Suitable Suitors?
Stifel Nicolaus analyst Gregory Simpson agrees that a Biomet sale makes sense -- for Biomet as well as a potential suitor.
Simpson notes that Biomet has just lost its longtime chief after struggling to compete against larger players, like
Zimmer
(ZMH)
and
Stryker
(SYK) - Get Free Report
, in a tough industry environment. Even so, he says, Biomet stands out as a "premier franchise" -- with perhaps the highest surgeon loyalty in the industry -- that could perform quite well under new ownership.
Stifel Nicolaus makes a market in Biomet securities and expects to receive investment banking business from Stryker over the next three months.
"Many of BMET's issues have resulted from what we'll call a lack of 'financial focus and discipline,' for lack of a better term," writes Simpson, who has a buy recommendation on the company's shares. "While Zimmer has taken cost controls and operational efficiency to a whole new level in the industry, Biomet as shown a maddening lack of attention to these same factors. ... We believe a more disciplined buyer of Biomet could improve financial performance at the company to a meaningful degree."
Still, Simpson then goes on to rule out both Zimmer and Stryker as likely suitors in the end.
"For starters, we believe there is a significant cultural difference between ZMH and BMET," Simpson explains. "Sure, both are located in Warsaw, Ind., but these two companies could not be farther apart. As for Stryker -- again, a possibility, but Stryker is all about diversification these days."
At the same time, Simpson feels that Medtronic could choose to diversify by entering the orthopedic implant business. He says that Medtronic has reportedly tried to purchase Zimmer in the past and today finds itself sitting on $5 billion in cash -- while generating significant free cash flow -- that could be put to use for an acquisition. He notes that
Johnson & Johnson
(JNJ) - Get Free Report
has even more cash than that, following its failed attempt to buy out
Guidant
( GDT), and could look to purchase Biomet as well.
Simpson also suggests that smaller Smith & Nephew could seek a takeover of sorts.
"A combination of SNN and Biomet would give the combined company the needed critical mass to compete more effectively," Simpson writes. "We aren't convinced that SNN could pull the deal off, though, unless Biomet would agree to a mostly stock-based transaction."
Words of Caution
Bear Stearns analyst Milton Hsu offers a similar, if more cautious, take.
Hsu believes that Zimmer could face antitrust issues if it pursues a deal. Meanwhile, he says that Stryker seems more interested in smaller deals and "has historically been averse to the metal-on-metal hip technologies" that rank as one of Biomet's key drivers. He acknowledges that Medtronic could be interested in entering the orthopedics business but notes that it remains in a legal battle with Biomet for now. Ultimately, therefore, he seems to leave Smith & Nephew as the most likely suitor for the company.
"A SNN acquisition of BMET would close the gap between the No. 4 position (SNN and BMET combination) and No. 3 (SYK)," writes Hsu, who has a market-weight rating on the industry overall. "But the size of the acquisition suggests a merger of equals ... and cultural differences could pose integration issues."
In the end, Hsu sees a takeout price for Biomet of just $39 a share -- very near its current value following the recent run-up. His firm makes a market in Biomet securities and has received non-investment banking business from the company over the past 12 months.
JPMorgan analyst Michael Weinstein offers a broader range of possibilities. Based on historical transactions, Weinstein estimates that Biomet could be worth anything from $33 to $44 a share. Weinstein, whose firm counts Biomet among its clients, currently has a neutral rating on the company's shares. He sees little reason to buy the stock at current prices.
"Should investors therefore take some profit in the shares?" he asks. "Probably so, though we wouldn't take all our money off the table. While in our view a deal is more likely than not to happen, should it not take place, we believe the shares would likely fall below the levels seen immediately before (former CEO) Dane Miller's departure as the market would then have to worry about near-term fundamentals, a new CEO and the natural turning over of the shareholder base."