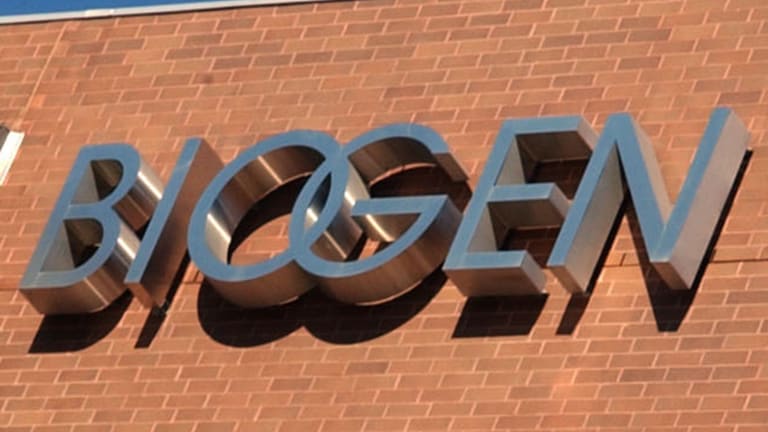 Biogen Surges After Announcing Plans to Pursue Alzheimer's Drug Approval
The company says its Phase 3 trial showed promising results, after previous failures.
Biogen (BIIB) - Get Biogen Inc. Report shares soared Tuesday after the company said it plans to pursue regulatory approval for aducanumab, its investigational treatment for early Alzheimer's disease.
The stock was up 27.6% to $285.19 in trading Tuesday after jumping more than 40% earlier in the session.
The Cambridge, Mass.-based company said its Phase 3 trial showed promising results.
"Patients who received aducanumab experienced significant benefits on measures of cognition and function such as memory, orientation, and language," the company said in a release, adding that patients also experienced benefits in daily living such as shopping and doing personal finances.
If approved, Biogen said aducanumab "would become the first therapy to reduce the clinical decline of Alzheimer's disease and would also be the first therapy to demonstrate that removing amyloid beta resulted in better clinical outcomes." 
The drugmaker is developing the treatment in partnership with Japanese drugmaker Eisai.
In March, Biogen said a major trial of aducanumab was a failure, which sent its shares tumbling by about 25%. 
Also on Tuesday, Biogen reported third-quarter revenue of $3.6 billion, an increase of 5% from a year ago and ahead of expectations of $3.5 billion, according to FactSet.
Net income of $1.5 billion was in line with expectations, while earnings of $8.39 a share beat expectations of $8.28. In the same period a year ago, the company posted earnings of $7.40 a share on sales of $3.4 billion and net income of $866.6 million.