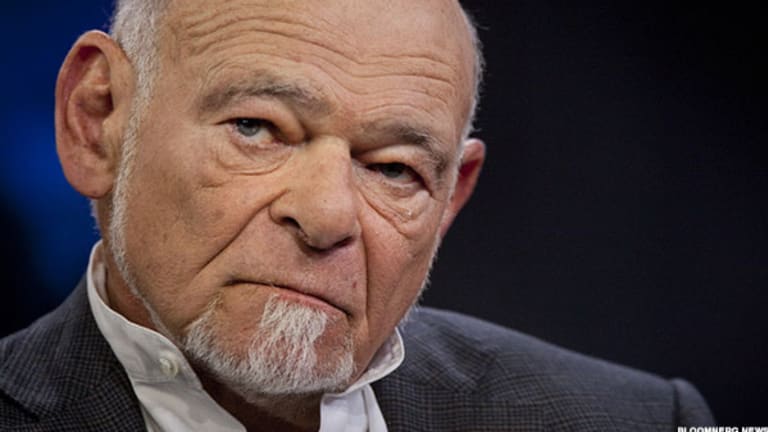 Billionaire Real Estate Mogul Sam Zell Sees Staggering Economic Opportunity Under Trump
Zell cheers the reduction of regulations promulgated during Obama's presidency.
Amid extraordinary political developments for the U.S., Chicago-based business mogul Sam Zell tells TheStreet he sees "staggering economic opportunity" for the nation under the presidential authority of Donald Trump.
Trump's vow to cut government regulation that he calls "excessive" could lead to "a $1 trillion of (economic) stimulus without spending anything, while Obama added $1 trillion to U.S. debt" to prop up the U.S. economy, Zell said.
Eliminating a multitude of rules that hamstring companies needing navigable waterways, Zell cited as an example, will make it less costly for waterborne enterprise "while creating confidence" for entrepreneurs who will be less fearful that the federal government might step in to suffocate their investment.
"If the U.S. just reverses what it stopped during the Obama administration, the stimulative effect will be extraordinary," said Zell, 75, the billionaire chairman of Equity Group Investments. Zell serves as chairman of Equity Residential (EQR) , Equity Lifestyle (ELS) , Equity Commonwealth (EQC) , Anixter   (AXE) and Covanta Energy  (CVA) .
The son of Polish immigrants to the U.S., he has spoken out against anti-immigration sentiment by some in the U.S.
"The United States has been the leader in the world for 200 years because it's had a very aggressive immigration policy," he said last week at an investment conference in Boca Raton, Florida. "I think that this current period of anti-immigration is very dangerous to the future of our country."
(The interview with Zell was conducted prior to the 9th Circuit U.S. Court of Appeals in San Francisco issuing a ruling refusing to reinstate  Trump's executive order banning travel to the United States from seven predominantly Muslim countries).
Zell also opposes sanctuary status, wherein cities decline to assist federal authorities identifying undocumented alien residents who have overstayed their visas or have immigrated to the U.S. illegally. Trump has threatened to withhold federal funding to sanctuary cities, such as Zell's hometown of Chicago.
"I'm a rule of law guy," he said. If immigration and other laws aren't enforced "ultimately, you'll destroy the society. How does San Francisco justify writing its own version of the constitution?" Zell asked, referring to that city's sanctuary status.
Zell said he turned down an offer "to be Trump's partner" when the candidate was seeking campaign contributions. In 2012, he supported Mitt Romney, the Republican nominee.
Having invested extensively overseas as well as the U.S. in real estate and other industries, Zell said he remains a proponent of free trade, though he supports the administration's initiative to renegotiate some of the nation's trade agreements.
Many "of our free trade agreements are a combination of free trade and foreign policy," pacts that he said don't optimize economic benefits for the U.S. and instead are designed to improve diplomatic relations with trading partners.
"Before NAFTA we didn't have a trade deficit with Mexico, afterwards we have a $60 billion deficit. Mexico, by the way, post-Nafta has a $60 billion trade deficit with China," he noted. The U.S. thus helped Mexico's trade picture while worsening its own. "We are putting a price on the back of free trade."
Zell said new agreements must "be good for the U.S. and, ultimately, that will be what is good for the free world."
A new book by Zell, titled -- facetiously, of course -- Am I Being Too Subtle? is scheduled to go on sale in April and is now available for pre-order on Amazon.com.
Doron Levin is the host of "In the Driver Seat," broadcast on SiriusXM Insight 121, Saturday at noon, encore Sunday at 9 a.m.
This article is commentary by an independent contributor. At the time of publication, the author held no positions in the stocks mentioned.