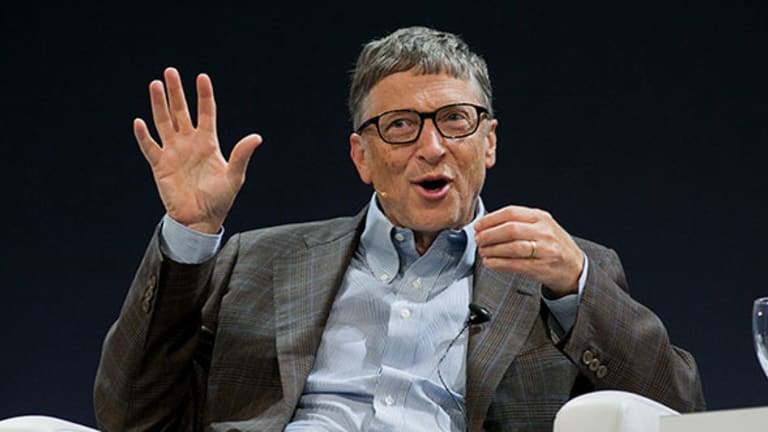 Bill Gates: America Is 'Moving Into a New Phase'
Bill Gates hopes to see a 'doubling down' on innovation in health care, education and energy under a Donald Trump presidency.
Microsoft (MSFT) - Get Microsoft Corporation Report co-founder and co-chair of the Bill and Melinda Gates Foundation Bill Gates believes Donald Trump has a lot of "flexibility" when it comes to targeting issues and implementing policies.
"I think there is a lot of fascination to see what the new directions will be. Donald Trump was elected not so much for specific policies, but because of the kind of leaderships those voters wanted," Gates told CNBC on Tuesday morning. 
Gates hopes Trump initiates a dialogue to achieve positive things for the U.S. Gates would like to see a Trump administration "double down" on innovation in health care, energy and education.
Furthermore, as someone involved in China both through his foundation and through nuclear power ventures, Gates advocated against negative trade relations between the U.S. and China. Trump has unsettled relations between the two as recently as Sunday, when he said the One China Policy could be used as a "bargaining chip."
"I feel sure that he and the team he brings around them, even as they try and tune things, won't want the lose-lose that you would get if you start to get tariff walls," Gates said. "A lot of the strength of the U.S. economy comes from exporters. If you are trying to suppress imports, then you can get into a situation where countries are raising tariff walls."
However, Gates called Trump "sophisticated" and hopes that he has carefully contemplated how he will further deal with China.
"We are moving into a new phase now," Gates said. "What are the steps forward in education, health, even lower-cost energy? I think all of those have got to be a part of that formula."